Love a good vampire historical? Or a great vampire contemporary? You're not alone and our reviewer Miranda Owen had a chance to chat with Brooklyn Ann, author of Scandals With Bite series and Brides of Prophecy series.
Other romance authors have said that writing a love scene is very technical and it is not the same experience for them than it is for the reader. Do you find that to be true?
Technical wouldn't be the word I'd use, though there is often a lot of pressure to get it right, to avoid cliches, purple prose, and to try not to be corny or crude when it comes to the naming of parts. I personally refuse to compare sexual organs with fruit or flowers.
However, sometimes my love scenes literally pour out of my fingers out of nowhere and I'm sitting there reading the screen, blushing and saying, "Oh my goodness, you guys!" To my characters.
Since you write a few different types of romance – contemporary, historical, paranormal, etc. – what is your favorite type of book to read? What do you enjoy most about each sub-genre you write in?
I love to read all genres, though my favorites to read are Historical, Fantasy, Paranormal, and Horror.
When I write historical, my favorite aspect is that it's like stepping into another world with different rules and parameters. I also love researching customs and events from the past and working them into a real story.
I love paranormal because I get to create my own world with its own rules. Also since I set my Brides of Prophecy series in my hometown, it's extra fun to turn my stomping grounds into a character of its own.
I am new to writing contemporary but I've discovered that what I love most about it is tackling current issues men and women face and how it helps or impedes modern courtship.
Gavin Drake, Baron of Darkwood – the hero in HIS RUTHLESS BITE – was a supporting character in your previous book, and the hero in BITE AT FIRST SIGHT was a supporting character in the book before that. Do you plan, at the start of a series, which character will have his own book, or does something about a particular supporting character stir your imagination as you write?
Since I originally had a 3 book contract for my Scandals With Bite series, Rafe (BITE AT FIRST SIGHT) was intended to get his own book right from the start. However, Gavin popped into BITE AT FIRST SIGHT out of nowhere and I leaned back in surprise saying, "Oh wow, this guy is totally getting a book."
And HIS RUTHLESS BITE was supposed to be my last historical paranormal novel, but then it happened again. Another character popped in, not only demanding his own book, but inspiring a new spin-off series, so be sure to stay tuned for more on that. 😀
I love paranormal historical romance and a good gothic romance and your Scandals With Bite series has all of those elements. What is it about these types of stories that you enjoy writing about?
My first venture into the paranormal was with Anne Rice's vampire chronicles. I immediately fell in love with the rich detailed history with a supernatural twist. And later I fell in love with regency romance and eventually decided to place vampires in that world. So not only do my characters have to navigate the tedious social strictures of the day, they also have their own supernatural rules to abide by.
Every author's vampire mythology differs in some way – what is the vampire 101 in your Scandals With Bite series?
My vampires are NOT animated corpses. They have a preternatural mutation, so they're perfectly alive. They have heartbeats and can even eat and drink minimal amounts.
My vampires cannot go out in the sunlight and can be killed by major heart damage or decapitation. They're also sterile, so they can do the deed, but they can't have babies.
Their governing system is a cross between Feudalism and Bureaucracy. All vampires are ruled by a Lord of a specific territory and forbidden to enter another territory without written permission. Rogue vampires are exiles who do not have a lord or home. They are often hunted and killed off, though sometimes they may petition a Lord vampire to become one of his people.
In HIS RUTHLESS BITE, one of the characters is a mesmerist – what made you use that in the story? Were you inspired by a historical figure?
My editor enjoyed my use of historical figures so much in BITE ME, YOUR GRACE, that she made it a caveat for the entire series.
Personally I was more focused on the themes of each book. BITE ME, YOUR GRACE focuses on literature, ONE BITE PER NIGHT focused on art, BITE AT FIRST SIGHT focused on medical practices of the 19th century and HIS RUTHLESS BITE's theme is psychology… which was in its infancy back then.
Mesmerists such as Dr. John Elliotson could be considered one of the forefathers of modern hypnotherapy. And since vampires mesmerize people on a regular basis, it was a perfect match for this story.
What are you currently working on? Do you have an ending point in mind for your Scandals With Bite series, or will you continue with it as long as you find stories to tell?
I'm currently working on the 4th book in my Brides of Prophecy series, which should release in the late summer or early fall.
As for "Scandals With Bite," I have a feeling that series isn't over, but for now I'm looking to start a spin-off series set in the same time and world.
Is there a heroine you created that is similar to yourself? How long have you been writing for?
I have a bit in common with all of them. I used to be a mechanic like Akasha in WRENCHING FATE, I love to sing and talk to cats like Xochitl in CONJURING DESTINY, I'm one of the guys and a metalhead like Kinley in KISSING VICIOUS, I'm a writer and a feminist like Angelica in BITE ME, YOUR GRACE, a painter like Lydia in ONE BITE PER NIGHT, and a nerd like Cassandra in BITE AT FIRST SIGHT.
Lenore (HIS RUTHLESS BITE) is probably more different than myself over all the heroines I've written so far. However, one major thing I have in common with her is that we both suffer from PTSD and experience the same symptoms.
I've been writing all my life, but I only got serious about it back in 2009 after my mother passed away and I'd been sitting on 2 complete manuscripts and countless files of partial books and story notes.
Why vampires instead of werewolves, or some other type of magical being? Do you prefer vamps?
Okay, first a disclaimer: I LOVE reading werewolf books. Carrie Vaughn, Terry Spear, Trina M. Lee, and Patricia Briggs are highly recommended.
However, werewolves just aren't logical in my fictional universe, where magic is molecular manipulation and has little to do with lunar cycles. I suppose some of my more powerful sorcerers could use magic to shapeshift, but the classic werewolf just doesn't work in my world. Also, for some reason I keep thinking that werewolves would smell like wet dog.
I DO have other magical beings in my books. If you check out my Brides of Prophecy series, you'll meet mutants, psychics, sorcerers, luminites, and Faelin… as well as my vamps.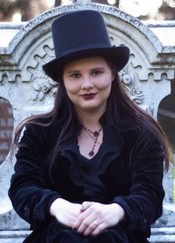 A lover of witty Regencies and dark paranormal romance, Brooklyn Ann combines the two in her new vampire series. The former mechanic turned author lives with her family in Coeur d' Alene, Idaho.
Facebook author page: http://www.facebook.com/profile.php
FB fan group page: https://www.facebook.com/groups/663937110417257/