Fresh Fiction Senior Reviewer Debbie Wiley 
Fantasy novels are magical with their ability to transport you to other worlds. Worldbuilding is crucial to the success of any fantasy novel as we need to believe in these imaginary and sometimes quite fantastical worlds. Character development is important as well since we have to care about the fates of the characters. Despite the fact that both elements are important to any genre but particularly the fantasy genre, most readers have a preference for one or the other and I have to admit I prefer complex worldbuilding over character-driven novels. Here are some of my recent favorite fantasy novels in which the authors do a marvelous job at balancing both character development and worldbuilding.
Who doesn't love a series featuring a Library in charge of the world? Rachel Caine's brilliant series, The Great Library, recently concluded with the fifth and final book, SWORD AND PEN. SWORD AND PEN showcases all of the characters we've grown to love and cheer for putting it all on the line in hopes of finally creating a world of peace and information, where the Library doesn't squelch knowledge it doesn't like. The worldbuilding is phenomenal, as we have automatons, a library filled with vast and hidden knowledge, and even a few diabolically clever puzzles thrown in to keep the characters on their toes. And the characters… Rachel Caine is sure to both break your heart and give you reason to cheer in The Great Library series.
Marshall Ryan Maresca is one of my recent favorite authors in the fantasy genre, as he's crafted four different novels all set in the world of Maradaine. SHIELD OF THE PEOPLE is part of his Maradaine Elite series and focuses primarily on one of the last remaining warrior orders in the country. We meet Dayne Heldrin and Jerinne Fendall, two Taurians who are devoted to their Order and striving to reach the level of Adept. Marshall Ryan Maresca digs deep into the political conspiracies underlying everything in the Maradaine Elite series and it's fascinating to see how he is drawing the events of the four series together.
HOW RORY THORNE DESTROYED THE MULTIVERSE by K. Eason is more science fiction than fantasy but deserves special mention because some of the elements are similar to fantasy. We've got fairies (and fairy curses), princes, assassinations, and political betrothals all set amongst space as the overall backdrop. HOW RORY THORNE DESTROYED THE MULTIVERSE is the kind of outrageous fun reminiscent of the movie The Princess Bride.
THE RISE OF MAGICKS by Nora Roberts concludes her phenomenal Chronicles of One series. Nora Roberts has created a world where magick has re-emerged after a virus, called Doom, wipes out most of civilization. Fallon Swift has emerged as a leader, using her magick to protect and defend others against dark magick as well as the Purity Warriors who believe all magick is evil. Nora Roberts proves with the Chronicles of One series that she is a master at any genre she sets her pen (or computer!) to and THE RISE OF MAGICKS is a tale any fantasy lover will appreciate and enjoy.
In addition to traditional fantasy novels, there are several phenomenal urban fantasy novels out recently. Urban Fantasy still incorporates many of the elements of a traditional fantasy novel but uses the modern world as the setting. Two of my recent favorites are SHARPEST STING and WICKED HOUR.  SHARPEST STING by Jennifer Estep is the 18th book in her Elemental Assassin series and chock full of action, intrigue, and magic. The heroine, Gin Blanco, is an assassin and I love her loyalty to her friends and her willingness to sacrifice for those she cares about. WICKED HOUR by Chloe Neill is the second book in her Heirs of Chicagoland and features Elisa Sullivan, the first-born vampire in history. I love how we're getting more insight into the shifters' mythology as well as the interactions between the two species.
What are some of your current favorites in the fantasy genre? And do you prefer complex worldbuilding or character-driven tales?
BOOKS RECOMMENDED IN THIS ARTICLE: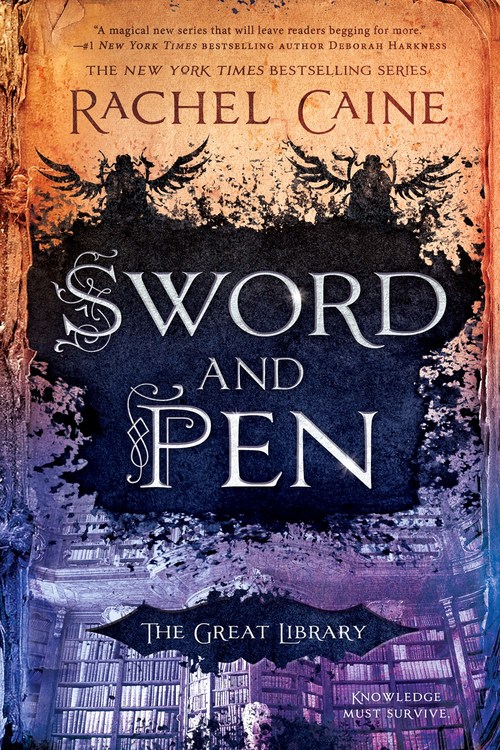 With the future of the Great Library in doubt, the
unforgettable characters from Ink and Bone must
decide if it's worth saving in this thrilling adventure in
the New York Times bestselling series.
The corrupt leadership of the Great Library has fallen. But with
the Archivist plotting his return to power, and the Library
under siege from outside empires and kingdoms, its future is
uncertain. Jess Brightwell and his friends must come
together as never before, to forge a new future for the
Great Library. . . or see everything it stood for crumble.
Young Adult Fantasy [Berkley, On Sale: September 3, 2019, Hardcover / e-Book, ISBN: 9780451489241 / eISBN: 9780451489258]

Phenomenal conclusion to a must-read series for all steampunk fans!