Welcome to Fresh Fiction, Elle! Please tell us about yourself and about your latest novel, FLAMEBRINGER.
Hello! Thanks so much for having me. I'm Elle, I write books, read books, and enjoy any and all things nerdy. Flamebringer is my third book and the last in the Heartstone trilogy, which follows a healer, her dragon-riding husband, and their no-nonsense dragon as they hunt down the monsters plaguing their kingdom.        
FLAMEBRINGER marks the third and final book in your Heartstone fantasy series! Without giving too much away, what has been the most satisfying part about finishing this fantasy epic?
It was a bittersweet experience, saying goodbye to these characters, but it was a good feeling to tie off their character arcs and (hopefully) give them and the readers a sense of closure. It was fun too, resolving mysteries from book one. Little clues, offhand conversations, subplot threads you might have missed in Heartstone will come back in a big way in Flamebringer. It was satisfying to bring it all full circle.
It's interesting that this fantasy series is inspired by Jane Austen! What are some of the ways Austen's work influenced you while writing the Heartstone series?
The first book was a faithful retelling of Pride & Prejudice, though the setting was original and the characters' motivations adjusted to fit their new fantasy world (i.e. in P&P, Mrs. Bennet's motivation is to get her daughters married; in Heartstone, her counterpart just wants to protect her daughters from monsters). In Dragonshadow and Flamebringer, however, I wanted to go beyond the confines of P&P and see how our heroes' relationships would grow with all the guiderails gone.
Aliza and Alastair have gone through so much – in what ways do you think they each have changed the most from book one to book three?
The wedding that they fought so hard to reach at the end of book one turns out to be the easiest part of this whole adventure called 'marriage.' Aliza and Alastair love each other desperately, but they're very different people with different views of the world and expectations of their places in that world. Alastair is a warrior who can no longer fight like he used to, and Aliza is a healer suddenly thrust into a warrior's world. Neither of them fit into any box society has built for them, but neither can escape the responsibilities they have to fulfill as members of House Daired. I loved exploring the ways in which they're forced to lean on each other in the areas where they're weakest, only to discover their new strength as a team.
What have you read recently that you loved and highly recommend?
Vita Nostra by Sergey and Marina Dyachenko, translated by Julia Meitov Hersey. It's a dark Russian urban fantasy coming-of-age story with a twist of magical realism and a hefty splash of metaphysics. This book was gorgeous and bizarre and made me question everything I know about reality and I LOVED it. 10/10 would recommend.
It's mid-November, which means there are a bunch of writers in the middle of NaNoWriMo! What advice do you have for the aspiring authors out there?
John Dufresne said it best: "The purpose of the first draft is not to get it right, but to get it written." To all you NaNo'ers, you brave and magical creatures: Give yourself permission to write crap. Misspell words. Write sentences that don't make sense. Don't wait for the Muse; she's a tease and she never shows up on time. Learn how to write without her. It'll feel like pulling teeth, but don't give up. There's nothing quite like the feeling of satisfaction when you finish a manuscript. Don't worry about whether it's good or not. Edits are what December is for.
Thanksgiving and Christmas are almost upon us – what traditions do you have that you look forward to every year?
In my family, holidays mean two things: food and board games. Scrabble is our favorite, but my dad and I hold our own mini chess tournament between Thanksgiving and Christmas and it's one of the highlights of my year. I still hold onto the hope that I'll win at some point.
What can readers expect from you next?
I was thrilled to contribute to an anthology of dragon short stories coming out in 2020 from Harper Voyager. Keep an eye out for tales of mechanical dragons, talking gargoyles, and sassy, textbook-dealing vampires. 
Rapid fire random questions
Dragons or unicorns: Dragons. Hands down.
Five people you'd invite to your book club (dead, alive, fictional, etc.!): C.S. Lewis, Julian of Norwich, Annie Dillard, Ursula K. Le Guin, Albus Dumbledore
Some of your auto-buy authors: Garth Nix, Annie Dillard, Roshani Chokshi, China Miéville
Favorite flower: Lilacs
Earliest celebrity crush: LaVar Burton (first in Reading Rainbow, then in Star Trek)
Random interesting fact you like to tell people: I seriously dislike peanut butter. Not allergic, just can't stand the taste.
Hobbies you have (aside from reading and writing): Martial arts, swordsmanship, running, baking, and drawing
Dream vacation: Cozy cabin in the Adirondacks
Sweet or salty snacks: Both, as long as it's popcorn
You have a totally free afternoon – no deadlines, no obligations, no Twitter notifications! What do you do?: I really enjoy baking, so I'd spend most of the afternoon trying out new recipes and the rest of the day pawning off everything I'd made on all my friends.
Heartstone #3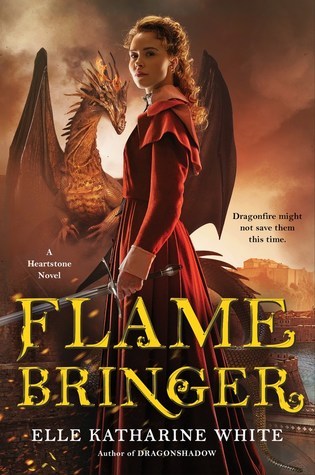 Monsters, manners, and magic combine in this exciting final volume in the Heartstone Trilogy–an exhilarating blend of epic fantasy and Jane Austen's Pride and Prejudice–in which a fearless healer and her dragon-riding husband must stop a reawakened evil from destroying their world.
It starts with the inconceivable: Wydrick, sworn enemy of the Daireds, is back from the dead, possessed by a ghast that grants him immortality and inhuman strength. From the isolated northern mountains, Aliza, Alastair, and Akarra chase him into the dangerous Old Wilds, realizing too late that he's led them into a blizzard. Before he vanishes, Wydrick utters a warning: A terrible, ancient evil has awoken, hungry for blood, and is headed their way.
The danger is closer than they know. The Tekari–sworn enemies of humans—are openly roaming the kingdom and are headed towards the capital, Edonarle. Then unexpected news arrives: riding like a dark dragon on the winds from the south, an ambassador from the Silent King of Els, has left the shores of the distant desert kingdom for the first time in centuries.
Unknown enemy? Or unexpected ally? Plunged into a dangerous world of royal intrigue and ancient grudges, Aliza and Alastair soon realize it will take more than steel and dragonfire to save their kingdom. For the silence of Els hides a secret that could shake House Daired to its foundations, and the time has come to settle accounts.
Silence, it seems, is about to be broken.
Fantasy | Romance Fantasy [Harper Voyager, On Sale: November 12, 2019, Paperback / e-Book, ISBN: 9780062747983 / eISBN: 9780062747983]
A textbook introvert who likes to throw out the textbook every once in a while just to see what happens, Elle grew up in Buffalo, NY, where she learned valuable life skills like how to clear a snowy driveway in under twenty minutes and how to cheer for the perennial underdog. When she's not writing, she spends her time drinking tea, loitering in libraries and secondhand bookshops, and dreaming of world travel.
***
Fresh Fiction Editorial Manager Danielle Dresser is an avid reader, lackluster-yet-mighty crafter, and accomplished TV binge-watcher. Once upon a time, she was a publisher publicist and continues to cultivate her love of books and reading by chatting with the best authors in the business. She lives in Chicagoland with her very own romance hero husband, darling daughter, and two tempestuous cats. Follow her on Twitter and Instagram, @dj_dresser.