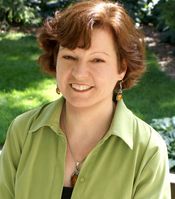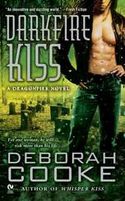 I currently write the Dragonfire series of paranormal romances, a series which features dragon shape shifter heroes called the Pyr. Each book focuses on the firestorm of one dragon dude, which occurs when he meets the one woman who can be his mate. Although the firestorm is about breeding — making more Pyr! — the romantic relationship ends up being a lot more complicated than that, and generally involves the dragon dude of choice learning or choosing to make a permanent relationship. I have a lot of fun with these guys and their preconceptions — as well as those of the women who win their hearts. I also like the action of these plots — since bad dragons are also attracted to the heat of the firestorm, and the best way to defeat the good dragons is to eliminate their mates and their chances for procreation, there are generally a lot of dragon fight scenes in these books too. In May, DARKFIRE KISS, # 6 in the series was released.
What I want to talk about today, though, is organically spinning off a second series from a first one. My June release, FLYING BLIND, is the first book in a new series which does just that — The Dragon Diaries YA trilogy evolved from Dragonfire in a very natural way but had to be distinctive. In writing both of these books, I linked them together even more.
First, the evolution of the YA series. In the world of Dragonfire, there is only ever one female dragon shifter. She's called the Wyvern and has special powers. The most recent Wyvern died in book #3 KISS OF FATE (that's not a spoiler — you'll have to read the book to find out how and why) so the child conceived in that book was a little girl. Presumably, this child Zoë would be the next Wyvern and her father watched anxiously for such developments in his baby daughter.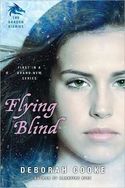 It took me a while to realize something very simple. The male dragons in the Dragonfire world come into their powers at puberty – it made sense that the same rule would apply to Zoë. Once I had the idea of Zoë trying to master her abilities as the Wyvern, simultaneous to keeping her powers secret from her human friends, plus surviving the usual challenges of high school, I couldn't put it out of my mind. Zoë's coming of age story would be a perfect angst-ridden paranormal YA trilogy. Zoë's first book is called FLYING BLIND. Book #2, WINGING IT, will follow in December and book #3 next June.
The second challenge was making the spin-off series distinctive from the original series. The Dragon Diaries are paranormal YA's, not paranormal romances, so all three Dragon Diaries books feature the same protagonist. Because it's Zoë's journey, I chose to tell her story in first person (or actually, she chose to tell it to me in first person). The series is also different because we haven't seen the evolution of a Wyvern in the Dragonfire books — I had to figure out how one became the Wyvern, exactly what powers were involved, and how Zoë would know (or guess) what to do. Zoë's series is also set in the future — because Zoë was born in 2008, so will be turning 16 in 2024. That made me consider how our world and the world of the Pyr might change by then. In Dragonfire, they are locked in a battle against the Slayers, but that will be over by 2024. If the Slayers were defeated, then I needed to give the Pyr new enemies! So, the YA series is a natural evolution from the Dragonfire world, yet features an entirely different crisis for the dragon shape shifters.
The third challenge in writing a spin-off series is sustaining some links between the two series so they don't feel random or isolated. That brings us back to DARKFIRE KISS. That Dragonfire novel features Rafferty, a great favourite with readers and the one romantic in the bunch who has always yearned for his firestorm. Of course, I had to mix things up a bit to give him more of a challenge. The fact was that I couldn't imagine any woman resisting Rafferty's many charms (or his romantic determination to make a permanent match out of the firestorm), so there had to be big obstacles to this relationship.
One of my favourite themes is "Be careful what you wish for." What Rafferty's firestorm was so contrary to his expectations that everything he believed was undermined? This was a fun idea. I decided that Rafferty's book would feature the firestorm that had been foretold as the one that would change everything in the Dragonfire world. Darkfire is a force for change. As long as it burns, rules are broken and assumptions challenged. Darkfire turns everything upside down and inside out. In case Rafferty had doubts, one of the first interactions in this book between him and his destined mate Melissa results in her revealing the dragon shifters — who have previously been hidden from human society — to the world at large. Rafferty has to choose between the firestorm and protecting his kind. Because he's an idealist and a romantic, his choices are a permanent loving partnership or no connection with Melissa at all. The firestorm, however, is not an easy force to ignore — and Melissa, well, she's his perfect match.
Darkfire changes the world of Dragonfire, mixing everything up for future books in the series. It also changed Zoë. By the time of DARKFIRE KISS, Zoë is a toddler, who has shown some Wyvern-like talent. She's dispatched a few dreams and given visions to some of the continuing characters. She's shown promise in evolving as the prophetess of her kind. But what if the darkfire took Zoë's fledgling abilities away? I decided that she would begin to speak in Rafferty's book, and from that point on, she would show no signs of being different from a human child. This causes concern amongst the adult Pyr, as you might imagine, and also feeds Zoë's doubts as a teenager — she had been a child prodigy, by all accounts, yet any Wyvern abilities have been missing for nearly 14 years by the time we meet her at the beginning of her own book.
No pressure, as Zoë would say.
Even though one series led to the creation of the other — Dragonfire leading to the Dragon Diaries — and both take place within the fictional world of the Pyr, the two series are different from each other. They're aimed at different markets and feature different crises for the dragon shifters. They also possess the similarities inherent in the Pyr world, to create continuity between them. And finally, I have added some links between them with the darkfire sparked in Rafferty's book affecting the emerging powers of the toddler Zoë. I'm looking forward to creating more links and more differences between both of these series — even while the dragons breathe fire and fight evil in each book!
Deborah Cooke sold her first romance novel — a medieval — in 1992. Since then, she has written and published over forty romance novels and novella, under the pseudonyms Claire Delacroix and Claire Cross as well as under her own name. Her first book to land on the New York Times List of Bestselling Books was THE BEAUTY, part of her successful Bride Quest series. In 2009, she was the Writer-in-Residence at the Toronto Public Library, the first time they have offered a residency focused on the romance genre. She writes the Dragonfire series of paranormal romances, with the current release being book #6, DARKFIRE KISS. Her spin-off YA paranormal series, The Dragon Diaries, launches in June with FLYING BLIND. She lives in Canada with her husband.
You can learn more about Deborah and her books on her websites http://www.deborahcooke.com and http://www.thedragondiaries.com or find Deborah on Facebook
To comment on Deborah Cooke's blog please click here.