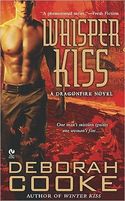 My Dragonfire series features heroes who are dragon shape shifters. That means they're hunky guys one minute, and fire-breathing dragons the next. (And yes, this is tons of fun.) I've always been crazy for dragons and always have loved shifter stories. To me, this was a natural combo. Just to give you a bit of background, the idea of the series is that my dragon shifters (the Pyr) defend the treasure of the earth and are the guardians of the four elements. They've been around for millennia, and as you might imagine, they've had their spats with each other. They tend to be independent, opinionated and often hot-tempered. They are, however, locked into the final battle for the defense of the earth, against the Slayers — which are Pyr who have turned bad. Because these are romances, there needs to be a love story, too: when each Pyr meets his destined mate, sparks literally fly. That meeting, which occurs once in a lifetime and signals the opportunity to create a son, is called the firestorm. It's not an easy interval for the Pyr hero – he has to romance his destined mate; convince her that when she sees him turn into a dragon, it's okay; conceive a son; defend her from the Slayers who are drawn to the firestorm (and usually think that the easiest way to have less Pyr is to kill human mates); and frequently he also has a mission to complete. There's sexual tension and romance and dragon fights and it's a whole lot of fun.
Niall Talbot, the Pyr hero of my current release — WHISPER KISS, which is Dragonfire #5 — is typical of my dragon heroes. He's running a business on his own because his partner sold out, he's volunteered to eliminate the shadow dragons, he's being stalked by his twin brother (who has gone to the dark side) and at the same time, his firestorm sparks with the most unlikely woman he could imagine having as a partner. I like keeping my heroes on their toes, but Rox — the heroine of WHISPER KISS — went one step farther in those stiletto books. She tickled the dragon's belly. Niall, I'm sorry to say, never had a chance!
Back when I started to plan the Dragonfire series, I did what I always do — I dug into research books. I spent time in libraries, and surfing around online. I read everything I could find about dragons — and there's a lot — then picked through it, deciding what elements to use in my stories about dragon shape shifter heroes. We'll talk about one of those ingredients today.
One thing that came up time and again was the idea that dragons have very keen eyesight. They see things that are very far away, even very tiny things. This, presumably, is an evolutionary development to ensure that they can effectively guard their hoards. (Assuming that we can talk about dragons and evolution in the same sentence!) Hoards and treasure also are recurring themes in stories about dragons.
Chinese dragons are reputed to have very keen hearing, too. This got me to thinking about all of the senses. It reminded me of the dog, Jip, in the Dr. Dolittle books, the dog which could discern all sorts of scents on the wind. He would have these running monologues as he mumbled to himself, naming each scent. I loved that part of the story because there was always something in the wind that you didn't anticipate. Cinnamon. In an ocean breeze. I'm sure the author had a lot of fun with those passages.
In the end, I decided to have my dragon shifters have very keen senses, all five of them. So, they do smell lots of things, especially subtle scents. They smell fear, for example, or — as Niall does at the beginning of WHISPER KISS — they smell danger.
They also have very sharp vision, seeing tiny things move at a great distance, but also seeing more than the women who fall in love with them expect. They're very perceptive, these Pyr guys, partly because they tend have lived a few centuries and partly because of that sharp eyesight. More than one heroine in this series has thought that the Pyr who was romancing her could read her thoughts. It's both sexy to have a hot guy so focused on you, and maybe a little bit worrisome — depending what your thoughts might be. Rox – in WHISPER KISS – fears that Niall can see her secrets. She has a bunch of them, and doesn't like anyone knowing them (that's the point of secrets, right?) so that impression of Niall spooks her a bit. (I should probably tell you that Rox has a major thing for dragons. It's all she can do to not jump Niall's bones, once she knows what he is.)
My Pyr also have a wider range of hearing than humans do. They hear sounds at higher frequencies (think of dog whistles) and those at lower frequencies than we do, as well. In fact, they communicate with each other in something called old-speak, which is conversation (usually terse) uttered at a very low frequency. Humans who overhear it mistake the rumbling sound for thunder or a passing train. As you might imagine, every heroine has issues with old-speak once she knows it exists!
I'll let you think about what heightened senses of touch and taste will do for a romance. I'm sure you can imagine that without my help!
The thing that's interesting about this is the challenge it gives me as a writer. Usually, writers use as many senses as possible to evoke a scene, and to give the reader the sense of "being there". I like to put readers right there, to experience the story with my characters. But when I'm writing from the point of view of one of my Pyr guys, I have to try to go deeper. I have to find that extra scent, the one that a human might not notice – the scent of burned toast in a cellar wafting down from three stories above, for example – the one that makes the reader understand what it is to be Pyr.
In WHISPER KISS, Niall and Rox embark on an adventure into uncharted territory. I'm not going to tell you where they went or what they find, but I hope that when you read those passages, you feel as keenly in that place as the Pyr.
Today, we're going to have a contest, too. Comment on this post and tell me what you think is the most distinctive trait of dragons, or of my Pyr. Is it the treasure? The longevity? The sharp senses? The ability to breathe fire? Or something else? Alternatively, you can tell me what really puts you in the world of a story? What pulls you right into another time and place, keeping you there until you've turned the last page?
One person who comments here will win a signed copy of WHISPER KISS!
Deborah Cooke sold her first romance novel — a medieval — in 1992. Since then, she has written and published over forty romance novels and novella, under the pseudonyms Claire Delacroix and Claire Cross as well as under her own name. Her first book to land on the New York Times List of Bestselling Books was THE BEAUTY, part of her successful Bride Quest series. In 2009, she was the Writer-in-Residence at the Toronto Public Library, the first time they have offered a residency focused on the romance genre. She currently writes the Dragonfire series of paranormal romances, with the current release being book #5, WHISPER KISS by Deborah Cooke. REBEL by Claire Delacroix, the third book of her trilogy of future-set paranormal romances featuring fallen angel heroes, will be published in September. She lives with her husband.
You can learn more about Deborah and her books on her website for Deborah Cooke orwebsite for Claire Delacroix find Deborah on Facebook
To comment for a chance to win Whisper's Kiss please click here.