I am incredibly honored to introduce you to Carolyn Haines – writer extraordinaire, animal lover, and a pretty good gal all around!
Carolyn writes the Sarah Booth Delaney mystery series, and her latest book, BONE APPETIT, continues the adventures of a Southern gal who is tough as nails and smart to boot, and her haint, Jitty, the ghost from Sarah's family past.
Before she began her mystery writing career, Carolyn spent nearly a decade as a journalist, qualities that she brings to her lively who-dun-its now. Now residing in Alabama, where she lives on a farm with three horses, four dogs and five cats. Did I mention that she was an animal lover?
Taking a break from a summer tour promoting her new book, Carolyn was kind enough to take some time to answer a few questions.
Sharon: At what age did you know that you wanted to be a writer?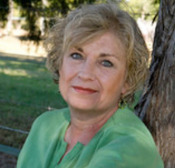 Carolyn: My parents were both journalists AND story tellers. I grew up in the perfect home for a would-be writer. Although the central focus was on facts and digging out the truth, writing of all types was valued in my home. Writing and reading.
I published my first newspaper story in the Mobile Register at the age of 12. (I had a little help!) While my parents thought I was a genius at fiction writing, they urged me to learn an "employable skill." So I first became a journalist, which is the perfect introduction to material that can be woven into mysteries.
Long answer, but I was very young. Animals and writing have always been the focus of my life. They continue to be the central theme in my day-to-day existence.
Sharon: How did you get interested in writing "cozy" mysteries?
Carolyn: I've always read all over the mystery genre, from dark thrillers to lighter and humorous stories. I actually didn't set out to write a cozy with THEM BONES. I just caught hold of the characters and went with them into this world of Zinnia, Mississippi. Almost all of my books are set in the Deep South, particularly Mississippi. I have a deep love—but also a critical eye—for this land. As a journalist I saw how corrupt the political and judicial system can be, but I also saw the wonderful, unconquerable spirit of the people who live here.
As it turned out, Jitty, the "haint" was a real wise-acre. And Sarah Booth was at her mercy. It wasn't until Sarah Booth stole the dog that I realized I was writing a mystery. And I was so excited—because I'd always loved reading them. I wasn't certain I had the skill to develop the plot properly, but I was neck- deep already and I don't like to quit in the middle of something.
Sharon: What inspired the Southern Belle/Private Eye theme of your series?
Carolyn: Sarah Booth is sort of an anti-Southern Belle. She's a failed Daddy's Girl. She is too direct for her own good, sometimes. But once Tinkie hired her to resolve the issue of Hamilton Garrett V's past, then she was working at a P.I. I truly didn't intend for her to start an agency—and who knew the relationship that would develop between her and Tinkie (a true DG with all the skill set). These characters grow and change and do things that startle me at times.
I realize Sarah Booth and Tinkie are the best P.I.s. They're a lot like me—the sort of stumble into the truth. That's one trait I share with both of them.
Sharon: What appealed to you about the genre of cozy mysteries as opposed to hardcore mysteries or suspense stories?
Carolyn: I love dark mysteries and suspense. I also write those kinds of books. But humor is also wonderful, and contrary to many opinions, as difficult to write as grit.
I have friends who act, and they always complained that comedy wasn't as respected as drama. It's as if any foolish person can be funny. I understand what they're saying. Books with humor are sometimes dismissed as "light weight." I think that's a shame. I didn't set out to write a particular type of books with THEM BONES. I just told the story that came to me. That's my job as the writer. The labels applied are all about marketing, not writing or reading.
Sharon: Your main character, Sarah Delaney Booth is just a hoot, and so is her sidekick Tinkie- where did you gather your inspiration for these characters?
Of course they're a combination of many people—mostly myself. Sarah Booth is who I might like to be. She has a good heart, and she tries to help people while stumbling around mired in the past.
Tinkie shares some traits with my friend Dixie. Dixie knows how things work, and she's smart enough to hush up about it. At first, Tinkie seems to be superficial—a woman who manipulates men into providing her with what she needs and wants. Beneath that social façade, though, is a very smart gal. And one willing to risk a lot for those she cares about. She has learned the lesson my grandmother tried so hard to teach me—you can catch more flies with honey than vinegar.
Sharon: With more and more series coming out in the cozy genre, do you see the competition for readership becoming more fierce? What do you do to keep your readers coming back for more?
Carolyn: The only thing I can do is write the best book possible. I do think the publishers are making a mistake by slapping together books that are sub-standard and flooding the market with them.
Dean Koontz wrote about this in his book on writing. Paraphrasing what he said— Publishers have a big success with a particular book, then they rush to buy more and more of that "type" of book. In the frenzy to capitalize on that success, quality slips, the reader gets sick of buying shoddy books and ultimately abandons that genre to read somewhere else.
This has happened in horror, romance, and now urban fantasy is bloated with too many books. The really good writers are submerged by the flood. I hope this doesn't happen in mysteries, but there is not a thing I can do about it—except write the best book I can and hope my readers hang with me.
Sharon: The cover art on your books is just gorgeous – very eye-catching! Who does the artwork for each book, and are you consulted as to how it will look?
Carolyn: I've been very lucky with the art work. I loved the Random House covers (which were done in-house by Jamie Warren Youll). The new covers are so different—but equally wonderful. These were also done with the in- house art department at the publishing house. Hiro Kimura is the artist. These artists are amazing—to be able to capture an essence of each book and visualize it and create a cover—so many talented people work on bringing a book to the reader.
Sharon: Who are some of your favorite authors? Who inspires you?
Carolyn: This is always a tough question because different authors inspire me in totally different ways. My first love will always be Flannery O'Connor, Doris Betts, Eudora Welty. Their short fiction inspired me to try to write. With one sentence they could pull me into the world of their creation. Dark, humorous, human—they explored the soul.
And Harper Lee. TO KILL A MOCKINGBIRD, a coming of age story, captured a time and place and people. It is an amazing creation.
There is no living writer I admire more than James Lee Burke. I'm reading his newest novel right now, and I am in awe at the power of his language, the passion for justice, and his love for the New Iberia area of Louisiana. In that same vein I admire Pete Dexter's The Paperboy and Dennis Lehane 's Mystic River. Add Val McDermid, Stieg Larsson, oh, the list could go on and on.
I adore Carolyn Hart's books, and those by Donna Andrews, Dean James (writing as Miranda James and Jimmie Ruth Evans), Mary Saums. What could be better than to settle into the hands of these talented writers. Charlaine Harris flips my wig with her incredible creativity. I could spend a week adding more to this list but I'll stop.
Sharon: What do you have coming up in the future?
Carolyn: BONES OF A FEATHER is with my agent now, getting the final read through before I turn it in to St. Martin's for 2011.
I edited an anthology of short fiction, DELTA BLUES, last spring and had such a blast, I might be looking to do that again. I love writing short stories and while editing was a huge job, I enjoyed it. Short fiction was truly my first love—so I'm delighted to say I have a story in FLORIDA HEAT WAVE and will have one in DAMN NEAR DEAD 2 (geezer noir! What could be more fun?)
And right this red hot minute, I'm working on a Southern gothic chiller. I love writing the Bones books, but I also love the dark side. This is a story that's haunted me for two decades. I finally figured out a way to tell it, so I'm working on that—just for me. If it's any good when I finish, I'll try to sell it.
Sharon: What advise would you have for anyone wanting to break into the "cozy mystery" genre?
Carolyn: Be prepared to sacrifice.
I heard an editor speak at a conference a long time ago. She said, "if you can walk away from writing, do it now." Unless you are driven to do this, find another way to make a living. This is really hard. The pay sucks. The hours are long, long. And you must do it in solitude. This applies to any genre, not just mysteries. Writing is not something to do when you're inspired—inspiration doesn't come along that often or linger that long. It's plain hard work.
I work every day. Not because I have to, but because writing is how I define myself. This is not an easy life. But there is nothing that equals it. I love it.
The best advice I can give is read. Read with your gut. Figure out what things you like and go deeper—why do you like them.
Sharon: You were named the 2010 recipient of the Harper Lee Award for Alabama's Distinguished Writer of the Year – can you tell us a little about this honor and what it means to you?
Carolyn: The award is given annually by the Alabama Writers Forum, which is part of the Alabama State Council on the Arts. There have been 13 winners. The award honors a body of work from a writer who is from Alabama, lives in Alabama, or writes about Alabama.
Of all the writers in the world, Harper Lee had more influence on me than anyone. To receive an award named for her is just amazing. I was given a bronze sculpture of the Monroeville courthouse clock tower. Sometimes I have to go and touch it to really believe that the award is truly real. It's an honor that goes right to my Southern roots.
My thanks to Carolyn for taking time to come by the Cozy Corner. For more information on her writing, her latest projects and to get a look at her gorgeous horses, check out her website at www.carolynhaines.com
Next month I'll be interviewing Hannah Reed about her debut mystery, BUZZ OFF: A Queen Bee Mystery. Be sure to come back and check it out! Until then, happy reading ya'll!