Instead of trying to find your perfect match in a dating app, we bring you the "Author Reader Match" where we introduce you to authors as a reader you may fall in love with. It's our great pleasure to present Denise Swanson!
Writes:
I write contemporary romance. I would say they are sexy, but sweet. I like to include lots of feels, but not too much angst. I want to warm your heart more than rip it to pieces.
My most recent book is Dangerously Delicious a Delicious Love romance about a nightclub owner who has recently decided he wants to find his forever woman, and a wildlife veterinarian who loves her furbabies more than most people.
About:
Country girl seeks fans of sweet sexy romances who appreciate strong heroines, and the alpha heroes who are smart enough to love them. Author writes such stories because she has been fortunate to live her own happily ever after with her hero husband who she met in high school.
What I'm looking for in my ideal reader match:
Knows that strong women aren't weakened by loving (and learning to lean on) the right man.

Has a weakness for hero and heroine who might not know they want their happy ending, but are willing to be persuaded.

Knows the thrill of love at first sight—even if it takes a while to admit it.

Wants a first kiss that curls your toes and makes you breathless.

Enjoys stories containing cute critters and even cuter men.

What to expect if we're compatible:

Plenty of feel good moments.

A handful of hold your breath scenes.

Surprise along the way and an ending that will make you sigh.
ABOUT THE BOOK
From New York Times bestselling author Denise Swanson comes DANGEROUSLY DELICIOUS, the second installment in her Delicious Love series. It takes one dedicated wildlife veterinarian, plus an impossibly handsome nightclub manager to prove that love always wins. Fans of Jill Shalvis, Bella Andre, and Susan Elizabeth Phillips will devour this sweet and sexy romance.
Delicious Romance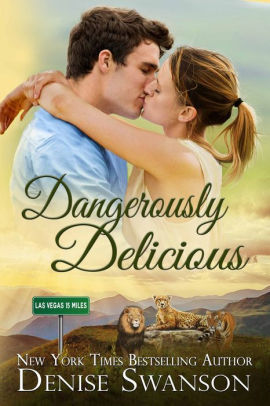 Take one dedicated wildlife veterinarian who treats her animals as if they were her babies, add an impossibly handsome nightclub manager who's determined to open the hottest spot in Las Vegas, and what do you have? A sweet, sexy romance that proves that no matter how much a man and woman may snarl at the idea of a relationship, love always wins.
* * *
Marco Thorne was hired by Club Wilde's owner to open up the newest, most outrageous venue yet. He is absolutely certain that he can handle all the competition Las Vegas has to offer until his overbearing boss contracts with Lions and Tigers and More sanctuary to have live exotic animals present in the jungle-themed club. Still, he has no choice but to go along with his boss's idiotic scheme, even if he thinks it's the worst idea he's ever heard.
Dr. Sage DeSantis's entire life is devoted to keeping the animals under her care in the sanctuary healthy and happy. After the sanctuary's owner announces that he's renting out some of Sage's babies to Club Wilde, she's sickened that they will once again be exploited.
When Marco and Sage meet, the chemistry between them nearly knocks them off their feet. Although they both have experiences in their past that make them leery of love, and Sage is determined to guard her heart, Marco is all in. But will Marco be able to convince Sage to give them a chance?
* * *
Publisher's warning: This book contains sensual consummated love scenes.
Series description:
Second in Denise Swanson's new Delicious contemporary romance series. All books are complete with no cliffhangers and a guaranteed HEA!
Sinfully Delicious is available now!
Undeniably Delicious is coming in 2019!
Romance Contemporary | Contemporary [Amazon Digital Text Platform, On Sale: November 6, 2018, e-Book, ISBN: 2940161797303 / ]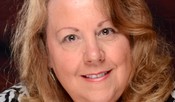 New York Times Bestseller author Denise Swanson was a practicing psychologist for twenty-two years. She writes the Delicious Love and Change of Heart contemporary romance series, as well as the Scumble River, Devereaux's Dime Store, and Chief-to-Go mysteries. Her books all feature small-town heroines with lots of heart.
Denise's books have been finalists for the Agatha, Mary Higgins Clark, RT Magazine's Career Achievement, and Daphne du Maurier Awards. She has won the Reviewers Choice Award and was a BookSense 76 Top Pick.
Denise Swanson lives in rural Illinois with her husband, classical composer David Stybr.