Hi, Denise! Welcome to Fresh Fiction and congrats on your debut novel! Please introduce yourself and tell us a little bit about HOW TO FAIL AT FLIRTING.  
Thank you for having me! I've been writing since I was a little kid, but it's a dream to see my debut novel out in the world. I grew up in the military which meant friends coming and going often, but I always had books and writing. I turned to academic writing while earning my PhD in education, but shortly after my son was born, I wanted the escape of writing fiction and here we are. How to Fail at Flirting is about a professor healing from the trauma inflicted by an abusive ex and ready to reclaim her life. She makes a to-do list that includes a one-night stand and taking some risks. The first doesn't work out, but the second leads to meeting Jake, flirting with professional ruin, and ultimately falling in love. 
HOW TO FAIL AT FLIRTING is told completely from Naya's point of view. How did you decide to use a single-POV narrator? What do you love the most about Naya's story?  
I love dual POV romance novels, but I told this story only from Naya's perspective because she is the character who is growing and changing. It's their shared love story and the conflicts impact them both, but she's the one for whom the stakes of falling in love are higher. What I love most about her story is that she ultimately realizes it's okay to be in-progress. I am a list-maker and type A like Naya and, believe me, we like to check things off and mark them done, but there's so much power in giving ourselves room to be imperfect and I enjoy seeing Naya find that power next to the man she's falling in love with. On a less philosophical note, she finds love with a hot nerd. Who doesn't want that?
Jake has an intense love for "dad jokes," which I found absolutely hilarious! How did you balance this aspect of his personality, while also still making him swoon-worthy? 
My husband knows if Jake ever comes to life, he'll be sharing me. I adore this hero. When writing him, I knew Naya's love interest would have to be someone disarming. After her last relationship, she is hesitant to trust anyone, and between his dad jokes, his comfort with his shortcomings, and his respect for her work, Jake is someone who makes her feel safe and seen. Without giving away spoilers, he has some of his own baggage, but he's in love with Naya from the beginning and it's hard not to swoon over that.
I've really been enjoying your fun video chats with fellow authors on your Instagram page! How did you come up with the idea for "How My Friends Failed at Flirting?" 
Thank you for watching! I was sharing bad date stories with some friends in a group chat and realized everyone had stories to tell. I wondered if some of the funny romance authors I admire would join me in laughing at each other's stories, and the rest is history. I had so much fun with How My Friends Failed at Flirting, but I didn't think through the fact I'd need to share ten of my own fails. Luckily, I have a deep bench and you may see more coming soon!  
What has surprised you about publishing so far?  
The kindness. I've been overwhelmed with the kindness from publishing professionals, fellow authors, reviewers, book bloggers, bookstagrammers, booktubers, and readers who have shared their time and energy. The community of people who love books is wonderful and welcoming and it's been an honor to be welcomed into it.
During this wild time, we've all had to find ways to cope with the uncertainty around us. What have you done to practice self-care lately?  
My son is four and we've started having dance parties in the living room and the backyard. Twirling and being silly with him is like taking a nice deep breath (sometimes several because the kid has a lot of energy). I think he's an old soul—his recent favorite is September from Earth, Wind, and Fire.
I love asking authors about what they are reading! What's a recent release or two that you'd like to recommend? 
HOW TO CATCH A QUEEN by Alyssa Cole is the latest knockout from a powerhouse author—the way she weaves story and character always leaves me feeling I read something special, and this latest is no exception. MIRACLES AND MENORAHS by Stacey Agdern came out in October, but I've recently re-read this debut. It's sweet and perfect and exactly what so many of us need right now.
Rapid Fire Random Questions
Favorite Romance Trope: Enemies to lovers. All day. Every day. If two people have legitimate reasons to despise each other in the beginning of the book, I will devour it.
Go to mani/pedi nail polish colors: I'm so boring! I almost always choose red or pink.
Do you dog-ear or use a bookmark in your books?: I almost always read digital copies, but when I buy a book, I usually I dogear *braces for the attack*
Pancakes or waffles?: Waffles. I'm very specific about my butter to syrup ratio.
Favorite book from childhood: BLACK IS BROWN IS TAN by Arnold Adoff. It's the first book I ever read featuring a multiracial family, and I keep it in my office next to my textbooks on racial identity development.
Morning person or night owl: Night owl. If I could, I would stay until two or three in the morning. Unfortunately, I live with morning people, so our house is usually moving by 6:00am.
First thing you'd splurge on if you won the lottery: We are fortunate to have a lovely home, but if I won the lottery, I would sell it in a heartbeat and buy a house with a big sunken bathtub.
A song that will always cheer you up: Let me take it back to the nineties: Step by Step by the New Kids on the Block.
Favorite season:  Fall (especially if someone else is raking!)
You have a totally free afternoon – no deadlines, no obligations, no Twitter notifications!  What do you do?: I would probably write! Writing is still my escape, so I would definitely take my laptop somewhere comfortable and work on a love scene.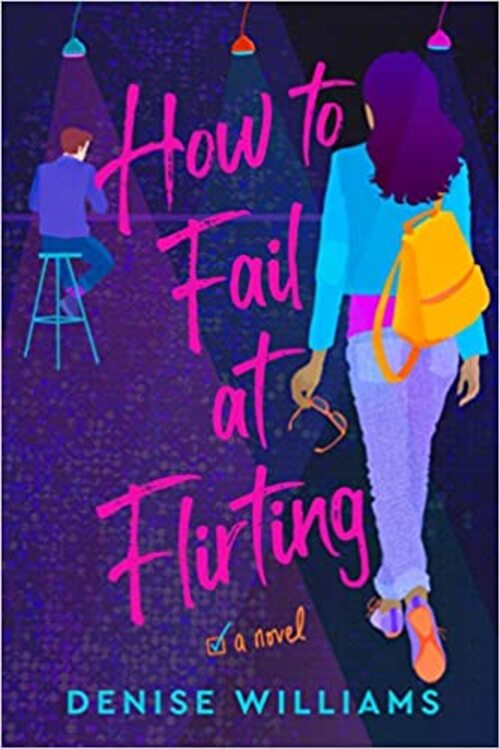 One daring to-do list and a crash course in flirtation turn a Type A overachiever's world upside down.
When her flailing department lands on the university's chopping block, Professor Naya Turner's friends convince her to shed her frumpy cardigan for an evening on the town. For one night her focus will stray from her demanding job and she'll tackle a new kind of to-do list. When she meets a charming stranger in town on business, he presents the perfect opportunity to check off the items on her list. Let the guy buy her a drink. Check. Try something new. Check. A no-strings-attached hookup. Check. . . almost.
Jake makes her laugh and challenges Naya to rebuild her confidence, which was left toppled by her abusive ex-boyfriend. Soon she's flirting with the chance at a more serious romantic relationship–except nothing can be that easy. The complicated strings around her dating Jake might destroy her career.
Naya has two options. She can protect her professional reputation and return to her old life or she can flirt with the unknown and stay with the person who makes her feel like she's finally living again.
Romance Contemporary | Romance Comedy [Berkley, On Sale: December 1, 2020, Trade Size / e-Book, ISBN: 9780593101902 / eISBN: 9780593101919]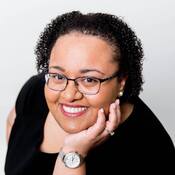 Denise Williams wrote her first book in the 2nd grade. I Hate You and its sequel, I Still Hate You, featured a tough, funny heroine, a quirky hero, witty banter, and a dragon. Minus the dragons, these are still the books she likes to write. After penning those early works, she finished second grade and eventually earned a PhD.
A diversity trainer and co-creator of a women's empowerment group, she is dedicated to developing flawed, multidimensional characters who struggle with those issues impacting real women. After growing up a military brat around the world and across the country, Denise now lives in Iowa with her husband, son, and two ornery Shih-Tzus who think they own the house. Denise was a 2019 Romance Writers of America Golden Heart Finalist and How to Fail at Flirting is her debut novel.