1–What's the name of your latest release? 
My new book is called SECRET NIGHTS WITH A COWBOY and also contains a bonus novella called SWEET NIGHTS WITH A COWBOY. The heroes are brothers. And cowboys. And super hot if I say so myself. 
2–What is it about? 
It's about a couple who got married young and never figured out how to move away from the kind of childish relationship things that marked how they started in high school. 
Can they finally learn how to grow together? Or is it really time to move on?
3–What word best describes your heroine? 
Determined. 
4–What makes your hero irresistible? 
He's a man who knows who he is and what he wants. Especially his wife!
5–Who are the people your main characters turn to when they need help? 
They both have their families and friends, who provide varying degrees of support and advice throughout! I'm lucky to have written three other books set in the same small town, so there are a lot of familiar faces in these books and a lot of chances for them to connect, learn, and grow.
6–What do you love about the setting of your book? 
Cold River, Colorado, is the perfect little mountain town! I wish I could go and live there myself. It has deep cowboy roots and a modern polish, it's funky and comforting at once, and seriously I love it there!
7–Are you a plotter (follow an outline) or a pantster (write by the seat of your pants)?
I guess I'm both, though mostly a pantster. I would never write an outline or follow one, because what I love is revealing the characters–to each other, to me–as I go. 
But when I hit certain points in the story I do like to have a little map of what lies ahead. I wouldn't call it an outline, but I sometimes make a list of what needs to happen at that point. 
And then sometimes I ignore that list. . . 
8–What is an ideal writing day for you? 
I dictate the first drafts of my books, so an ideal day for me would be a big chunk of words dictated in the morning that I could edit in the afternoon. Doesn't that sound perfect? It never quite works out that way, I'm afraid, but it's good to have goals! Ha!

9–Do you listen to music while you write, need total silence, or do you have the TV on?
I can listen to music while editing, and sometimes while writing–but only if it's wordless. Classical, etc. I listen to a lot of music (all kinds) while I'm thinking about my books and I make playlists for each one on Spotify (you can follow them if you like: https://spoti.fi/3iXavl9), but mostly when I write I prefer silence.
10– How do you approach research? 
I love research! 
Every book is different in terms of what it requires for research, so sometimes I'm an internet detective, and other times I find myself dusting off my academic research skills. No matter what, it's fun, and I can easily find myself three hours later off down a rabbit hole. . . 
11–What is your publishing journey story? 
I wrote all the time while I was growing up, mostly in black and white notebooks like Harriet the Spy. She was my hero!  
But it wasn't until I was off in England doing my doctoral research that I actually finished a book and sent it in. Amazingly, it turned out that the finishing was key! 
That book is called ENGLISH AS A SECOND LANGUAGE (written by my alter-ego Megan Crane) and it came out in 2004. Since then I've written more than 100 more books and still, finishing is the thing that makes all the difference. I never think I will, I always do, and once done I feel differently (and usually better) about the whole thing.
12–Do you have critique partners/writing groups you want to give a shout-out to? 
I'm lucky enough to have Maisey Yates and Nicole Helm read my books as I go. And I often have the incomparable Jane Porter read them when they're done. If you like my books, they might be why!
13–What're the most frustrating things about being an author? 
There just isn't enough time in the world to write all the stories I have bubbling around in here—and I write upwards of 12 books a year!
14–What's your favorite scent?
My mom when she hugs me. Which hasn't been for a while, with this year of ours, so I'm missing it a lot!
15–What movie will you watch no matter what if it's on TV? 
That Patrick Swayze movie, Road House. I don't even know why!
16–Do you like breakfast, lunch, or dinner best? 
Breakfast. Yum.

17–What's one thing you wish you knew more about? 
I've always loved the stars and wanted to be an astronomer—until I realized that involved a whole lot of math. I'm not great with math, so no astronomy for me. Happily, I can look at the stars all I like without any scary equations!
18–What's the silliest thing you've recently done?
I got a pandemic puppy! She's an adorable mini-Australian shepherd/pitbull/dachsund mix who has upended the entire household, of course.  
Her name is Gadget and we love her madly.
19–What can readers expect from you next? 
More Cold River! Hooray! 
The best way to track my books (I know, there are a lot) is to head over to my website and look at my Coming Soon page, or poke around my bookshelf and see what there is you might have missed.
Coming Soon: https://megancrane.com/coming.php
Bookshelf (where you can search by theme, like "cowboy," yum): https://megancrane.com/bookshelf/
20–How can readers reach you?
I have an author page on Facebook: https://www.facebook.com/MeganCraneAndCaitlinCrews/
And I have an Instagram where I post as many pretty pictures as possible, and also book stuff: https://www.instagram.com/meganmcrane/
But if you want to hang out with me more informally, the place to go is my reader group on Facebook: https://www.facebook.com/groups/CraneCrewsClan/
And, of course, you can always email me directly—see www.megancrane.com for details!
Happy reading!
USA Today bestseller Caitlin Crews returns to Cold River, CO, and cowboys, with an emotional second chance romance in Secret Nights with a Cowboy, the stunning first installment in her new Kittredge Ranch series.
A man holding on…
Riley Kittredge has always known exactly what he wanted. His land, his horses. His woman. He met and married Rae Trujillo far too young, and their young love combusted right after they said their vows. But their passion has never managed to burn itself out. Yet when Rae shows this time, it's not a night of pleasure she demands, but a divorce.
A woman letting go…
Rae should have moved on a long time ago. She knows she and Riley just don't work. They might make great lovers, but that doesn't make a marriage. And now Rae wants a new life, complete with a baby. But when her husband offers to be a father, to give her the family she's always secretly desired, she and Riley will both have to face demons from their past—and choose love over fear at last.
"Loaded with charming characters [and] wit….will win the heart of any romance fan."—Publishers Weekly (starred review) on A True Cowboy Christmas
Romance Western | Romance Contemporary [St. Martin's Paperbacks, On Sale: December 1, 2020, Paperback / e-Book, ISBN: 9781250625496 / eISBN: 9781250625502]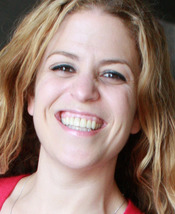 Caitlin Crews discovered her first romance novel at the age of twelve, in a bargain bin at the local five and dime. It involved swashbuckling pirates, grand adventures, a heroine with rustling skirts and a mind of her own, and a seriously mouthwatering and masterful hero. The book (the title of which remains lost in the mists of time) made a serious impression. Caitlin was immediately smitten with romances and romance heroes, to the detriment of her middle school social life. And so began her life-long love affair with romance novels, many of which she insists on keeping near her at all times, thus creating a fire hazard of love wherever she lives.
Caitlin has made her home in places as far-flung as York, England and Atlanta, Georgia. She was raised near New York City, and fell in love with London on her first visit when she was a teenager. She has backpacked in Zimbabwe, been on safari in Botswana, and visited tiny villages in Namibia. She has, while visiting the place in question, declared her intention to live in Prague, Dublin, Paris, Athens, Nice, the Greek Islands, Rome, Venice, and/or any of the Hawaiian islands. Writing about exotic places seems like the next best thing to actually moving there.
She currently lives in California with her animator/comic book artist husband and their menagerie of ridiculous animals.