When I wrote the first book in the Material Witness Mystery Series a few years ago, I had the luxury of establishing some murky backgrounds for the series characters—dropping in just enough to let you know who they were, but leaving myself some room to dig in to their pasts in the next two books. So when it came time to write book 3, SILK STALKINGS, I had to ask myself: what questions do I need to answer in order to give closure to the three books as a series? There was the question of what would happen between Vaughn and Poly (can they get past their differences?), and the question of whether or not Poly's fabric store would succeed (there's that loan that she has to pay back—yikes!). There were questions about Duke (what was the accident that left him paralyzed?) and the Lopez family (is their cat still blue?) But the overwhelming question had to do with the background of Charlie Brooks, auto mechanic, Van Halen fan, and new friend of Poly, so I knew book three would delve into that.
Charlie has been one of my favorite characters to write. She's a tough girl to the point that most people leave her alone, but when Poly comes to San Ladrón and experiences a less-than-welcoming reception, Charlie reaches out to help her. She's tough because she's had to be tough, bouncing around foster homes, ultimately learning the auto trade from someone who was close enough in age to her to be more like a big brother than a father figure. She can take care of herself (or so she says), but at her core she's still vulnerable. In a way, just living in San Ladrón is torture because her birth parents live there too—although now divorced and adversarial, they are hardly the picture of a warm, loving couple. Her father is one of the most powerful people in town and her mother runs a historical landmark. And while Charlie knows who they are, she's kept her own identity a secret from them both.
Until now, when her past, her present, and her future collide and the decisions she makes about how to live her own life put other people's lives at risk. It's a tough position for a loner, and it'll forever change the way she lives her life.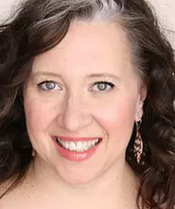 After two decades working for a top luxury retailer, Diane Vallere traded fashion accessories for accessories to murder. SILK STALKINGS, #3 in her national bestselling and Lefty-Award Nominated Material Witness Mystery Series, is out August 2016. Diane is the vice president/president elect of Sisters in Crime. She also writes the Madison Night, Costume Shop, and Style & Error Mysteries. She started her own detective agency at age ten and has maintained a passion for shoes, clues, and clothes ever since.
Diane's Bio: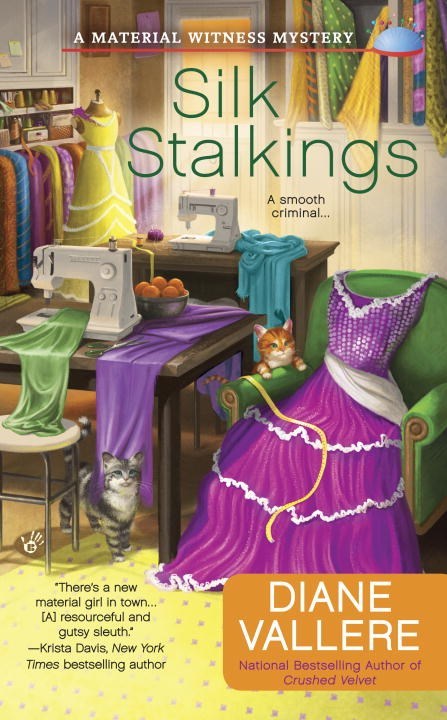 Fabric shop owner Polyester Monroe can get tangled up in textiles, but it's murder that really throws her for a loop in the latest mystery from the national bestselling author of Crushed Velvet.
The time has come for San Ladrón, California's annual Miss Tangorli beauty pageant, and Poly has agreed to use Material Girl's inventory of shimmery silks to create embellished gowns fit for a crown. But when millionaire Harvey Halliwell—the man who revived the city's citrus trade with his imported tangorli tree—is found dead days before the pageant contestants are announced, something sour takes over the town.
To make matters worse, her friend, mechanic Charlie Brooks, is soon caught up in the crime, having been seen in the company of the case's prime suspect. Now Poly's on a mission to squeeze out the truth. But as she searches for a pattern, the killer seems intent on cutting up the evidence…
Mystery Cozy [Berkley Prime Crime, On Sale: August 2, 2016, Mass Market Paperback / e-Book, ISBN: 9780425270592 / eISBN: 9780698136106]