You hear it at every Q and A: Where do you get your ideas? The question makes most authors cringe because the answer is silly and obvious: Everywhere.
But it's especially hard on mystery authors, because of a guilty secret. A Saint Paul police investigator and I were having a lively conversation about some of his cases when he said, mildly surprised, "You have a criminal mind." He expanded on that. "A professional criminal is always looking for an opportunity to commit a crime. He goes into a grocery story and automatically looks for the location of the office and whether the door stands open and if it does whether the safe is also open. He goes to a bar and notices if there's a drunk with a fat wallet. He sees a car in a driveway outside an upscale house being loaded with suitcases by a family going away on vacation and stores the address away in his head. You do the same thing, except you turn all those things into stories rather than actually committing the crime."
Yes, and so the proceeds of the crime come to my pocketbook legally.
But he's right. Actually, it's worse than that. I join an organization and immediately start looking for what I call "pressure points." Who is mad at whom? Who is being careless with the accounts? I go into an unfamiliar building and start looking for places to store a body (dropped ceilings are nice, but they leak). It's not deliberate, it's just that I've been writing crime fiction for so long that it's habitual; like the artist who automatically notices the play of light on surfaces, I can't help but notice how a simple twist on a behavior would make a clever criminal puzzle.
For example, reading a history of Renaissance Italy, I came across the notorious Borgia family. One of them murdered someone by soaking the victim's gloves in poison. Really? I thought. What kind of poison can be absorbed through the skin? A number of them, apparently. Are any of them odorless? Not sticky? Fast-acting? So that if you soaked knitting yarn in it and gave the yarn to an ardent knitter . . . Well, yes, nicotine for example. And so we have Knit Your Own Murder.
Have you ever observed that this would be a good "thing" for a murder? If so, what?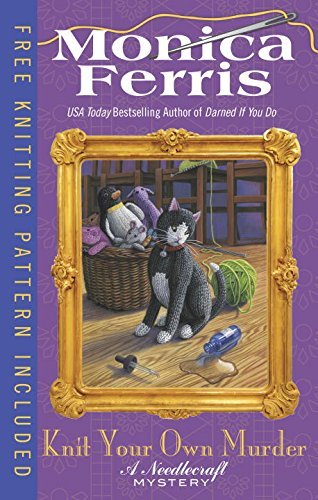 In the USA Today bestselling Needlecraft Mysteries, Betsy Devonshire has her hands tied between running her needlework shop and turning her sharp eye for deduction to solving crimes
The Monday Bunch and other local knitters are participating in a fundraising auction to save a community center, creating a growing pile of stuffed animals and toys right in front of the auctioneers as the audience bids. Among those contributing the most knitted goods is temperamental businesswoman Marsha Hanover—who keels over halfway through the event.
After she is pronounced DOA at the hospital, an autopsy reveals that Marsha had been poisoned. But how? And by whom? One of the prime suspects is her ruthless business rival Joe Mickels, who lost a bitterly contested property bid to Marsha.
When Mickels pleads his innocence to Betsy, she reluctantly believes him. But if Betsy is going to uncover the real murderer's identity, she must first untangle the knots Marsha made in her relationships throughout her life…
Mystery Cozy [Berkley Prime Crime, On Sale: August 2, 2016, Hardcover / e-Book, ISBN: 9780425270127 / eISBN: 9781101638309]