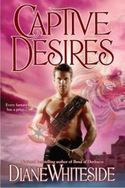 Hi, everyone! Big hugs to everyone here at Fresh Fiction for asking me to blog today. CAPTIVE DESIRES, my new paranormal romance and the sequel to CAPTIVE DREAMS, is published today!
CAPTIVE DESIRES is about Alekhsiy, the younger brother of Mykhayl, CAPTIVE DREAMS' hero. Thanks to dragon magic, he boldly crosses the void between worlds in order to stop the ultimate threat to his people. Unfortunately, this dumps him in the middle of a science fiction convention on Earth. His sole ally is Danae Livingston, the fan fiction writer he's always adored from afar – and who just may be enough of a sorceress to wreck havoc upon his home…
Somebody whose creativity becomes reality.
When I wrote CAPTIVE DREAMS, it was so easy to make the heroine a writer and a magic worker at the same time. Talk about wish fulfillment! Of course, there are good sides and bad sides to that, which Corinne certainly got to experience. (Oh my gosh, the payback for making an ice serpent bite Mykhayl!)
To read more of Diane's blog and to comment for a chance to win please click here.