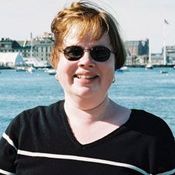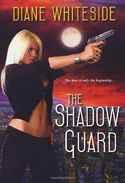 Readers always ask me what my book's hero looks like.  I'm lucky enough to almost always have an answer for them, even if I don't know how I got it.  Sometimes I "see" the hero's face and sometimes I know how he moves.  But sometimes he reveals himself piecemeal – and only after I've started working on his story.  (The rat!)
That's the way Jake Hammond, the hero of THE SHADOW GUARD, told me about himself.  Astrid and his story rumbled around in my head for years before I could write it.  I knew all sorts of personal stuff about him – his blind dedication to being a cop, his love for his family and hometown, his fumbling inability to form a long-term relationship with women, you name it.
But could I have recognized him on the street?  Not a chance.
That's very painful for a romance author who has to write scenes from her heroine's point of view.  What kind of guy makes her swoon?  Tall and dark, with six-pack abs the envy of everybody else in the gym?  Blond and handsome, chased by women of all ages?  I had no idea because neither of them would tell me.
I grumbled and kept their story percolating in the back of my head.
One day, I saw Greco-Roman wrestlers doing their thing during the Olympics.  Those dudes are big, deadly, graceful – and don't always look like athletes.  Some of the strongest ones have their muscles hidden under a regular guy's body, which makes them very dangerous.  I took one look at them – and said, "Jake!"
Whew, what a relief to know what he looked like!  Or did I?  After all, a homicide detective could hardly do his job attired in a wrestling singlet, especially during a Virginia winter.  I obviously needed to do more muttering and grumbling, while Jake and Astrid's story percolated some more.
That's where matters stood when I finally got to write their story.  Jake needed some clothing.  He's the head homicide cop so he's the lucky guy who gets to talk to the chief of police and the FBI when they come calling.  His wardrobe must be good enough to impress these guys – and yet casual enough so he can investigate crimes in the field on a moment's notice.  Not to mention warm enough for Virginia just before the Cherry Blossom Festival, when temperatures are optimistically described as changeable.  (Otherwise known as usually darn cold and windy!)
Where could I find some ideas?  TV shows?  Alas, CSI is set in Las Vegas and Miami which are too warm and Bones features an FBI agent, who wears far too many suits to give Jake pointers.
Where else?  Perhaps a store?  Someplace with style – whose clothes didn't look too fancy?  One night, I tripped while leaving a parking garage and ended up staring at a SALE sign in Banana Republic's window.  Jeans, oxford shirt, boots – nice.  Durable, not too fancy, but could definitely seem stylish.  Yes!
Okay, Jake, I got the point: you can stop beating me over the head.  I can help Astrid describe what you look like now.
What character in a book would you like to meet, just to find out what he or she looks like?
Please leave a comment to win a copy of THE SHADOW GUARD.
To comment on Diane Whiteside's blog please click here.