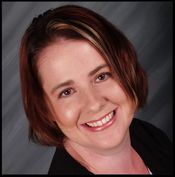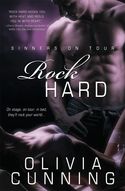 A lust/hate relationship. Ever have one of those? He infuriates you, but turns you on. You can't decide if you want to strangle him or have your way with him. You really don't understand each other and don't seem to have much in common, but can't keep your hands off each other. Find angry sex satisfying? It's all angry sex. Mercy, lust/hate relationships are hot. When you're involved in this type of romance, you find you've never felt more alive. Or infuriated. Or confused. Or passionate. I highly recommend you give it a try. For about a month. After that, you'd better find something more substantial to build your relationship upon than burning lust and righteous anger. The problem with passion that rages like an inferno is that it burns hot and quickly consumes its fuel. Oh, but it's so great while it's last. And if you can make that kind of passion last a lifetime, without killing each other… Well, you'd better stock up on your energy drinks.
In my most recent novel, ROCK HARD, the heroine and hero start with a lust/hate relationship. That hot, I-want-you, I-hate-you, go-away, don't-leave-me, take-me, don't-touch-me-you-jerk, I-can't-get-enough-of-you kind of relationship. Well, the heroine, Jessica Chase has all those feelings. The couple has a history and it didn't end well between them. Two years ago, they were engaged, but things didn't work out and they haven't seen each since their break-up. Jessica thought she was over him until, by chance, they meet again. The lust she felt back then is still raging and she thinks she hates him for breaking her heart, but does she? There's a fine line between love and hate. It just takes a little push in the right direction. The hero, lead singer of the rock band Sinners, Sed Lionheart, is trying to figure out how to get Jessica beyond her hostility, and over the line to the love side. He wants their relationship to last. He just doesn't know how to win her back. He'll try anything and he's not necessarily the most refined in his methods. Sed is a guy after all and doesn't effectively communicate his feelings. He also loves Jessica's hot-for-him condition and doesn't want to do anything to destroy the physical attraction between them.
Here's a short excerpt from ROCK HARD to demonstrate:
What had turned her from cold to hot in less than half an hour?
"I thought you said you hated me," he said.
She stood straight again and leaned closer, her hand pressing against the tent in his shorts. He drew a sharp breath through his teeth.
"I still hate you," she said. "That doesn't seem to stop me from wanting you, though."
"So, this is just about—"
"Sex, Sedric. Nothing more."
Could he have a purely sexual relationship with Jessica? He had no problem having that kind of relationships with dozens of other women, so why was he hesitating with her? Because she was different.
She could hurt him.
She did hurt him.
Just looking at her hurt. When he couldn't see her, it hurt. When he thought about her, it hurt. When he tried not to think about her, it hurt. But which hurt more, being with her or being without her?
The entire time his internal battle raged, she just stared up at him waiting for him to make the next move. His hand trembled as he lifted it to cup her jaw. His thumb brushed across her lips. Should he kiss her? She wouldn't realize that he hadn't kissed another woman since he'd fallen in love with her. Maybe his body had cheated, but his heart never had.
Her eyes drifted closed as he lowered his head. He hesitated, a hair's breadth between their lips. Something told him he'd regret this tomorrow, but now seemed more important. He traced the contour of her lush, upper lip with his tongue. She sighed, trembling, as her lips parted.
So how does one go from a lust/hate relationship to a commitment that will stand the test of time? Both Sed and Jessica are intensely passionate and stubborn people. One will not submit to the other. They need to learn to compromise. Easy, right? No, not really. But possible. As circumstances allow Jessica to see Sed in a different light and figure out who he is on the inside, maybe she'll forgive him enough to move forward. To turn her hate to love while maintaining the passion. They just have to learn to work as a team and move beyond their lust/hate relationship to a lust/love relationship. And oh what a ride to get there!
ROCK HARD BY OLIVIA CUNNING – IN STORES APRIL 2011
A Sinners on Tour Novel
Sinner's lead singer, Sed, had his heart shredded when Jessica left him to pursue her dreams, so when she dances her way back into his life, he's not sure he's ready for her brand of pain, or pleasure, again. When she convinces Sed to engage in a benefits with benefits relationship, things seem to be going his way, until one of his fans catches their explicit public display of affection on film and posts it all over the internet. Will Jessica ever trust Sed again? And has Sed become the man of Jessica's dreams or is he just posing to get what he wants?
ABOUT THE AUTHOR
Raised on rock music from the cradle, Olivia Cunning attended her first Styx concert at age six and fell instantly in love with live music. She's been known to travel over a thousand miles just to see a favorite band in concert. She discovered her second love, romantic fiction, as a teen–first, voraciously reading steamy romance novels and then penning her own. Her first Sinners on Tour novel, BACKSTAGE PASS was named a Top Read of 2010 by Love Romance Passion, Alpha Reader, The Fiction Vixen, Loves Romance and Smexy Books. She currently lives in Nebraska, where she is working on her next book! For more information, please visit http://oliviacunning.com/.
To comment on OLIVIA CUNNING's blog please click here.