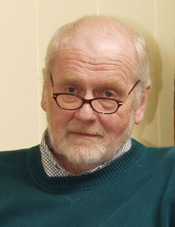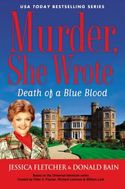 We're delighted to meet all of you here at Fresh Fiction. This has been a great year for the Murder, She Wrote series of mysteries. It's our 25th anniversary! There are now 42 books in the series which is based on the popular television series starring Angela Lansbury. The 43rd is written and at the publisher. While the show stopped production years ago (although you can see episodes in syndication on many cable services), you can still follow the exploits of our intrepid amateur sleuth as she trips over bodies and stays one step ahead of the police in tracking down murderers. Each book is an original mystery that finds Jessica Fletcher solving crimes all over the world, as well as in her beloved Cabot Cove, Maine.
The latest book, DEATH OF A BLUE BLOOD (October 2014), brings readers to the Cotswolds, a part of the charming English countryside with rolling hills of farms and villages, thatched cottages and quaint pubs, and Castorbrook Castle, home to the Earl and Countess of Norrance. The lord and lady of the manor have invited Jessica Fletcher and her dear friend Scotland Yard Inspector George Sutherland to be their guests at a New Year's Eve ball. Joining them will be the earl's crotchety mother, and the couple's bickering children, along with a colorful assortment of upstairs visitors and downstairs staff.
If this is sounding a bit like the PBS program Downton Abbey or, reaching farther back, Upstairs, Downstairs, you've made a good guess. While DEATH OF A BLUE BLOOD takes place in current times, it owes a debt of gratitude to these great shows that brought to the small screen the elegant lives of fictional British aristocratic families.
In Blue Blood, before she even has a chance to meet her host and hostess, Jessica discovers a woman lying dead on a garden path. It turns out she was the family's former nanny, and the mystery begins.
This is the sixth or seventh book in which the character of Inspector George Sutherland is featured (we lose track). They met in the very first book, GIN & DAGGERS, and have been carrying on a flirtation throughout the series. While Jessica and George continue to have warm feelings for each other, they understand that more than an ocean separates their lives. Even so, many readers still root for their romance, although some tell us that any love interest for Jessica should be her Cabot Cove friend, Dr. Seth Hazlitt.
We're sure you'll enjoy DEATH OF A BLUE BLOOD and hope you'll pick up other Murder, She Wrote mysteries. There are a lot to choose from. If you have a favorite book in the series, please let us know.
Donald Bain
Renée Paley-Bain
Visit our website or visit us on Facebook.