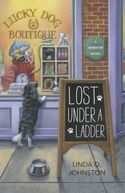 … which I hope is good luck for both my readers and me!
Thanks for inviting me to blog here again, Fresh Fiction. Since I last visited in January of this year, I've had four books published: TEACUP TURBULENCE, my last Pet Rescue mystery for Berkley Prime Crime; UNTAMED WOLF and LOYAL WOLF, both Harlequin Nocturnes in my Alpha Force miniseries about a covert military unit of shapeshifters; and now… LOST UNDER A LADDER, my first Superstition Mystery!
LOST UNDER A LADDER is being published by Midnight Ink. It introduces protagonist Rory Chasen, who, with her adorable black and white spaniel-terrier mix Pluckie, visits Destiny, California, a town where superstitions reign.
Why do they go to Destiny? Because Rory's beloved fiancé Warren died a few minutes after walking under a ladder, and she needs closure. And the only way she can achieve it is to determine whether superstitions are real. Maybe.
Soon after they reach Destiny, Pluckie insists that Rory enter the back room of the Lucky Dog Boutique. There, they find Martha Jallopia, the shop's owner, lying on the floor. Martha is ill but conscious. She says she knows she is going to be fine since black and white dogs are good luck!
As Martha recuperates, she twists Rory's arm to stay and manage the shop. The town's police chief Justin Halbertson, who is close with Martha, also encourages Rory to stay. Rory was the assistant manager of a chain pet store in Los Angeles, so she's a logical choice. And does she agree?
What do you think!
Creating Destiny was especially fun. It caters to tourists, encouraging them to learn a lot about superstitions while spending money at shops and restaurants such as the Lucky Dog Boutique, of course, but also the Broken Mirror Bookstore, Shamrock Steakhouse, Beware-of-Bubbles Coffee Shop, Heads-Up Penny Gift Shop, and more, not to mention the Break-A-Leg Theater. Rory and Pluckie stay at the Rainbow Bed and Breakfast.
The tourists also seek out good luck by avoiding stepping on the cracks on the sidewalk while picking up the lucky heads-up pennies that seem to appear out of nowhere. But they do have to try to avoid having a black cat walk across their paths.
But Destiny isn't perfect. Of course there's a murder in the story. It is, after all, a cozy mystery. The victim is Kenneth Tarzal, the author of the foremost book on superstitions, The Destiny of Superstitions. When Martha becomes the main suspect, Rory has to help clear her.
Pets? Superstitions? A mystery? They're all in LOST UNDER A LADDER.
My fingers are crossed that lots of Fresh Fiction readers will pick up copies of LOST UNDER A LADDER and have fun reading it!