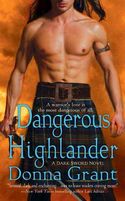 I'm not sure many readers realize there is much about the publishing business authors have no control over.  We write the books, but scheduling, covers, and titles are just a few of the things we have no control over.
There have been times I've begged my editor for a change in the title, and other times I've jumped for joy.  For instance, in the first book of my Dark Sword series, the book is titled DANGEROUS HIGHLANDER.
My editor and I agreed that it fit the hero perfectly.  Consequently, when I learned books two and three would be FORBIDDEN HIGHLANDER and WICKED HIGHLANDER respectively, I knew my titles were wonderful!
They weren't the first titles I was given for the series.  The first book was supposed to have been called Demon's Kiss after an object in the book, with the other books titled Demon Prince and Dark Demon.