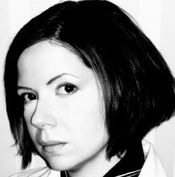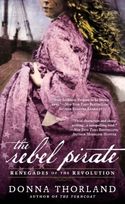 Today we're visited by Donna Thorland, author of THE REBEL PIRATE. She's on a tour and we have an exclusive Q&A with her.
What are your top 5 romance/women's fiction novels of all time?
I'm going to cheat a little, because some of my favorite books are part of a series…
Dorothy Dunnett's Lymond Chronicles is actually six books, but every one of them is a non-stop adventure with meticulous historical detail and extra servings of swashbuckling romance. There's a love story at the center of it that doesn't resolve until the last page, but when it does, it creates a true partnership of equals.
In second place I'd put George MacDonald Fraser's Flashman series. Flashman, the bully from Tom Brown's School Days, is a cad, a rake, and an errant coward and his adventures simultaneously skewer and celebrate Victorian mores and British imperialism. They're absolutely irresistible . . . except on the rare occasion when Fraser is describing cricket.
I'm a Jersey girl at heart, so Janet Evanovich's Stephanie Plum books deserve a place on the list.
I ended up studying Classics in high school because I was fascinated by pre-Hellenistic Egypt but hieroglyphics weren't on the syllabus, so I had to settle for ancient Rome. I got to live out my childhood fantasy of becoming a female Indiana Jones in Elizabeth Peters' Amelia Peabody books. They've got a terrific romance element to them as well.
Last but not least, I'm sorry to see Lauren Willig's Pink Carnation books draw to a close. Reading them is what I imagine it would be like to have tea—no, scratch that: cocktails—with Baroness Orczy and Dorothy Sayers—equal parts adventure and wit.
1775, Boston Harbor. James Sparhawk, Master and Commander in the British Navy, knows trouble when he sees it. The ship he's boarded is carrying ammunition and gold…into a country on the knife's edge of war. Sparhawk's duty is clear: confiscate the cargo, impound the vessel and seize the crew. But when one of the ship's boys turns out to be a lovely girl, with a loaded pistol and dead-shot aim, Sparhawk finds himself held hostage aboard a Rebel privateer.
Sarah Ward never set out to break the law. Before Boston became a powder keg, she was poised to escape the stigma of being a notorious pirate's daughter by wedding Micah Wild, one of Salem's most successful merchants. Then a Patriot mob destroyed her fortune and Wild played her false by marrying her best friend and smuggling a chest of Rebel gold aboard her family's ship.
Now branded a pirate herself, Sarah will do what she must to secure her family's safety and her own future. Even if that means taking part in the cat and mouse game unfolding in Boston Harbor, the desperate naval fight between British and Rebel forces for the materiel of war—and pitting herself against James Sparhawk, the one man she cannot resist.
Our Review
"Can a pirate's daughter ever live happily with a British officer?"
One commenter will win a copy of THE REBEL PIRATE, just write below one of your favorite authors
See other spots on the tour
To comment on Donna Thorland's blog please click here.