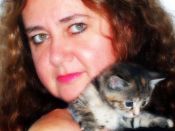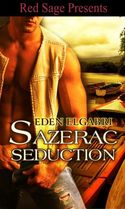 There are times when I feel like I could never be lonely. There are too many people running around in my head. I often thought they were compensation for being shy. I might not have always had the courage to jump in a conversation with a bunch of people I didn't know, but I could sit back and create very exciting scenarios in my head.
Many times I'd be walking down the street or sitting in a restaurant and I'd see a man or a woman that would instantly become a new character. Sometimes a single expression would be the start of a great adventure even if it never made it to the page.
With my new release, SAZERAC SEDUCTION from eRedsage.com, the character seduced me with the sound of his voice. I heard him. The deep rich Cajun dialect whispered directly into my head causing me to shiver. I shut my eyes and let him in, let the sound envelope me like a blanket on a cold winter day. How could I not write his story? And of course with a sexy voice like that I had to give him a face and body to match.
Remy is sex personified. He is every woman's dream and also her nightmare because he is the type of man a woman never gets over. She knows going in she'll be changed forever and she goes anyway.
I'm offering a free copy of Sazerac to the person who can describe her real life Remy. What was it about him that made you fall so helplessly? The one who comes closest to my Remy will win.
Good luck and thanks for joining us here at Fresh Fiction.
Eden Elgabri