1–What's the name of your latest release?   
My latest book in the Dr. Kate Vet series is called SADDLED with MURDER. It will be available on October 27, 2020. The word saddle in the title has a duel meaning, one of which involves a wild mustang who has been adopted out and is having difficulty adjusting to his new home.
2–What is it about?
It's a mystery that reminds us to be careful what you wish for. The story begins at the Oak Falls Animal Hospital Christmas party, where Cindy, the receptionist, suggests playing a party game. Everyone is asked to share a secret selfish holiday wish. It's been a long day for Dr. Kate Turner. She's juggling a lot in her professional life and private life and when it is her turn, she stands up in front of the staff and says she'd like to make two problem clients disappear. Kate isn't specific – but the audience yells out some names. "Abracadabra, poof, they're gone," she says. That night a video taken at the party is posted on social media, which makes Dr. Kate feel terrible. But she feels even worse when the first of those clients is found dead.
3–What word best describes your main character(s)? 
Determined.
4–What makes your story relatable?  
My veterinarian Kate Turner is a woman working a demanding job, who often is too tired at night to do anything but curl up on the sofa with her rescue dog and watch HGTV. She's got a lot of student debt, a relationship that's going nowhere, and yet every day she gets up and does her absolute best. I think there are a lot of us who feel like Kate.  
5–Who are the people your main characters turn to when they need help? 
Her grandfather always has her back, and she also relies on a diverse and very vocal group of work friends and clients. Her love life at the moment is stalled, but that doesn't prevent some old boyfriends from popping up.
6–What do you love about the setting of your book? 
It's been fun to combine fiction and fact and create the town of Oak Falls in the Hudson Valley of New York State. That is a very familiar part of the world for me. I went to high school near Poughkeepsie, and Olivebridge is the small town where my husband and I lived for over a decade. I like to think Oak Falls has some elements of Woodstock, Bearsville, and Phoenicia with a huge helping of my imagination. There's a lot going on in the many towns sprinkled throughout the valley, full of artisans and chefs and people dedicated to nurturing the land. The sheer physical beauty of the area coupled by its harsh winters forces you to pay attention to Mother Nature, which is something I always weave into the storyline.
7–Are you a plotter (follow an outline) or a pantster (write by the seat of your pants)? 
I'm both. Does that make me a plottypants?
8–What is an ideal writing day for you? 
A day when the sentences come out right. Usually, when I'm writing a book I give myself a specific word count goal. That forces me to write something every day. If my output isn't that great – well, that's what rewrites are for. 
9–Do you listen to music while you write, need total silence, or do you have the TV on? 
At home, I prefer not to listen to music or the TV, but there's always noise going on in the background. My oldest kitty is 17 and she has multiple demands throughout the day, which she prefaces by a loud yowling. Since we're renovating our home the construction noise is constant, with hammers and drills sporadically blaring. I've written on tour buses, in busy airports, and to the dismay of my husband, sometimes while eating in a restaurant. Once you have a deadline you don't have much choice.
10–How do you approach research?
Research is sheer joy. Most writers I know LOVE doing research because it puts off the task of actually sitting down and writing. Most of us could happily do research for days, weeks, or even months.
11–What is your publishing journey story?
I began by writing and drawing homemade picture books for my daughters while working as a veterinarian in upstate New York. When our family moved to Phoenix, I started taking classes in both fiction and non-fiction writing at various community colleges. During that time period, The Scottsdale Tribune newspaper hired me to contribute to their Sunday supplement. Going to conferences and workshops is another great way I learned about the book business and polished my skills. Thrillerfest is one of my favorites. Over the years I did some public relations work, and most importantly, joined a local critique group. In 2013 I won the nationwide Discover Mystery Award sponsored by Poison Press Publishing. Getting your entry novel published was the prize. My first book, MUZZLED, is the result.
12–Do you have critique partners/writing groups you want to give a shout out to?
Absolutely. My critique group, the Sheridan Street Irregulars, has been invaluable in helping shape all my recent manuscripts. In fact, joining a critique group is one of the first bits of advice I give to authors starting off. This year I'm also serving as the vice-president of the Society of Southwestern Authors, which sponsors lectures and workshops for writers in the Phoenix area.
13–What're the most frustrating things about being an author? 
The business side. It's hard enough to write a good book, but then you have to promote it? Authors also need to be salespeople in today's competitive market.
14–What's your favorite scent? 
Lemon is my favorite, but I adore all sorts of citrus fragrances including blood orange, lemongrass and orange blossom. I've got some L'Occitane lemon verbena spray sitting on my desk at the moment that perks me up when I'm dragging. Of course, freshly brewed coffee and the smell of chocolate brownies, or really anything chocolate, are up there, too.
15–What movie do you watch no matter what if it's on TV?
Jaws, Independence Day, The Holiday, any Nancy Meyers movie, Joe versus the Volcano, The Switch . . . I'm pretty eclectic so I pick the movie depending on my mood.
16–Do you like breakfast, lunch, or dinner best? 
That's a hard one for me. I've been eating the same breakfast of yogurt and fresh fruit for the last ten years. It's enjoyable for several reasons but mostly because I don't have to think about it and it only requires a spoon and a bowl. I'm not naturally a morning person so an easy clean-up, matched with no decisions before my first coffee of the day, starts me off right. I guess that leaves lunch and dinner, and my choice between those two is definitely lunch. At lunchtime, I put my work away and try to slow down and savor my food. The largest meal of the day for me is lunch. My garden is usually full of herbs like basil, mint, and rosemary, so I often mix them into what I am preparing.
17–What's one thing you wish you knew more about?
Car mechanics. I have to confess I know nothing about cars.  
18–What's the silliest thing you've recently done? 
Somehow, I tripped over my own foot while standing still. I'm still stumped as to how I did that!
19–What can readers expect from you next? 
That's a good question. I've got several projects I'm working on at the moment including a children's book, a stand-alone thriller, and a small book of poems, as well as the next book in my Dr. Kate Vet series.
20–How can readers reach you?
It's always fun to hear from readers. The best way to reach me is by email at [email protected] or visit my website at http://www.eileenbradymysteries.com/.
Dr. Kate Vet Mysteries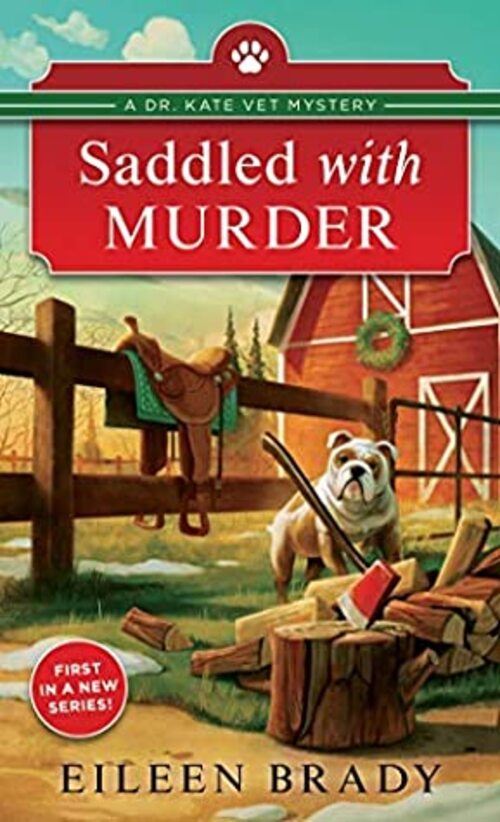 First in a new vet books mystery series, perfect for fans of cozy mysteries by Miranda James and Leann Sweeney!
Veterinarian and amateur sleuth Kate Turner has her hands full trying to juggle two boyfriends, a thriving practice, and a criminal investigation
It's the Christmas season and veterinarian Kate Turner is not feeling very jolly. She's overworked, unappreciated, and dealing with two dissatisfied clients. Throw in a very complicated personal life and Kate's definitely got a case of the holiday blues.
To make matters worse, Kate's ex-boyfriend, Jeremy, is mugged and robbed after they have a heated argument in the hospital parking lot. Then, two of her dissatisfied clients turn up dead (which really gets Kate's tinsel in a tangle). All of these events seem like coincidences, but they add up to something much more venomous.
Saddled with Murder is a cozy holiday mystery from beloved author Eileen Brady that explores the fragility and resiliency of animals and humans whose trust has been broken, and will keep animal-loving readers riveted until the last page.
Mystery Cozy [Poisoned Pen Press, On Sale: October 6, 2020, Mass Market Paperback / e-Book, ISBN: 978146421271 / eISBN: 9781464212734]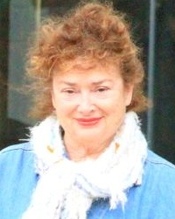 Eileen Brady is a veterinarian living in Scottsdale, Arizona. She is a wife and mother of two daughters and often has to chase her six cats and two dogs away from her laptop keyboard. The Kate Turner, DVM Mysteries is her first series.