It's that time of year when all the ghosts and goblins appear! Unfortunately, 2020 has made it difficult for them to visit your doorstep, so why not let them visit your library instead:) My guest at the Cozy Corner will allow you to do just that, and so much more. Maggie Toussaint loves to captivate readers with her eclectic writing that captures the imagination no matter what genre you prefer, she's offering a sea full of great books!
***
Kym: Welcome to the Cozy Corner, Maggie!
Maggie: Thanks! It is my pleasure to be here.
What an interesting mix of writing you do! Mystery, romance, and sci-fi, but what you left out in your bio was how beautifully you incorporate paranormal in your Dreamwalker Mysteries. Can you tell our readers about the series?
I have had an arm's length fascination with the paranormal for most of my life. When I decided to write in this genre, I blended my fear and fascination into a reluctant sleuth's strengths and weaknesses, and Baxley Powell formed on the page. You see, she'd denied her psychic abilities for so long, that her journey of self-discovery involves learning about a new extrasensory talent with each book.
I think we can all relate to Baxley's denial this year 😉 This series seems to hold a special place in your heart and in August you released your seventh novel (no small feat!) in the series, All Done With It. Please tell us the title of book seven isn't a foretelling of the end of the series!
Sadly, it's true. I loved losing myself in the Dreamwalker Mysteries, but it was time to give those characters a break. Plus, Baxley's character arc is complete. However, there is a possibility I will write about her son as a sleuth.
Yay! Your sci-fi series The Guardian of the Earth is written under the pseudonym of Rigel Carson. Do you plan on writing any more in that genre?
I loved writing this series! My science background came in handy as I devised complex conspiracies for my sleuth, Dr. Zeke Landry, and his android sidekick, Forman, to unravel. I pushed the series timeline into the near future and added trademark elements of science fiction like first contact and an invasive species landing on our planet via a meteor shower. I got hooked on science fiction through the TV show Star Trek a long time ago, and I've always been curious about what's beyond our solar system. For now, further development of this series is on hiatus as I explore new story worlds in current times.
 You mix real life with fiction to add flavor to your novels, what inspired your new series Seafood Capers Mysteries?
As someone who's admired great cooks all her life, I wanted to pay homage to the women I know who absolutely get energized by cooking. I cook well enough to put something mostly edible on the table each night, but amateur sleuth River Holloway is the real deal. Her cooking is amazing, and she has a knack for getting people to open up to her.
You have a rich family heritage in Valona, Georgia. Do your childhood memories of the coastal islands come to life for you in this series?
Though it is set on a fictional representation of one of Georgia's "Golden Isles," the Seafood Caper series has the small town vibe that cozy readers love. Anyone who's ever vacationed or lived at the shore knows that the cadence of twice-daily tides keeps everything on an even keel, pun intended. For me, the seashore has always had a centering effect, and the same is true for my sleuth River. As a youngster, I played with boy and girl cousins in our isolated hamlet, and we spent most of our time outdoors. It felt natural to create a male childhood friend for River to crab, fish, swim, and bike with, since that was also in my background.
You've captured the love of your childhood lifestyle very well, it's what hooked me to your Seafood Caper Mysteries, plus you have quite the cast with interesting names for the series: your heroine River, your victims of foul play Kale, Chili, and Curtis Marlin, and of course 'Deputy Dog' Lance Hamlyn. Where do you find inspiration for your character's names—in the ingredients from your kitchen? 😉
I love naming characters. I search out names in obituaries, in places I visit, and from listening to people talk. Kale's name is a variation of one from here, Kell. His brother Chili's name came to me out of the blue, but once I paired the two, it felt right. Their mom, you see, had changed their names, but that's a bit of a secret… People have said I have a quirky personality, and I write about quirky characters, so slightly offbeat names work the best for my stories. When I moved back to my beloved Georgia coast some years ago, we had a sheriff with a first name of Chunk and our current mayor's first name is Bubba. Those very real names fuel my creativity.
OMG, I love Chunk and Bubba! You have three scrumptious recipes at the back of your first Seafood Capers Mystery, Seas the Day—sea bass, crab cakes and lemon meringue pie. (I'm dying to try the sea bass!) What do we have to look forward to in your second book in the series?
In the second book, River's sharing her recipes for Grilled Red Snapper with Mango Salsa, Shrimp Tacos with Sriracha Sauce, and her version of peach cobbler, River's Peach Supreme. My mouth's watering at the thought of each of these specialty dishes.
Mine too! November 9th you're releasing the second book, Spawning Suspicion. Can you tell us a little bit about the book?
Playboy Curtis Marlin dined for years on his high school basketball superstar reputation. His demise is deemed a homicide when poison is the manner of death, and within a few days, River's brother and his girlfriend are accused of killing Curtis. Rumors run through this island community like hot gravy over buttered biscuits, each one more damaging than the last. Though River stakes her house on her brother's innocence, her investigation paints a target on her back. Will she unmask the killer before she becomes the next victim?
That's a one click purchase for sure! What are you working on now?
I'm pumped about the book three in the Seafood Caper Mystery series, Shrimply Dead, because there's lots of Southern flavor in this April 2021 release. Caterer River Holloway is devastated by the shooting death of her friend Jasmine Garr. As River peels away the onion-skin layers of Jasmine's life, dangerous secrets come to light. Will River unmask the murderer before she becomes a cold dish that's served dead on arrival?
You just keep them coming! Can you give us the links on line where readers can find you?
Below are links where readers can reach me online. I am also an amateur photographer and post many of my photos on my Facebook author and personal pages. These images help illustrate the story worlds I write about. Also my newsletter signup is on my website, along with information about my books.
Website | Facebook | Twitter | Blog | Goodreads | LinkedIn | Pinterest | Booklover's Bench |
Amazon Author Central | BookBub |
Kym: I love your creativity, and you really do have great pics on social media. Thank you for joining us at the Cozy Corner!
Maggie: Thank you for having me. I enjoyed answering your questions and loved having this opportunity to showcase my mysteries.
***
Until next month when we welcome author Wendy Watson to sit a spell at the Cozy Corner, get cozy and read on!
***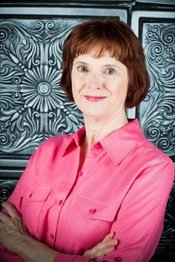 Southern author Maggie Toussaint writes mysteries and suspense. With twenty-plus published books to her credit, her forthcoming release is Spawning Suspicion, book two in her Seafood Caper Mysteries, featuring a sleuthing caterer on a coastal island. A past president of Southeast Chapter of Mystery Writers of America and a vice president of Lowcountry Sisters In Crime, Maggie's won five writing awards, including Silver Falchion Awards, an Epic award, and a Reader's Choice Award. She lives in coastal Georgia, where secrets, heritage, and ancient oaks cast long shadows. Visit her at www.maggietoussaint.com.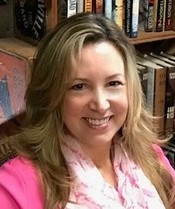 Passion. Mystery. Suspense. Catch the Wave! Because a little PMS can change your world!
Kym Roberts is a retired detective sergeant who looks for passion, mystery and suspense in every book she reads and writes. She can be found on the web at kymroberts.com, on Facebook @KymRobertsAuthor911 and on Twitter @kymroberts911. Her Amazon bestselling Book Barn Mystery #5, Killer Classics was finalist for the Fresh Fiction Awards for Best Cozy Mystery & Best Book! Check out Sinfully Wicked, a romantic suspense novel by Kym that will heat up your night! Coming soon, Dead Right There, A Malia Fern Mystery #2.