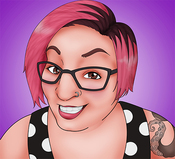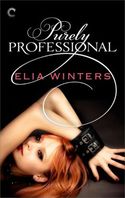 Like many writers, I've always been a reader. There's a special place in my heart for literature, whether classic or modern: Jane Austen, Charles Dickens, George Orwell, Margaret Atwood, Barbara Kingsolver, the list goes on. I'm pursuing a Master's degree in Literature; I teach high school English; I've loaded my ereader with every classic available from Project Gutenberg.
Many people are surprised, then, to learn that I write erotic romance. When I tell them, there's a moment of hesitation, a slow blink, maybe a stammer. How can I, a well-educated lover of literature and a professional in my field, read and write those kind of books? It's difficult for them to reconcile their conflicting stereotypes.
To be honest, I love that reaction. I love catching people off-guard and making them question all their preconceived notions about who reads and writes romance, especially erotic romance. Most of all, I love my genre.
Erotic romance combines the best of two categories. Erotica has all the hot sex a person could want, described in toe-curling titillating detail. Romance has the guaranteed happy ending; those two characters are going to fall in love. Putting them together creates erotic romance: a character's sexual journey leading to love and happiness. What's not to like?
Our often-Puritanical society wants us to feel guilty about sex. Erotic romance challenges that guilt. Why shouldn't we enjoy reading and writing about sex? It's fun, natural, and hot. So I refuse to be ashamed of what I write, and I want my readers to give up their shame as well.
My first novel PURELY PROFESSIONAL recently released from Carina Press. Not only is it erotic romance, but it's BDSM erotic romance. Publishing this novel required a certain degree of "coming out" to my friends and family, and they've been incredibly supportive. This novel has opened lines of dialogue with my friends about sexuality and kink, encouraging us to laugh and share with each other, and I couldn't be happier for that outcome.
Life is too short to worry about what other people think of the things you love. I encourage you: let go of your stereotypes and read what brings you joy.
Columnist Bridget Hartwell agrees to write about BDSM to impress her new executive editor at Sultry, the "sex-positive magazine for sex-positive women." Unfortunately, it's a topic she knows absolutely nothing about…but if she ever wants that promotion, she'll need to learn the ropes, fast.
English professor Max Harlow is active in the Dom/sub scene, but only for casual play. He's never found his ideal partner: a woman who is his equal, but sexually submissive. When he's asked to explain the lifestyle to his cute but obviously inexperienced neighbor, Max is certain it's best to approach it academically—to keep things purely professional.
Until Bridget's first article is a huge hit, giving her the perfect excuse to delve deeper into the naturally submissive side of her sexuality. As their encounters intensify and each of her boundaries is skillfully pushed, Bridget must decide what this all means…for her identity, her career and, most importantly, her future with Max.
Buy here: Carina Press | Amazon | Barnes & Noble
About the Author
Elia Winters has always been a New England girl, despite having spent much of her childhood in Florida. She holds a degree in English Literature and teaches at a small rural high school. She dabbles in many genres, but erotic romance has been one of her favorites since she first began sneaking her mother's romance novels. Elia currently lives in New England with her loving husband and their odd assortment of pets, where she balances her love of the outdoors with a bottomless well of geekiness.
Elia has a virtual life as busy as her real life. In addition to her website, you can find her on Tumblr, Twitter, Facebook, Goodreads, and Pinterest.
To comment on Elia Winters's blog please click here.