Hi, Elise! Welcome to Fresh Fiction. Please tell us about yourself and your new book, FAST GIRLS.
Fast Girls is historical fiction about three trailblazing American women track stars of the 1930s who come together to compete in the 1936 Olympics in Nazi Berlin, and it's inspired by a true story.
The summer Olympics, which so many people look forward to, have been postponed this year for the safety of athletes and spectators during the global pandemic. I know I will miss watching them! Do you have a favorite Olympic sport to watch?
I love both the winter and summer Games and pretty much watch everything! From swimming to synchronized swimming to track and field, I want it all!
FAST GIRLS tells the story of three women athletes at the tumultuous 1936 Olympics in Germany. What drew you to this time in history? What was something you learned that completely surprised you?
The 1930s are such an interesting time from a political, social, and economic standpoint, and I hadn't realized how close the U.S. came to boycotting the 1936 Games. It's fascinating to contemplate how history could have played out differently if Hitler hadn't been given the world stage to showcase his power during these Olympics.
I love that the three women at the heart of your story–Betty, Louise, and Helen, who are all based on real women–each have to overcome different struggles to even get the opportunity to compete. How do you think readers will relate to each of these strong women? 
I hope that readers are inspired by the tenacity of these women. There's a lot to be learned from how they didn't give up their dreams, even when faced with overwhelming odds.
If you could complete in any Olympic sport–whether you're qualified to do so or not, LOL–what would you choose and why?
When I was a kid, I would have chosen figure skating in a heartbeat because I was obsessed with Peggy Fleming. As an adult, I still compete in adult league tennis, so it would be pretty great to see my years of practice pay off in a tennis gold medal!
This summer, we need as many bookish escapes as we can get! What have you read recently that you recommend?
I recently finished The Book Woman of Troublesome Creek by Kim Michele Richardson and learned so much about Kentucky and the remarkable Pack Horse Library Project.
What can readers expect from you next?
I'm currently at work on a novel about the Angels of Bataan, a group of women from the US Army Nursing Corps who were taken as prisoners of war by the Japanese Imperial Army in the Philippines during World War II.
Rapid Fire Random Questions
Cats or dogs: Dogs
Book you recommend the most: Euphoria by Lily King
Favorite smell: Lilac flowers
Ketchup or mustard: mustard
You've been invited to a costume party – what do you dress up as?: Carole Baskin, complete with cruiser bike
What fictional city/location would you visit? Avonlea
Favorite childhood movie: the PBS miniseries of Anne of Green Gables with Megan Follows
How do you practice self-care?: Knitting, exercise, and reading
Breakfast or dinner?: Breakfast for dinner 🙂
You have a totally free afternoon – no deadlines, no obligations, no Twitter notifications! What do you do?: Take the dog for a long walk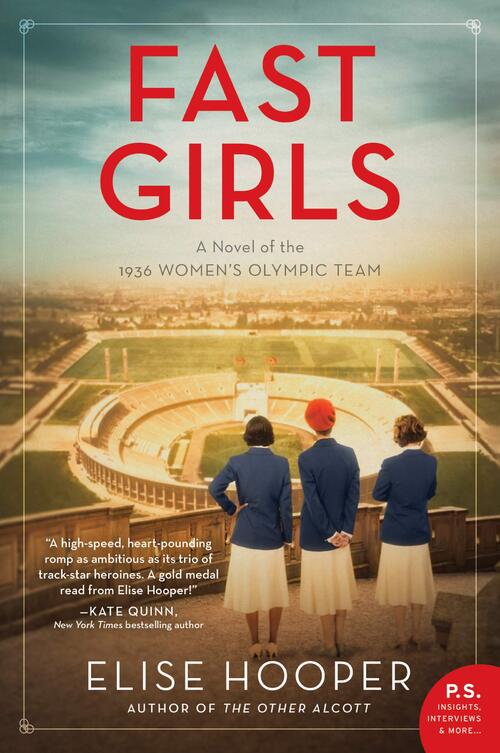 A Novel of the 1936 Women's Olympic Team
Acclaimed author Elise Hooper explores the gripping, real life history of female athletes, members of the first integrated women's Olympic team, and their journeys to the 1936 summer games in Berlin, Nazi Germany.
This inspiring story is based on the real lives of three little-known trailblazing women Olympians.  Perfect for readers who love untold stories of amazing women, such as The Only Woman in the Room, Hidden Figures, and The Lost Girls of Paris.
In the 1928 Olympics, Chicago's Betty Robinson competes as a member of the first-ever women's delegation in track and field. Destined for further glory, she returns home feted as America's Golden Girl until a nearly-fatal airplane crash threatens to end everything.
Outside of Boston, Louise Stokes, one of the few black girls in her town, sees competing as an opportunity to overcome the limitations placed on her. Eager to prove that she has what it takes to be a champion, she risks everything to join the Olympic team.
From Missouri, Helen Stephens, awkward, tomboyish, and poor, is considered an outcast by her schoolmates, but she dreams of escaping the hardships of her farm life through athletic success. Her aspirations appear impossible until a chance encounter changes her life.
These three athletes will join with others to defy society's expectations of what women can achieve. As tensions bring the United States and Europe closer and closer to the brink of war, Betty, Louise, and Helen must fight for the chance to compete as the fastest women in the world amidst the pomp and pageantry of the Nazi-sponsored 1936 Olympics in Berlin.
Women's Fiction Historical | Historical [William Morrow Paperbacks, On Sale: July 7, 2020, Paperback / e-Book, ISBN: 9780062937995 / eISBN: 9780062938008]