An interview provided by the author for FreshFiction.com
– You've written novels set in many places around the world (and you've traveled to even more!). How do you capture the nuance of a place in your writing, in order to create such vivid settings?
I resist writing stories about places I don't know well in terms of both setting and culture, which is another way of saying: I need to have spent a lot of time in a place before I write about it. My current release, Fire on the Island, set in Greece, is the best example of that. My first job after college was in Greece, to which I've returned to numerous times, cumulatively spending some seven years in the country. For the last fifteen years, I've gone every spring to the same village on the island of Lesvos where Fire on the Island is set.
Prior to becoming a full-time writer, I had a very exciting career in international development that took me around the world many times. In Poland and Jerusalem, I worked on long-term assignments (meaning over two years), so naturally those became settings for two of my novels.
In only one case, Cooper's Promise, I wrote a story set where I'd never been, but neither had anyone else because I created a fictitious West African country. I had been all around Africa, but not in one place long enough to write about it with a real feeling of authenticity. So I pieced the setting together from a variety of experiences and places. The bar/brothel where Cooper hangs out is the bar where I hung out when stranded for two weeks in Cabo Verde. In the fictional town's Arab quarter, the hammam with its ice-cold pool comes right out of eastern Turkey. The church? A missionary church in Burundi, as were the stables that had been turned into a lunatic asylum. Every location in the book is real, only not to be found all in the same town or even continent!
I also rely on settings to establish the overall mood of a novel. In The Fourth Courier, it's the end of Poland's gray winter, a metaphor for breaking free from forty-five years of harsh communist control, which makes the book darkly atmospheric (not to mention all the bland, gray highrises the Soviets built). By contrast, my new novel, Fire on the Island, set in Greece, takes advantage of that country's brighter light and mood. There's humor, music and dancing in it, while still portraying how Greeks are coping with the dual crises of a shattered economy and a flood of refugees.
As I write, I actually see the scenes play out in my head because I know the spaces in which they're set.  I can see what my characters see and touch what they touch, and that more than anything accounts for the nuances in my settings.
– How do I select my story?
Since high school, which for me coincided with the civil rights and the anti-Vietnam War movements, I've been keenly aware of issues of social justice and equity. It's why I pursued a career in economic development during what was called the War on Poverty and worked all over the States (literally Alaska to Puerto Rico) before shifting into international work.
In that career, my ultimate goal was to design and manage an overseas project that had some real significance. That happened. I designed and managed the U.S. Government's first project to assist Palestinians at the start of the peace process. When that project ended, I was 46 years old and had accomplished what I had set out to achieve. Anything else felt like it would be redundant.
I also had a story to tell (and believed it might contribute to Middle East peace). I had grown up a Zionist (though I'm not Jewish) and ended my career helping Palestinians. I understood, and appreciated the many sides of that conflict, and felt compelled to write about it. That became my first novel, A Vision of Angels, a story of reconciliation that is encapsulated by a story told by an old Jewish man at a seder dinner. Here's a link to that excerpt: http://www.timothyjaysmith.com/tims-blog/2016/10/31/stolen-memories.
Fifteen years ago, I founded the Smith Prize for Political Theater, and the guidance to the competing playwrights is: Take a crucial issue of our times, and dramatize it in a way that shows how it affects people intimately without being heavy on message. That guidance is also how I've selected my own stories, with the added caveat: make it suspenseful.
But let me tell you three anecdotes that go deeper into my thought process for selecting a story.
#1: Take Cooper's Promise, my novel about a gay deserter from the war in Iraq who ends up adrift in a fictional African country. It was 2003, and in a few days, I was headed to Antwerp to research blood diamonds for a new novel. I was running errands when NPR's Neal Conan (Talk of the Nation) came on the radio with an interview of National Geographic photographer Jodi Cobb about a project on modern-day slavery. It was the first time I heard details about human trafficking and was so shocked by its enormity that I pulled my car off the road to listen—the first and only time I've done that.
I decided on the spot that I needed to find a story that touched on both blood diamonds and trafficking. When I went to Antwerp a few days later, I visited the Diamond District as planned, but also visited a safe house for women who had been rescued from traffickers. I learned there were very different patterns in trafficking Eastern European women versus African women; and as a result, I decided to merge my stories on blood diamonds and trafficking into one novel set in Africa.
#2: In the years that I lived in Poland (1990-1992), there was a lot of smuggling across the border with Russia, giving rise to fears that nuclear material, too, might be slipping across. While on an assignment in Latvia, I met with a very unhappy decommissioned Soviet general, who completely misunderstood my purpose for being there (which was to design a program for Peace Corps business volunteers). When an official meeting concluded, the general suggested we go for a walk where we could talk without being overheard.
I followed him deep into a forest. I couldn't imagine what he wanted. Finally, we stopped, and he said, "I can get you anything you want." I must have looked puzzled because he added, "Atomic."
Then I understood. In an earlier conversation, there had been some passing remarks about the Soviets' nuclear arsenal in Latvia, for which he had had some responsibility, and apparently still some access. While I was ostensibly there on official business, he assumed that was a front and I was really a spy. Or perhaps he thought, I really did want to buy an atomic bomb!
When I decided I wanted to write about Poland's post-communist experience, and I needed a suspenseful story on which to hang it, that was the seed for my plot.
#3: Previously, I mentioned how much time I have spent in Greece. I've always wanted to write an homage to the country in thanks for how much it has contributed to my life. There's not much suspenseful that happens in a Greek village beyond the usual gossip, but when Lesvos became Ground Zero for refugees crossing a narrow channel from Turkey, and an arsonist had started setting fires in the hills, I had my story for Fire on the Island.
– How do you decide where to set your stories?
The story itself largely determines the setting. If I'm going to write about the Israeli-Palestinian conflict, it's obviously going to be set in Israel and Palestine. An homage to Greece? Obviously in Greece, and on the island I know the best. A plot involving smuggling nuclear material out of the collapsed Soviet Union? Poland, with its porous border at that point in time.
The process has been a little different for my current novel-in-progress, The Syrian Pieta, set in Istanbul. When I finished my Greek book, I had ideas for a couple of new novels, but decided to wait on both. One would have been set in the States, but I wasn't in the mood to take on America's present situation; and another was a dystopian piece set in Paris, but I wasn't in the mood to write about a gloomy future either.
I knew that I wanted to write more about refugees than what's in Fire on the Island, where they are more in the background as an irritant to the village, but not really developed as characters themselves. I also realized that I could describe everything that happened to refugees once they crossed from Turkey to Greece and traveled onward to northern Europe, but I had little real knowledge about the logistics, challenges and dangers that they confronted to get to Turkey's coast and onto rafts.
I went to find out. I met with smugglers, aid agencies, and refugees themselves. I visited temporary shelters, homes and launch sites for the rafts. I already knew Turkey relatively well from trips starting in 1973; I had spent a month in Syria in 1974; I had lived in the Middle East for a couple of years; and I had worked closely with Syrian refugees in Greece. When I put it all together, and came up with my plot, I felt confident I could set a novel about a young gay Syrian refugee struggling to survive in Istanbul. (It's quite an exciting story, too!)
– How do you select your characters? 
Fundamentally, the stories tell me who I need: a trafficker, a corrupt cop, a CIA or FBI agent, a Greek fisherman, an Israeli war hero, a Palestinian farmer, a photojournalist. Sometimes they come from an image I've seen that I store away mentally knowing I'll use it someday. Let me give two examples.
Shortly after the U.S. went to war with Iraq, I came across a newspaper photo of an American army sniper on a rooftop. It was a powerful and menacing image, and made me wonder, what goes on in that person's head? I tore the photo out of the newspaper and kept it for years. That photo eventually helped me find Cooper Chance, army sharpshooter and deserter, the protagonist in Cooper's Promise. Based on what goes on in his head and what he eventually does, he's hardly menacing, but that was my starting point of reference.
More recently, a couple of years back, I saw a video of ISIS fighters throwing a young gay man off a rooftop to his death. (I still have that YouTube video.) It was such a powerful image that I knew I would use it sometime, and I have in The Syrian Pieta. The cousin of the murdered youth is my book's protagonist, who watched the incident, then turned on his heels to walk the 600 miles from Idlib to Istanbul to find a safer life. If only it were that easy for him! His cousin's execution ripples throughout the story, at times implicating him and putting his own life in danger.
Most of my characters are pieced together from people I've met, including myself. In Hermann Hesse's Steppenwolf, there's a scene where Harry, his protagonist, enters the Magic Theater and sees different attributes of himself in the many mirrors that are hanging everywhere. In my mind's reconstruction of that scene, the mirrors shatter, scattering across the floor, each reflecting different aspects of Harry's personality; or more broadly, aspects of all our personalities. I pick and choose the pieces I want, and inevitably, a lot of those pieces come from me. That's why I say, there's a lot of autobiography in all my stories.
– How does travel figure into your work?
From all I've said, obviously, travel has been essential to my stories, the experiences I write about, and how I found my characters. There's a story behind that, too. When I was twelve years old, at a spaghetti fundraiser for my elementary school, I sat across the table from a 'really old guy' (who was probably 35 years old). He told me that he'd been to 40 countries and spoke five languages.  On the spot, I decided that was the life I wanted to live, and I pursued it. So far, I've been to over 100 countries, and speak three languages reasonably well with a smattering of three more. It's safe to say, travel has played a crucial role in my writing and almost every other aspect of my life.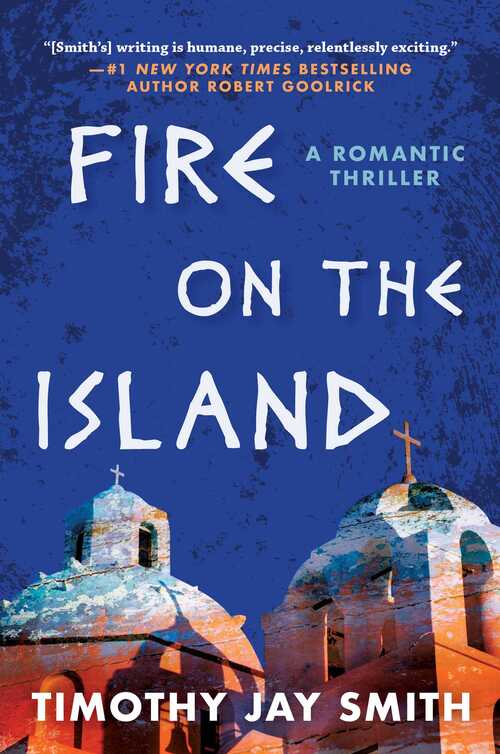 For lovers of crime fiction and the allure of the Greek islands, Fire on the Island is the perfect summer read. 
"Smith offers the perfect blend of intrigue, romance, and travelogue." —Publishers Weekly 
FIRE ON THE ISLAND is a playful, romantic thriller set in contemporary Greece, with a gay Greek-American FBI agent, who is undercover on the island to investigate a series of mysterious fires. Set against the very real refugee crisis on the beautiful, sun-drenched Greek islands, this novel paints a loving portrait of a community in crisis. As the island residents grapple with declining tourism, poverty, refugees, family feuds, and a perilously damaged church, an arsonist invades their midst.
Nick Damigos, the FBI agent, arrives on the island just in time to witness the latest fire and save a beloved truffle-sniffing dog. Hailed as a hero and embraced by the community, Nick finds himself drawn to Takis, a young bartender who becomes his primary suspect, which is a problem because they're having an affair. Theirs is not the only complicated romance in the community and Takis isn't the only suspicious character on the island. The priest is an art forger, a young Albanian waiter harbors a secret, the captain of the coast guard station seems to have his own agenda, and the village itself hides a violent history. Nick has to unravel the truth in time to prevent catastrophe, as he comes to terms with his own past trauma. In saving the village, he will go a long way toward saving himself.
A long time devotee of the Greek islands, Smith paints the setting with gorgeous color and empathy, ushering in a new romantic thriller with the charm of  Zorba the Greek while shedding bright light on the very real challenges of life in contemporary Greece.
LGBTQ Mystery [Arcade Crimewise, On Sale: July 7, 2020, Hardcover / e-Book, ISBN: 9781950691609 / eISBN: 9781950691647]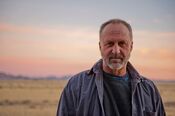 Tim has traveled the world collecting stories and characters for his novels and screenplays which have received high praise. Fire on the Island won the Gold Medal in the 2017 Faulkner-Wisdom Competition for the Novel. He won the Paris Prize for Fiction for his first book, A Vision of Angels. Kirkus Reviews called Cooper's Promise "literary dynamite" and selected it as one of the Best Books of 2012. Tim was nominated for the 2017 Pushcart Prize for his short fiction, "Stolen Memories." His screenplays have won numerous international competitions. Tim is the founder of the Smith Prize for Political Theater. He lives in France.