1–What's the name of your latest release? 
2–What is it about?
The Rebel Wears Plaid is the first book in my Prince Charlie's Angels series. I thought it would be a lot of fun to take some of the strong women of history who were immeasurable in their part during the Jacobite uprising and pair them with men who are equally patriotic to their cause. In Rebel, my heroine Jenny is a highborn lady, her brother is a powerful chief of his clan—but has sided with the Royal Government against the Jacboites, going against their people and everything their father and grandfather fought and died for. Jenny decides that she's going to go against her brother—in secret—to fulful her family's legacy, and it starts at a young age where she makes an oath with her childhood friends to see it through. By day she pretends to be the lady her brother expects, but by night she's raising an army, gathering weapons and coin and support for the prince who will eventually land on Scottish soil from exile. She's grown quite infamous as the Mistress J. While out on one of her missions she runs into a very sexy Highlander, pretending to be a Jacobite soldier. Toran Fraser has a family that is rife with backstabbers. His uncle in particular is famous for jumping sides depending on whether it suits him or not. He's been told by his uncle that his mother was murdered by a Jacobite rebel, and when he runs into Jenny he is pretty sure she night be the culprit. Since he's been plotting on taking down the Jacobites for months, he agrees to join her band of rebels if only to dismantle them from the inside. But it soon becomes apparent which side is right and which side is wrong, and Toran has to make a choice. Should he join the rebellion or stick by his uncle's side? It's a moral choice he has to make, and one he shouldn't make lightly, even though kissing Jenny almost takes away any doubts he might have.
3–What word best describes your heroine?
Badass! 
4–What makes your hero irresistible? 
His passionate nature. Whether it's his honor, his desire to do the right thing for his country, protecting his family, making love to his heroine, he embraces it with his entire being, with an energy that is palpable in the air around him.
5–Who are the people your main characters turn to when they need help?
Jenny made a child-hood pact with her two bffs–Fiona and Annie, who she will turn to in times of need. Childhood friends Jenny, Annie and Fiona all have one thing in common–they belong to clans who fought in the bloody war against England, to restore their rightful king to the throne. With their country divided between Jacobites and supporters of the English government, the ladies made a childhood pact to honor their fathers' devotion to the Scottish king, even if it meant an early grave. When the time comes for them to honor their promise, these Scottish rebels will risk their lives, and they may just find their vows being tested for love. Additionally, her cousin Dirk is her sidekick in gathering up rebels for the cause.
Toran has always been kind of a loner. He used to turn to his mother for advice until she was murdered, and then he tried to seek the same relationship with his uncle who turns out is not very reliable… He finds an unlikely companion in his cousin Archie for reasons you'll find out in the book. Needless to say, they have each other's backs.
6–What do you love about the setting of your book? 
I love the rich history of Scotland, and the lush beauty of the landscape. There was so much strife during the Jacobite era, and from that turmoil the passion for those who loved their country vibrated throughout the land. People were willing to go to extreme lengths for Bonnie Prince Charlie, even if it meant giving up what they held most dear. The women I based these stories off of were real heroes of the day and should be remembered for their bravery, their hearts and their passion for the cause. In real life there weren't very many happy endings, and so with this series I sought to give them one.
7–Are you a plotter (follow an outline) or a pantster (write by the seat of your pants)?
I'm a hardcore plotter!
8–What is an ideal writing day for you? 
Pre-pandemic, I would write after my youngest went off to school and complete my wordcount by the time my middle one got home from school (my oldest is in college). During the pandemic along with distance learning, I had to switch my writing time to 5:30am so that I could get in my required words before kids woke up and needed help with school. I'm naturally an early riser, getting up around 6 or 6:30, usually with the sun, but 5:30 was even pushing it for me, lol. Now that its summer and they are sleeping in, I'm starting my day around 7am so I can be done when they wake up with writing words that requires a lot of silence and concentration. I try to stick to 5 days a week, but more often than not I'm also working in the wee hours on Sat/Sun before anyone is up, and then I stop for the rest of the day.
9–Do you listen to music while you write, need total silence, or do you have the TV on?
Yes, I listen to music! I can't write with the TV on. And depending on the scene, the music is usually just music not singing.
10–How do you approach research? 
Like an obsessive! Lol! I really love research. I actually do it for fun on whatever it is I'm interested in. I love to watch documentaries, read non-fiction, and study primary accounts if they are available. For this series, I was able to find a lot of primary accounts of Prince Charlie's time in Scotland during the Jacobite era as well as first-hand accounts of witnesses and rebel actions. I watched a lot of documentaries, AND I visited Culloden Battlefield in Scotland and several of the areas in which the series takes place. I was supposed to go back this summer to do some promo with the book, but then the pandemic hit and canceled my trip 🙁
11–What is your publishing journey story? 
Oh, what a journey it has been! I've always been a writer. Even in kindergarten I was coloring tales of princes and princesses. My 2nd grade teacher told my parents I was going to be an author one day after I penned a story about a mouse who stole cheese. When I was 9, I wrote my first submission letter to Simon and Schuster. They sent me a very nice rejection letter, lol. I was lucky that we had a computer when I was young. My grandfather worked for IBM and so we had a massive computer in our house, and then my mom got me one of those typewriters that you could hit backspace on to correct a typo! I spent so many hours writing as a child. In high school I joined my school paper and was the first junior to ever reach Editor-in-Chief status. I initially went to college for journalism. But after my first year, I realized I didn't want to spend the rest of my life writing for newspapers. I thought maybe I could move into magazine territory, but that wasn't really fulfilling either. I talked to my parents about switching to an English major so I could maybe go into publishing or become a writer. But alas, my parents didn't want me to be a "starving artist," and so I earned a bachelor's in Family Studies with an emphasis on Couple Relationships. I ended up working in public service for a while, first in behavioral therapy with children who had autism, and then a counselor for adults with mental illness seeking employment. All throughout that time, I wrote stories. After several years, married and with a little girl headed to kindergarten, I said I wanted to try my hand at writing full-time, and also spend the last year before school started with our daughter at home since I'd always been working and long hours. My husband agreed that was a good idea. Two years later, in 2008, I had my first contract. By 2011, I was writing full-time, replacing my previous salary. I consider myself a hybrid author now. I've worked with several small presses, built a successful indie career, and I also have traditional contracts with several publishers.
12–Do you have critique partners/writing groups you want to give a shout-out to? 
There are too many to count and list here! But I will give a shout out to my Ducking Butter group (don't ask, lol), my Before Sunrise group, my and Scottish Travel Bffs.
13–What're the most frustrating things about being an author? 
That we can't meet our characters in real life! That is a serious answer! But, if we're actually being "real" I think the most frustrating part of being an author is how much things have changed over the years as far as what we have to know. Years ago, a writer could take their pen and paper up to that garret and write while looking out the window at a beautiful landscape. The reality now is that we cram in as much writing time as we can find and the other 60 percent of our productivity goes into promotion, advertising, graphic design, business matters, accounting, etc. . . . So basically, I wish I had more time just to write, and that I could let all the other stuff go!
14–What's your favorite scent?
Ohhh citrus <3
15–What movie will you watch no matter what if it's on TV? 
The Princess Bride
16–Do you like breakfast, lunch, or dinner best? 
Dinner–and wine, does wine count?
17–What's one thing you wish you knew more about?
I wish I knew more "fix-it" things. Like how to replace a light fixture. Random, I know. But I want to be able to fix those things myself! lol
18–What's the silliest thing you've recently done?
Play yoga ball baseball with my kids, lol
19–What can readers expect from you next? 
There are three books in the Prince Charlie's Angels series that will be releasing! The Rebel Wears Plaid June 30, Truly Madly Plaid on December 29, and You've Got Plaid on May 25, 2021. If you pre-order Rebel, and submit your receipt, you can get the free incentive story Pretty in Plaid! Here's the link to fill out the form: https://forms.gle/9npMbYnSMj3fvPKv7
20–How can readers reach you?
Prince Charlie's Angels #1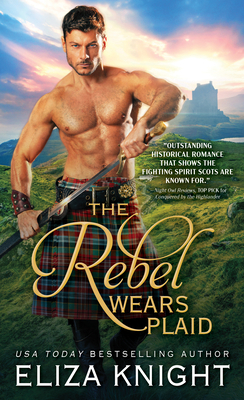 When he agreed to join her
He never expected her to be the enemy…
By day, Lady Jenny Mackintosh helps her widowed mother manage their Highland estate. By night, she risks her life to raise troops, weapons, and coin for the Jacobite rebellion. On one late-night mission, she is confronted by a handsome warrior who happens to be vying for the other side…
Toran Fraser is hell-bent on taking down the Jacobites responsible for his mother's death. When he's intercepted by Jenny and asked to join her cause, he agrees, knowing she can help him uncover the truth. He never expected she would be his enemy…
Romance Historical [Sourcebooks Casablanca, On Sale: June 30, 2020, Mass Market Paperback / e-Book, ISBN: 9781728200323 / eISBN: 9781728200323]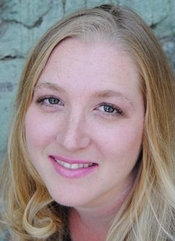 Eliza Knight is the multi-published author of sizzling historical romance and erotic romance. While not reading, writing or researching for her latest book, she chases after her three children. In her spare time (if there is such a thing…) she likes daydreaming, wine-tasting, traveling, hiking, staring at the stars, watching movies, shopping and visiting with family and friends. She lives atop a small mountain, and enjoys cold winter nights when she can curl up in front of a roaring fire with her own knight in shining armor.