Eliza had spoken to each of the ladies over tea and found them every bit as amusing, pleasant, and pretty as she had during the Season. She liked them all, although a preference for one over the other had not yet shown itself. But her own preference mattered very little. The question was, which lady would the duke prefer?
Lady Jane was tall and slender with hair the color of butterscotch. She had a wonderful singing voice, and not only did she read the papers, but she had opinions about their content. Eliza was certain she would make an excellent duchess.
Lady Louisa had soft brown curls, an extraordinary bosom, and cheeks as round and rosy as the apples they plucked. She laughed and smiled a good deal, but there was a sharpness to her wit that would serve her well in a marriage with Wessex. He needed a lady with high spirits to keep him in line.
Lady Abigail had hair of deep red, which was not very fashionable, but hers was so gorgeous that one could not wish for any other color. She was gifted with both the pianoforte and bawdy jokes. Eliza thought Wessex would enjoy making that discovery.
All in all, she was satisfied with her selection. It would be interesting to see whom Wessex chose for his duchess.
Although if he continued to ignore the ladies in favor of conversing with Lord Abingdon and Mr. Eastwood, he would be left with no choice at all. Aggravating man.
As though he sensed her thoughts, he pivoted slightly from his companions and looked about the orchard. His gaze caught and held on her frowning countenance. He studied her for a moment—a moment during which she ought to have looked away or at the very least stopped frowning at him, but she did neither. His lips moved as he said something to his companions that she could not hear, and then he sauntered toward her.
She twisted a blade of glass around her finger as she watched him approach. If her heart beat faster with each step, it was only because each step brought him annoyingly closer.
"You summoned me, fair Sigrid?" he asked with a slight bow of his head.
"I most certainly did not."
"Ah, but you did." He threw himself down next to her on the blanket and reclined on his back, his long, elegant fingers linked together to cradle his head. "You frowned at me so fiercely, which you do only when you have something disagreeable to say. As you take great delight in being disagreeable, I came at once. Never let it be said that I refused a lady her pleasure."
It was indecent how wicked the word sounded on his lips. Pleasure. As though they were not talking about a scolding, but something better left to the dark of night, when one was hidden under a thick blanket. Heat rose in her cheeks.
"Get up," she hissed furiously. "Everyone suspects–and hopes–that you intend to find a wife at this house party. You cannot show me such attention, or they will think you are wooing me."
"Absurd." He squinted up at her. "I would never woo a woman from this angle. I can see right up your nose."
A burst of shocked laughter escaped her, and she immediately clapped a hand over her mouth, horrified. He mustn't be encouraged. He would intensify his charm tenfold if he thought he could make her laugh, and she would never survive it.
The duke's eyes widened. "You laughed. I made you laugh."
"No," she denied, somewhat desperately.
"I did, I did!" He was as gleeful as a child with a new toy. "Tell me, what turned the tide in my favor? Was it the inflection of my tone? Or are noses inherently amusing?"
"Oh, you! You are impossible!" she cried.
He drove her mad, stole her reason. It was the only explanation for the unladylike shove she gave his shoulder. He yielded easily at her touch–too easily. She wasn't prepared. His hands grasped her wrist as she lost her balance and toppled against him.
The world contracted in the oddest way. The presence of her friends faded as though they had drifted far away. She was suddenly very aware of his knee pressing against the soft flesh of her inner thigh, the coolness of his fingers that encircled her wrist, the sound of her own rapid breaths. He made no similar sound, as he had turned unnaturally still and stopped breathing altogether. She blinked up at him in stunned stupor.
Had his mouth always been so. . . kissable?
(C) Elizabeth Bright, Entangled Publishing, 2020. Excerpt reprinted with permission from the publisher
***
Wicked Secrets #4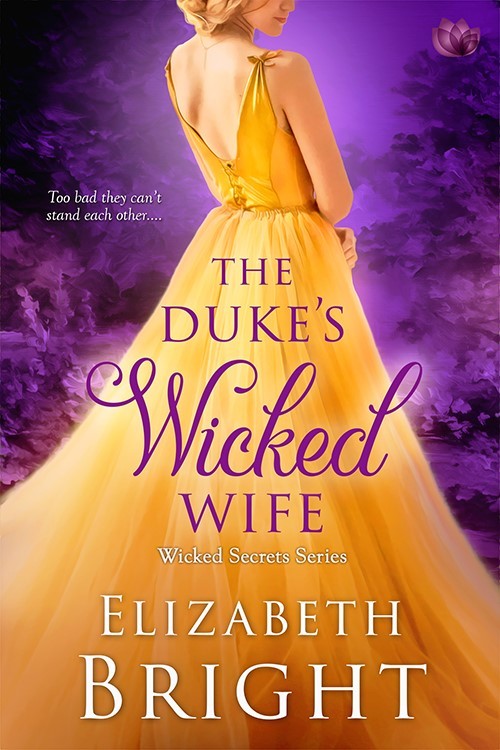 Sebastian Sinclair, the Duke of Wessex, is not in love with Eliza Benton–nor anyone else, for that matter. But he must marry and produce an heir, and love is not required for either. His future duchess must be of high birth and good nature, a lady unlikely to snipe at him over breakfast. In short, the complete opposite of Eliza. So who better to help him find a bride?
Eliza Benton is not in love with the Duke of Wessex. He's infuriating, arrogant, and an ass of the first order. Not that she has any intention of marrying anyone now that her secret dream is on the cusp of becoming reality. A husband would ruin all her careful plans. But she's all for finding her nemesis the perfect bride, anything to get him from underfoot so she can focus on her writing.
Thank goodness Sebastian and Eliza aren't in love. That would be disastrous.
Romance Historical [Entangled: Scandalous, On Sale: March 16, 2020, e-Book, ISBN: 9781640638501 / eISBN: 9781640638501]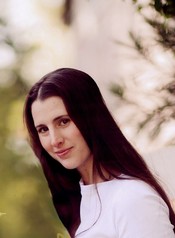 Elizabeth Bright writes smart, passionate romance with heart, humor, and heat. "Sparkling prose…unrelentingly sharp. . . unabashedly nerdy." (Bookpage) When she's not writing stubborn heroines and the men who adore them, Elizabeth can be found hiking and rock climbing. She lives in Washington, D.C. with her two daughters, who are every bit as difficult and wonderful as the characters she writes.