First of all, thank you to FreshFiction for hosting me on your website's blog! For this supernatural Thursday, I thought it would be fun to discuss how dreams are used in fiction (especially teen fiction), seeing as dreams are such potent forces.
Most of us have had one of the following reactions to a dream:
"Thank god that wasn't real! My heart is pounding."
"Uh, what in the world was THAT about?"
"What a brilliant story idea! Let me write that down!"
I'm partially joking on the third, but it is true that writers can be highly inspired by dreams and nightmares. As a personal example, part of my debut teen fantasy novel Paragon is based on a nightmare I had many years ago. I was on vacation in a remote cabin with family, but the cabin was full of ghosts that only I could see. Cue a ton of "Don't you see them? Am I going crazy?" that left me feeling insane even after I woke up.
Since dreams are such amazing fodder for writers, it's no wonder that dream sequences themselves end up in fiction. With that in mind, let's take a look at how stories can incorporate dreams and nightmares.
Dreams and Fortune
Dreams have been used for centuries in writing because they're so malleable. As a literary device, they can be used to set the tone. In Shakespearian plays such as Macbeth, Hamlet, and King Lear, ominous dreams warn the audience that it's time to buckle in because witches or ghosts are about to enter the scene.
Similarly, prophecies and general foreshadowing can be inserted into a story using dream sequences. In the Circle of Magic series by Debra Doyle and James D. Macdonald, the main character Randal has a dream prophesying that he'll become a wizard–which of course sets him on the course to do just that. In Forest of a Thousand Lanterns by Julie C. Dao, Xifeng has a vision of a girl being killed, signifying the sacrifices Xifeng will have to make on her way to becoming queen.
Yet another interesting example of prophetic dreams can be found in The Dreamers by Karen Thompson Walker, in which a virus puts people to sleep for weeks on end. Some of the characters dream whole other lifetimes whereas others experience the past, the present, and even the future.
Dreams and Desire
Dreams can also be used to show a character's true desires or fears, just like in real life (Freud, anyone?). In the Gemma Doyle series by Libba Bray, our 19th-century heroine may tell herself that the handsome Kartik is below her class, but it's clear from her racy dreams that she's lying to herself. On a similar note, Lucky in Everybody Sees the Ants by A. S. King uses dreams as a means of escaping his reality of dysfunction and bullying, instead creating a better life for himself in his mind.
In some stories, the subconscious desires and fears from the characters' dreams actually become reality. Alice in Dreamology by Lucy Keating literally "dreams" her boyfriend into existence. It's just too bad he doesn't turn out to be what she expected. In the Haruhi Suzumiya series by Nagaru Tanigawa, Haruhi has the power to reshape the world when she's asleep–a power which causes a lot of trouble for the narrator, Kyon, who's pretty happy with the world he lives in. A similar trope is found in Reverie by Ryan La Sala–the main character Kane has to fight through manifestations of his and his friends' subconscious dreams to get them back to the "real world".
Dreams and Plot
Dreaming can also be the whole plot unto itself. Alice's Adventures in Wonderland by Lewis Carroll is a classic example of a story completely set in a dreamworld—it's only until the very end that Alice wakes up. On the other hand, the lack of ability to dream can be the main conflict in a story. In the world of The Marrow Thieves by Cherie Dimaline, only indigenous people are able to dream anymore, and now they're being coaxed to "donate" their bone marrow to let others dream again.
Dream Walking
Speaking of indigenous peoples, many cultures from around the world tell legends about lucid dreamers and dream walkers—people who are able to enter other's dreams. Such an interesting concept has inspired a variety of fiction novels. Janie in Wake by Lisa McMann is an involuntary witness to people's dreams—good or bad—if they fall asleep within a certain distance from her. In Poet Anderson of Nightmares by Tom DeLonge and Suzanne Young, Jonas exemplifies the healing role of dream walkers and enters his older brother's dream to try to shake him out of a coma.
On the flip side, dream walking can be used to infiltrate people's minds unwillingly. Livia in Dreamstrider by Lindsay Smith does just that–she's a spy who enters her enemies' dreams to extract information to use in war. In the Harry Potter series by J. K. Rowling, Harry angrily enters Snape's mind and sees the true reason why Snape dislikes him (this scene is more magic than dream, but it's similar enough to be included here). Lastly, the movie Inception is based on the concept of high-profile businessmen paying "extractors" to either get information from or insert thoughts into people's dreams.
Likewise, dreaming can be used as a form of unseen communication. In The Dream Catcher by Monica Hughes, Ruth lives in an isolated domed city until she starts receiving messages from another city through her dreams, encouraging her to explore the outside world to find them. In my own novel, Paragon, the Paragons–people blessed by the gods–are able to meet each other and train in an exclusive dream world that only they can enter.
All of these examples use the concept of dreams in vastly different ways, and I imagine there are plenty more ways that I couldn't find! I leave you now with this quotation from J.R.R. Tolkien:
"A single dream is more powerful than a thousand realities."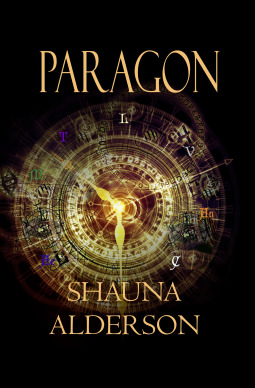 Now that high school is over, Randi just wants to live her quiet life in her little town, but it doesn't feel right without her friends there. Ever the daredevils, they've gone to seek adventure in the capital city of Grandin, and Randi can't help but feel left behind. Not to mention that she definitely can't stop thinking about that kiss she and Eddy shared before he left.
When Randi discovers a mysterious mark on her skin that matches an illustration in A Handbook on Paragonhood, she's thrown into a world of powerful gods and ancient magic that she thought only existed in the myths. She'll have to step out of her comfort zone-and into the dangerous streets of Grandin-to find a way to protect herself and the people she loves.
Randi's not the only one with a secret, and she finds herself questioning who she can trust. Randi will have to wrestle with what it means to be a Paragon and how far she's willing to go to do what's right.
With the fate of the world on the line, can she live up to being one of the chosen?
Young Adult Fantasy [Zimbell House Publishing, On Sale: March 17, 2020, Hardcover / e-Book, ISBN: 9781643901275 / eISBN: 9781643901275]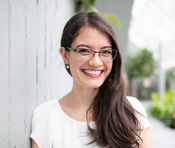 Shauna Alderson is a Young Adult fantasy writer and author of PARAGON (Zimbell House, 2020). She began writing teen fantasy even before she was a teen. After she "grew up", she completed creative writing courses (and a BA in Development Studies) at the University of Calgary. When not reading or writing, she can usually be found teaching ESL, composing on the piano, creating art, or volunteering abroad. She also enjoys dessert, Studio Ghibli films, and being the silliest person she knows. Connect with her on Twitter @AldersonShauna.