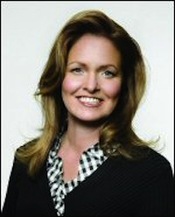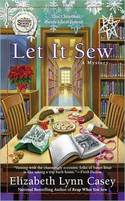 In my brand new release, LET IT SEW, the holidays are fast approaching and the members of the Sweet Briar Ladies' Society Sewing Circle have much to do to get ready.
There are the usual things of course—baking cookies, making homemade stockings, and the like. But there's also a few not so usual things that threaten to wreak havoc on their preparations.
You know, things like a real live Grinch who has set her sights on Margaret Louise's decades-long role as head of the town's decorating committee…
And a little boy whose fondest Christmas memories are being destroyed out of jealousy and meanness…
Oh, and did I mention the dead body? The one Tori Sinclair unearths on the grounds of the library during a late night dig with Leona and Margaret Louise? The one with ties to the sewing circle's very existence?
Ho, Ho, Ho. Merry Christmas, huh?
Well don't despair. We are talking about the Sweet Briar Ladies' Society Sewing Circle, aren't we? These ladies, while equal parts gentle and ornery, know right from wrong. And standing by while the town's Christmas traditions are turned inside out and backwards isn't in their DNA.
Nor is the idea of looking the other way when a child is unhappy.
And the dead body part? Well, the circumstances behind that aren't as cut and dry as everyone else seems to think, especially when Tori and the gang discover that the drawing that led them to the body is just one of many detailed sketches drawn by a woman dying of Alzheimer's.
Might these same pictures point to a killer, as well?
Only time will tell.
But they better hurry. The sugar cookies are almost ready to come out of the oven…
Elizabeth Lynn Casey is the author of the Southern Sewing Circle Mysteries. LET IT SEW—the seventh book in the national best-selling series—has just hit store shelves. In addition to her work on this series, she also pens the new Amish Mysteries under her own name, Laura Bradford. When she's not writing mysteries, she can also be found dabbling in romance. Her most recent romance, STORYBOOK DAD, holds a special place in her heart for its tie to Multiple Sclerosis. For more information on her work, visit her websites: www.elizabethlynncasey.com and www.laurabradford.com
To comment on Elizabeth Lynn Casey 's blog please click here.