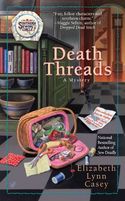 When you write fiction as I do, you rely on your imagination to make the story come alive, creating a setting readers can visualize, characters people can root for, and a plot worthy of escape. But when you're writing a series, you have yet another task—crafting characters that people want to follow from
one book to the next.
The creation of interesting characters is doubly important in my Southern Sewing Circle Mystery Series because the books, themselves, use relationships as the hook. Sure, these women sew, but it's the coming together as a group—and the friendships that are formed as a result of a common interest—that's truly at the heart of these books.
Think about it…
Friendships tend to form over a common interest—similar aged children, a particular sport or hobby, or even a favorite cause. These interests provide a common ground that often supersedes a host of other differences (age, ethnicity, religion). It's this common ground (sewing) that I use to bring nine unlikely souls together, thereby giving myself a more colorful palate from which to work.
Let's take a look…
Tori Sinclair is the protagonist in my series. She's in her late twenties, hails most recently from Chicago, and is passionate about her work as a librarian.
Margaret Louise Davis is a sixty-something, slightly overweight grandmother of seven. When she's not running after her son's kids, she's experimenting in the kitchen or helping at the local bakery.
Leona Elkin is Margaret Louise's twin who is as different from her sister as humanly possible. She's cultured, highly intelligent, and prefers the company of men (particularly those in uniform). She runs an antique shop for fun and travels whenever possible.
Rose Winters is an eighty-something retired schoolteacher who brings new meaning to the term gruff. Her health is failing along with her eyesight.
Dixie Dunn is a seventy-something retired librarian who is rather unlikable. She likes to be the know-it-all and is convinced the world is out to get her.
Georgina Hayes is the no-nonsense fifty-something mayor who tries to see the positive in every situation..
Melissa Davis is a thirty-something mother of seven who rarely has time to stay in one place for longer than a few minutes. If she had any aspirations or goals in life, she's forgotten them due to lack of sleep.
Beatrice Tharrington is a British nanny in her early twenties who brings shyness to a whole new level.
Debbie Calhoun is the energetic thirty-something who manages to juggle being a wife, mom-of-two, and business owner with finesse.
If you notice, one of the biggest differences within the sewing circle is age. And while that kind of discrepancy might be odd in other settings, the sewing circle set-up makes it work, bringing a richness to the page I might not have otherwise.
While I was writing the first book, SEW DEADLY, I found the differences every bit as much fun to write as the common link because it added depth and possibility and a realness. By the time I wrote my latest release, DEATH THREADS, these characters took their realness and became real…as if they've become my friends.
And they have.
Every time I sit down to work on a Sewing Circle book it's like sitting down with old friends—friends I cherish regardless of their age. Why? Because we've come together. Over a common interest.
And I, for one, can't wait to see what they're up to next…
Elizabeth Lynn Casey is the author of the Southern Sewing Circle Mystery Series with Berkley Prime Crime. SEW DEADLY, the first in the series, released in August 2009 and was listed as one of Sharon's Top Ten Cozies of 2009 on Fresh Fiction.
DEATH THREADS, the second book in the series, released in May. The third book, PINNED FOR MURDER, will release on October 5th. Books four, five, and six will follow. For more information, visit her website and daily blog .
To comment for a chance to win please click here.