Raise your hand if you love books in a series. *raises hand* I get so excited when I find a series I like because I know that I have an entire world to explore over several books. There are always characters in the background that you just know will have their own book—and then they do! And you get to check in on the characters who have already had their story told and it's the best reunion ever! As a reader, it's amazing! And as an author, it's a snowball of crazy fun.
But how do these groups of characters come together to make a series?
When I started writing my debut novel, I intended it to be a standalone book. In hindsight I think I was attempting to have an attainable goal. But things didn't work out as I had planned. As I wrote that one standalone book, characters would wander through a scene, characters who liked to talk too much, demanding their turn in the spotlight. Soon I had a cast of characters as part of this community I'd built. And most of the characters were—in my mind—begging to be center stage. Clearly I'm a people pleaser who has trouble saying, "no," even when it's to fictional characters. That one standalone book I began with soon became the 3 books of the Tricks of the Ton series.
And it doesn't stop there. I now have a spinoff series, the Spare Heirs, involving some of the characters already introduced in earlier books. Book one, THE INFAMOUS HEIR is now on shelves—the first in a four book series. This new series is about a secret society of gentlemen made of "Spare Heirs" who have banded together for survival by somewhat scandalous means. That's right, I created a society of gentlemen. When you can't say no to a large enough group of characters that they form a society, that's not a good sign, folks. But I'm so grateful this series came together in that way.
When it occurred to me that these wild gentlemen were all linked together somehow, and that they were all second, third or fourth born in their families, I knew I had to write the story of the Spare Heirs Society. And I'm so glad I chose to say yes to these characters. Are the Spare Heirs secretly ruling London society without anyone realizing their existence? Perhaps. Are they the mafia of the Regency Era? Perhaps. Are they headquartered in an overly feminine house with flowers and cherubs everywhere? Yes, that much I will admit is true.
Perhaps in author life, being someone who has difficulty saying no is a good thing. I hope I remain a people pleaser, unable to deny fictional characters the ability to star in a book. If they want their turn on stage, I'm happy to write their story! And that means series, after series, after series…
Giveaway
Are you a people pleaser who has trouble saying, "no"? Do you like reading books in a series? Do you have a favorite series? We're giving away a copy of THE INFAMOUS HEIR, U.S. only. Just comment below!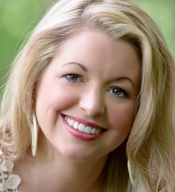 Elizabeth Michels grew up on a Christmas tree farm in rural South Carolina. After tip-toeing her way through school with her focus on ballet steps and her nose in a book, she met a boy and followed him a thousand miles away from home to Kansas City, Missouri, before settling down in North Carolina.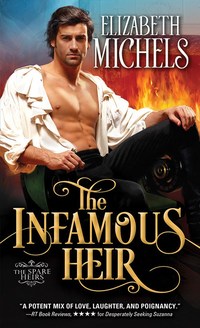 The Spare Heirs Society Cordially Invites You to Meet Ethan Moore: The Scoundrel
Lady Roselyn Grey's debut has finally arrived, and of course, she has every flounce and flutter planned. She'll wear the perfect gowns and marry the perfect gentleman…that is, if the formerly disinherited brother of the man she intends to marry doesn't ruin everything first.
Ethan Moore is a prize-fighting second son and proud founding member of the Spare Heirs Society-and that's all he ever should have been. But, in an instant, his brother's noble title is his, the eyes of the ton are upon him, and the lady he's loved for years would rather meet him in the boxing ring than the ballroom.
He's faced worse. With the help of his Spare Heirs brotherhood, Ethan's certain he can get to the bottom of his brother's unexpected demise and win the impossible lady who has haunted his dreams for as long as he can remember…
Praise for The Infamous Heir:
"Michels's latest is the complete package: a captivating romance with gripping suspense wrapped up in a novel to be savored."

— Publishers Weekly, STARRED Review
"Readers are treated to Michels' strongest story yet. The engaging characters, intricate plotline and powerful love story hold readers from beginning to end as they watch the changing relationship between headstrong lovers as they unravel a mystery. Savor this tale."
— RT Book Reviews, 4.5 Stars and March Top Pick!