from Elizabeth Moss
Rebel Bride is Book II in my sexy Lust in the Tudor Court series, following on from Wolf Bride. Each book is a standalone Tudor romance, but they do feature linked characters and, unusually in a series, the first half of REBEL BRIDE runs concurrently with events in WOLF BRIDE. So it might be useful to read them in the correct order.
This story follows the adventures of Susannah, younger sister of Eloise, the heroine of WOLF BRIDE, through the wilds of Yorkshire and at the Tudor court of Henry VIII. Young, feisty and beautiful, she soon catches the eye of Hugh Beaufort, one of the king's most trusted clerks.
Susannah describes Hugh as: 'A god. Thick fair hair, green eyes, shoulders that could ram doors … with that elegant southern drawl that made her shiver.' But her father insists she must marry one of his friends instead, a wealthy old man. Horrified, Susannah's only option is to run away.
Hugh Beaufort volunteers to find her, and when he finally runs his prey to ground in a dark northern forest, the two are soon tangling in a most delicious way. It would be the simplest thing in the world for Susannah to marry Hugh. But having discovered her father's long-term affair with her beloved nurse, Susannah no longer trusts men. She will sleep with Hugh but rejects his offer of marriage, even if only disgrace awaits her back at court.
This is a highly unusual stance in Tudor England. Her sister Eloise in WOLF BRIDE fought against but ultimately accepted her own arranged marriage to the stern and domineering Lord Wolf. Susannah, however, has been left to run wild since her mother's death, and is accustomed to a certain freedom and independence of will. So she would rather be ruined than become a man's slave, as she sees the traditional role of a Tudor wife.
When I wrote the character of Susannah, I envisaged her as fiery, headstrong and impulsive, a typical Aries female. Someone very passionate and sensual, the kind of woman who flouts society's rules and demands her own way, whatever the cost. Hugh is a traditionalist, but deeply physical with it, a sexual man who honors integrity. To put it bluntly, he can't keep his hands off this smart and sexy young woman. So although their values clash constantly, their minds and bodies are a perfect match for each other. I'll leave it to readers to guess Hugh's star sign!
In real Tudor life, a well-born woman with Susannah's impulses and sexual drive would probably have suffered social disgrace if she could not suppress her true nature. In REBEL BRIDE, I allow my unconventional heroine to find the only man in the world who could tame such a woman without breaking her – if only she will accept him as a suitor. All the same, the dramatic twist at the end of this romance may surprise a few readers.
Giveaway
One commenter will win a copy of REBEL BRIDE.
Born into a literary family, Elizabeth Moss lives with her husband and five children in South West England, and is a keen countryside walker. She writes fun, sexy historical romances and also writes award-winning fiction as Victoria Lamb. For more information, please visit her website: www.elizabethmossfiction.com.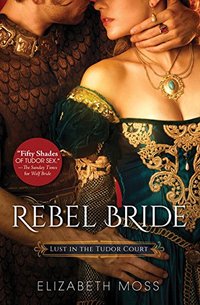 Hilary Mantel meets Sylvia Day: the second installment in a deliciously erotic trilogy begun in Wolf Bride, set against the sumptuous backdrop of the scandal-ridden Tudor Court by Elizabeth Moss.
HE IS UNDER HER SPELL…
Hugh Beaufort, favored courtier of King Henry VIII, likes his women quiet and biddable. But Susannah Tyrell is neither of these things. She is feisty, beautiful, opinionated and brave. And Hugh is fascinated by her—despite himself.
When Susannah pulls an outrageous stunt and finds herself lost in the wilds of England, Hugh must go to her rescue. Neither of them is prepared for the dangers that lie in wait. But most deadly of all is their forbidden desire for one another. Hugh has long held himself in check, but even his iron will has its limits as they remain alone together in the forest, far from the restraints of court…
Buy REBEL BRIDE: Amazon | Barnes and Noble | Kobo | BAM | Indie Bound