I love the unusual tidbits I stumble across while researching my historicals. In my most recent Scottish Regency, I have a British hero and a Scots heroine.
The timeline of the series has their tale culminating around Christmastide, so I thought I'd incorporate the holiday into their story. I mistakenly assumed the British and the Scots celebrated Christmas in 1818.
I soon learned I was wrong. Why you ask?
Christmas was banned in Scotland for four hundred years.
Let's back up a bit.
As most people know, the Pagan Celts celebrated the winter solstice with a Druid festival called Alban Arthuan on December 21st. The Norse held another pagan mid-winter festival call, jól which is where the Scots word "Yule" originated. I'm sure you've heard of the twelve days of Christmas. The jól was a twelve-day festival that included Christmas day.
Another source attributed Yule to the Anglo-Saxon word Yula or Wheel of the Year. In any event, the celebration marked the rebirth of the sun and a time of increased fertility.
When the Christian Church commandeered the celebration, they weren't too keen on the pagan roots and practices, such as the burning of the Yule Log—a tradition to honor The Great Mother Goddess and to bring good luck—or stealing a kiss beneath the mistletoe, thought to increase fertility. Even the traditions of tree decorating and gift giving have their roots in pagan rituals.
The Kirk (Church) of Scotland, which is Presbyterian, decided around 1560 that the religious feasting day celebrated by much of Europe was associated with the Roman Catholic Church and they weren't having any of that "Popish" business.
Then in 1640, the Scottish Parliament thought it would be a grand idea to declare "Yule Celebrations" illegal altogether in order to purge all the superstitious observations of the day.
They basically disapproved of any Papal and pagan influences surrounding Christmas, so mass was banned and Christ Mass (Christmas) right along with it. Some ministers required people to work on Christmas Day, going so far as to punish those for keeping Yule. It continued to be a normal workday until Christmas became a public holiday in 1958.
Interestingly, though Christmas is still somewhat downplayed in Scotland. Hogmanay, another Celtic festival, is widely celebrated today.
Bestselling, award-winning Historical Romance Author, Collette Cameron, pens Scottish and Regency Romances featuring rogues, rapscallions, rakes, and the intrepid damsels who reform them. Mother to three and self-proclaimed Cadbury chocoholic, she's crazy about dachshunds, cobalt blue, and makes her home in Oregon with her husband and five mini-dachshunds. You'll always find animals, quirky—sometimes naughty—humor, and a dash of inspiration in her novels.
Her award-winning Castle Brides Series, Highland Heather Romancing a Scot Series, and Conundrums of the Misses Culpeppers Series, as well as her other books, are all available on Amazon and other major retailers.
FACEBOOK | TWITTER | GOODREADS | BLOG | Regency Rose Newsletter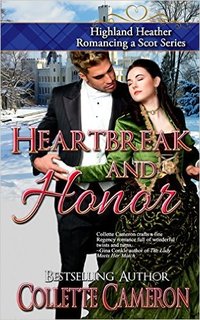 Abducted by a band of renegade Scots, Highland gypsy Tasara Faas blackens her rescuer's eye when the charming duke attempts to steal a kiss. Afterward, Tasara learns she's the long-lost heiress Alexandra Atterberry and is expected to take her place among the elite society she's always disdained.
Lucan, the Duke of Harcourt, promised his gravely ill mother he'd procure a wife by Christmastide, but intrigued by the feisty lass he saved in Scotland, he finds the haut ton ladies lacking. Spying Alexa at a London ball, he impulsively decides to make the knife-wielding gypsy his bride despite her aversion to him and her determination to return to the Highlands.
The adversary responsible for Alexa's disappearance as a toddler still covets her fortune and joins forces with Harcourt's arch nemesis. Amidst a series of suspicious misfortunes, Lucan endeavors to win Alexa's love and expose the conspirators but only succeeds in reaffirming Alexa's belief that she is inadequate to become his duchess.