Love at first sight
.
My hero the Earl of Worthington falls in love at first sight (or after a number of hours). I am convinced that people fall in love at first sight. In fact, a recent study showed that men fell in love at first sight with great frequency. I also know more than one couple who met, married (in short order), and are still together decades later.
Her tentativeness gave way, and she held on to him tightly, returning his kisses with more vigor. As he stroked her back, he itched to untie the laces his fingers traveled over, and he paused for a moment. Too much too soon. This lady was the most remarkable woman he had ever known, and he needed to ensure he did not scare her away.

She sighed, sinking boneless against him.

Two of his good friends had recently married, and it was time he did so as well. He hadn't believed his friend Marcus all those years ago when he'd claimed to have fallen in love with Phoebe at first sight. Matt did now.
Children that actually get along
.
I quite frankly think that this happens more in books and movies than in real life. But it might be 50-50. This past year, I met two couples. One had married each other twice because their kids worked together to break them up. The children of the second couple got along immediately.
Once they were all in the large, airy classroom, Charlotte clapped her hands, the way Grace did when she wanted their attention. "Alice, Eleanor, and Walter, please show Augusta, Madeline, and Theo around the floor. I'll call you when tea has been brought."

Louisa glanced at Charlotte. "I take it we shall do the same at Worthington House?"

"I believe that would be best." Charlotte drew her brows together. "If we inspect both houses, we will be able to make a recommendation as to where we should all live." She linked her arm with Louisa's. "I have a plan, but I do want you to be an equal part of it. It seems to me that settling Grace and Matt quickly will allow us to focus on husbands of our own."

"What a splendid idea." Louise grinned. "You make a great deal of sense. It will be much easier for them to chaperone us if they are wed."
A lady who faints
.
Well, someone had to faint, and it had to occur fairly often considering all the remedies they had for it to include burnt feathers. They even had special containers for vinaigrettes to bring someone around. In the Victorian time, swooning could be attributed to corsets, but during the Regency corsets were not tight. In any event, I dare you to find a twenty-five year old single woman raising seven children that does not have the occasional panic attack.
"She's fainted," Phoebe said calmly. "Marcus, I have smelling salts in my reticule. Please give them to me."

Matt looked down at the limp form of his betrothed in his arms. He'd caught her as she fell.
Dogs.
I have to admit this isn't all that uncommon, but having a misbehaving Great Dane is a lot of fun.
They were halfway to the Park when a loose Great Dane puppy, all legs and lead trailing behind her, ran past them followed shortly thereafter by a footman. High-pitched shouts followed the escapee. He glanced down at Duke, alert for the first time in ages. "Duke, fetch." Matt let loose the lead and called to one of his footmen, "One of you, give me your girl and follow him."

Madeline took his hand. Her cheeks flushed, she had a wide smile on her face. "What's going on?"

"Runaway dog."

"He's really pretty."

Matt grinned. "Well, my dear, I think you have the adjective correct, but not the gender. That's a female."

"Really?" she breathed.

"Really."

A block from the Park, they caught up with the miscreant.
THREE WEEKS TO WED is the first book in my new series the Worthingtons. What is your favorite thing to see in books?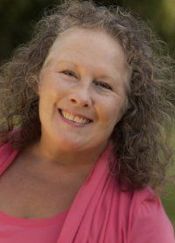 Bestselling author Ella Quinn's studies and other jobs have always been on the serious side. Reading historical romances, especially Regencies, were her escape. Eventually her love of historical novels led her to start writing them. She has just finished her first series, The Marriage Game, and her new series will start in April 2016.
She is married to her wonderful husband of over thirty years. They have a son and granddaughter, one cat and a dog. After living in the South Pacific, Central America, North Africa, England and Europe, she and her husband decided to make their dreams come true and are now living on a sailboat cruising the Caribbean and North America.
She loves having readers connect with her.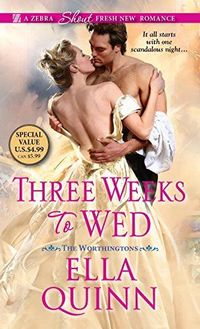 In the first book of her dazzling new series, bestselling author Ella Quinn introduces the soon-to-be Earl and Countess of Worthington–lovers who have more in common than they yet know. The future promises to be far from boring
Lady Grace Carpenter is ready to seize the day–or rather, the night–with the most compelling man she's ever known. Marriage would mean losing guardianship of her beloved siblings, and surely no sane gentleman will take on seven children not his own. But if she can have one anonymous tryst with Mattheus, Earl of Worthington, Grace will be content to live out the rest of her life as a spinster.
Matt had almost given up hope of finding a wife who could engage his mind as well as his body. And now this sensual, intelligent woman is offering herself to him. What could be more perfect? Except that after one wanton night, the mysterious Grace refuses to have anything to do with him.
Amid the distractions of the Season he must convince her, one delicious encounter at a time, that no obstacle–or family–is too much for a man who's discovered his heart's desire
"Oh, the tangled webs we weave…especially when our hearts are involved. Three Weeks to Wed is a delightfully heartwarming escape into the sparkling world of the Regency. Ella Quinn weaves magic." —Cathy Maxwell, New York Times bestselling author