I love to read. If you're following this blog, so do you. As woman readers these days, we can pick any book we want from the library or bookstore, whether it's a long novel, a romance, a popular thriller, or serious history, psychology – anything! But things weren't always that easy. Back in the 19th and early 20th centuries, novels in particular were considered to be a waste of a woman's time. She should be working, caring for children, cleaning her house, waiting on her husband, not sitting around enjoying herself!
The protagonist of FLICKERS, Violet Winters, is the daughter of a very rich man, a California "robber baron", back in the 1910s. She can have anything she wants – except an education. Her parents refuse to let her go to one of those newfangled girl's preparatory schools or a women's college, and certainly not to one of those big schools like Stanford or the University of California that have just become co-educational. Shocking! Can't be done!
Fortunately, when she marries Maury Rediston, Violet meets his friends back in New England, and several of the women take her under their long-distance wing. They send her letters about books and suggest where she can start learning. If, of course, she can find those books in the first place . . .
Violet returned from her honeymoon inspired. In the big cities of the east she had met a different kind of wealthy woman — cultured, polished by frequent trips to Europe, dedicated to educating girls as well as boys and to improving the lot of women everywhere. The wives of some of Maury's friends had even written books or had stories published in magazines. Their conversation had made her feel very young and slightly stupid, even though they'd all gone out of their way to treat her well. When they promised to write to her, she got the feeling that they saw her as a child who needed help.

"But they all have families and babies," Violet told Carrie Crane. "And they dress so well! So it's not like they're unnatural females or anything."

"We have women like that in California, too," Carrie said. "Look at Aunt Eustacia and her friends, the Hearsts and Athertons. And Mrs. Stanford. She made sure that women could go to her university."

"That's true, but girls like us never got the chance. Would your father have let you?"

Carrie fell silent to think this over. They were sitting in the big parlor on the overstuffed green brocade couch amonst the other overstuffed, tufted, and brocaded furniture. Polished dark wood gleamed in the sunlight streaming through the terraced windows. The silver and crystal vases and knick-knacks glittered as if in answer.

"Well, no," Carrie said at last. "I did try to ask him, but he just told me we had a whole library of books that I could read any time I wanted."

"That's what I mean. These ladies were really different."

Carrie sighed and held out her coffee cup. Violet scooted forward on the couch so she could reach the coffee table and poured her friend more coffee. Carrie helped herself to a small cake from the silver serving tree. She'd grown into a tall young woman, willowy and long-boned, with strawberry blonde hair and pale blue eyes with a perpetually startled expression. As children they'd had the same education in Miss Anderson's School for Young Ladies down in Santa Luisa. Carrie, however, had gone on to a Ladies Academy in Pasedena for another year. It was just more of the same, she always said: French, Deportment, Decorating, and Suitable Poetic Literature.

After Carrie left, Violet walked down the long hallway toward the parlor. As she passed the library door, on impulse she went into the square, book-lined room.

Her father's decorator had arrange the books by size and blocks of color, rather than systematically. As she looked over the floor to ceiling shelves, Violet felt that she was looking at a vast city. Each block of books made up a building, and the dark wood edges of the shelves were the streets. She had no map, and she was a stranger, lost in this unfamiliar place. Still, she did have a guide. It took her an hour to find two of the authors her new Eastern friends had recommended, George Eliot, who was actually a woman, and Jane Austen. She felt as if she'd found a key and gained entrance to a new house. Violet picked out a book by each,
And so Violet's real education begins, one that will lead her farther and farther from the sheltered life she was raised to expect.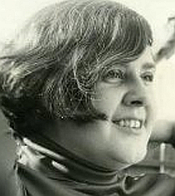 Kathryn Jordan lives in the San Francisco Bay Area with her husband, two cats, and a vagrant skunk. Although she spent her childhood in a Great Lakes industrial city, she became a confirmed Californian at age nine, when her family relocated to Santa Barbara, the "Santa Luisa" of the novel. All it took was one winter without five feet of snow turning into black urban slush to convince her that the move had been worthwhile. FLICKERS, her first historical novel, is a new departure for her career. Under the name of Katharine Kerr, she's also the author of the Nola O'Grady series of light-hearted urban fantasy novels.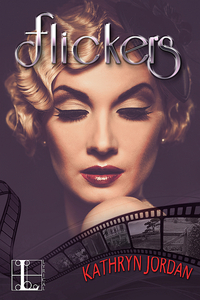 Set in the dynamic years leading up to the Roaring Twenties, Flickers turns its lens on California's glamorous silent film era, as Victorian civilities are swept away by a bold new century . . .
Violet Winters is the daughter of one of California's wealthy robber barons. Jack Sutter is the gardener's son. In their youth, the two were inseparable. But in 1913 everything is changing, and despite their feelings for each other, adulthood has come between them. Their vastly different social positions leads Violet to marry the aloof but socially perfect Maury Rediston. Jack vows to win Violet back while carving out a new life for himself in the burgeoning motion picture industry. Tip Rediston, Violet's brother-in-law, also gets drawn into the bohemian world of the flickers. As handsome as he is troubled, Tip starts his climb to stardom despite his family's disapproval.
But as social changes, political upheaval, and war change the world around them, Violet, Jack, and Tip learn that things are never as easy as they seem on the silver screen. . .