Hi, Sabrina! Thank you for joining us here today at Fresh Fiction. I'm so happy to be talking with you about your books and your life!
I'm delighted to be here!
THE STUDY IN SEDUCTION is the second book in the Sinful Suitors series. I love the idea of a bunch of gentlemen banding together to form their own club in order to pool information about the ne'er do wells in society who might be prospective suitors, in order to protect their sisters and other females relatives from unsavory marriages! Can you tell me one fact that readers might be surprised to discover about the series (even readers like me who stalk you on Facebook, Twitter, and your website!)?
I considered calling it the Guardians Club, but my friend Megan Frampton said that sounded oldish. I realized she was right. Once I came up with the Sinful Suitors series and the St. George's Club, I liked the names much better.
There are now about 30 gentlemen in the St. George's Club looking to protect their womenfolk from scoundrel suitors. You've talked last year about how you are intrigued with an open-ended series rather than one defined by a story arc set at the beginning. As you're a little further into it, how many of their stories do you expect you will write for this series, roughly? And can you tell us who will be featured in the next book in the series?
Right now, I'm writing the book for the Marquess of Knightford (Warren Corry, Clarissa's cousin and former guardian) and Miss Delia Trevor (remember her from the automaton exhibit?). But I'd also like to do stories for Clarissa's brother Niall, another of Warren's brothers (Captain Hart Corry), and Lord Fulkham. Right now, I'm only contracted for three, so we'll see what happens down the line.
As a series grows, how to you keep track of all the details about the characters and how the stories are interrelated?
I have two charts for every series. One keeps track of characters—their ranks, physical characteristics, family relations, etc. The other is a timeline color-coded by book, which lists significant dates for the characters and the age they are for those dates. Anything that doesn't fit in those two charts, I just look up in the old manuscripts. Thank God for search engines!
I love reading the Regency Tidbits that you post on your website! I have learned all sorts of fascinating things from you over the years. What is the strangest thing that you have come across in your research that you would have loved to put into a book, but just couldn't figure out how to work it into a story?
Oh, there are so many. Like details about the adulteration of food during this period (chalk, dust, sand, plaster of Paris, and lead were among some of the additives). Or the story of the teenage girl who ran off with her uncle. When her family went to rescue her, she refused to return, preferring to live with him as his mistress.
After being raised amidst the rubber plantations in Thailand by missionary parents, have you traveled back to Asia as an adult? What places to do you like to spend time (anywhere in the world)?
The last time I was in Thailand was 1994, if I remember correctly (I was definitely an adult). It was also my last time to visit Asia. For several years after that, my husband and I were unable to travel outside the country and very little inside it because of our autistic son. But in recent years, we've managed to do it a few times. Not a lot, however. We've been to England twice and Scotland once, and that's it. I love England. I would go every year if I could manage it. Next year we're going on a cruise to Amsterdam, Scotland, one of the Channel Islands, and Ireland. I'm very excited! And maybe we'll pop in to London while we're nearby, too.
What prompted you to start your Will and Jane's Excellent Adventure comic strips that you create? I find them endlessly entertaining! Do you take all the photos for the strip yourself?
My agent gave me a Jane Austen action figure for Christmas. The next Christmas, my husband bought me a Shakespeare figure, but he was more of a caricature. And he was short. When I put the two figures next to each other, I flashed on how they would interact if they were characters. Then my brother showed me the Comic Life software on my Mac, and that was it! Will and Jane were born. Yes, I take all the photos myself. Which is probably why the "artwork" isn't fabulous—I'm not a photographer. But it's fun to do.
Is there any book that you've read in the last year that you've thought, "I wish I had come up with that plot!"?
Not in the last year, no. But I'm not generally impressed by plots. I'm more impressed by characters. I always envy really well-drawn characters, because I have to work so hard at mine. Plots come easily to me.
What are you obsessed with right now? It can be a book or series, a tv show, a band… What's captivating your soul currently?
I tend not to get obsessed but if I had to choose something it would probably be Downton Abbey. I'm mourning the loss of it! And considering watching the whole thing over again.
With a busy life and your writing career, how do you grab some "me" time, and what do you like to do for it?
I like to travel, but don't get nearly as many chances as I like. I also enjoy doing jigsaw puzzles. They're very soothing for me.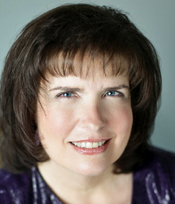 New York Times bestselling author Sabrina Jeffries is a regular on both the New York Times and USA Today bestseller lists and winning more than a dozen industry awards in the proces
New Orleans-born, Thailand-reared, Jeffries attributes her success to listening to what peers, her publisher and her own common sense told her she should be writing: "I write what I enjoy reading: lighter, sexier historical romances, with more dialogue and more sensuality."
Writing about 19th-century English life comes naturally for Jeffries. Not only is she a lifelong Jane Austen fan, but she has a doctorate in English lit from Tulane and a specialty in Early Modern British literature. Yet the impetus for her stories, Jeffries says, is always "what if" — not what if her hero likes this or that, but what if this happened and this happened … what would it do to a person?
And she writes, she says, because "I can't not write . . . I have stories in my head, and I have to get them out."
Sabrina writes at her home in Cary, N.C., where she lives with husband, Rene, and their son, Nick. When not answering e-mails as she logs miles on her treadmill or doing jigsaw puzzles ("my reward for finishing a book"), Jeffries can be found championing the cause of autistic children in the name of her son.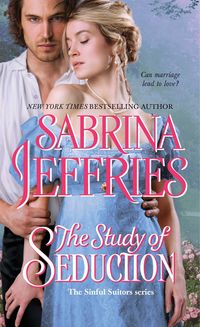 A marriage of convenience ignites into a passionate love affair in the hotly anticipated second novel in New York Times and USA TODAY bestselling author Sabrina Jeffries's addictive Sinful Suitors series!
When Edwin Barlow, the Earl of Blakeborough, agrees to help his best friend's impetuous ward, Lady Clarissa Lindsey, in her time of need, he knows he's in for trouble. He's been hunting for someone to wed, and she'll just get in the way. Although captivated by the witty, free-spirited beauty, he fears she'd be all wrong as a wife…if she would even take such a gruff cynic for her husband. Yet he wants nothing more than to have her for his own.
Clarissa has no intention of marrying anyone—not Edwin, whom she's sure would be an overbearing husband, and certainly not the powerful French diplomat stalking her. But when matters escalate with the diplomat, she chooses Edwin's gallant offer of a marriage between friends in hopes that it will deter her stalker. She expects nothing more than an amiable union, but their increasingly tempestuous kisses prove more than she bargained for.
When her stalker's vow to expose the lovers' deepest secrets threatens to destroy their blossoming attraction, will their tenuous bond withstand public ruin, or will Edwin lose all that's important to him to protect his bride?