What's your favorite romance? What was your first?
Did you name an author, a title, or did you go with an entire genus? We are all familiar with the traditional major genres of romances: contemporary, historical, paranormal, suspense, fantasy, westerns. In recent years, LGBT books have become a significant genre in their own right. But a number of smaller niche genres have been identified, as well. We can enjoy tales about motorcycle clubs, professional athletes, sex or BDSM clubs, racing teams, gangs, angels and demons, rock bands, actors, and gothic mysteries. Amazon has entire sub-sections devoted to holiday romances, romantic comedy, new adult romances, interracial romances, African-American romances, multicultural romances, time travel, and science fiction. If you can think of a hobby or a type, the odds are high that someone has compiled a list of romance books that have featured that specific interest, from airplane pilots to Zen masters.
The wonderful thing about this great diversity of categories is that readers can seek out books that fit their particular interests and cultural expectations, and others can explore the vast array by deliberately hunting out these special topics and finding great stories in each area of interest.
Some authors reach out to these smaller audiences with targeted stories and series, while other writers have an affinity for a particular category and excel at it. I, personally, love reading a variety of romance genres, even though I am particularly susceptible to the wiles of a good British historical and the lust in a kick-ass paranormal. I have a favorite vampire author, a favorite historical author and a favorite author who writes about relationships with heroes so dominant I'd never go near them in real life. As for my own writing, with Totally Bound Publishing, I've published three historical novels, a historical ménage romance featuring two male lovers and their female partner, and a paranormal romance set in Michigan with Vampires and Tuatha Dé Dannan warriors. It's safe to say that I love to explore different worlds – both real and mythical – when I write, too.
Today, Totally Bound Publishing is releasing a new title from me named Ink Her. This novella is set in a paranormal world with a series of heroes called Vamp Hunters. (The first Vamp Hunters book, Hunt Her, is available from your favorite retailer, too.) Ink Her is a standalone novella, featuring one of these romantic niches I love to read. The hero, Stephen, is a vamp hunter. He is also a tattoo artist.
Tattoo art is one of those specialty genres that we can read and enjoy without ever stepping foot in a tattoo shop. It is also a genre we can enjoy because it is familiar. Tattoos are immensely popular in modern culture. Whether we are covering scars from breast cancer surgery, marking a significant turning point in our lives and family, honoring ourselves and others with a simple semi-colon inked on our wrists or neck*, or simply out on vacation with an urge to return different, tattoos are art that represent life. The canvas for them are our bodies, and the artists who transfer their imaginations to our skin can be creative geniuses. Tattoos can be beautiful, or they can be a disaster and the subject of television reality shows. No matter their genesis or their rebirth through cover ups, tattoos are a characterization of us.
In Ink Her, our hero is a tattoo artist with a Pinterest-worthy mobile tattoo shop built from an Airstream trailer. He's tired of inking tattoos of cartoon characters and black anchors on strangers. Vienna is just what he's been hunting for centuries, and if a little ink is needed to seal the bond between them, then Stephen is prepared to be the best extra-human male for the job.
Enjoy a free excerpt from Ink Her. You can find the book at major e-retailers.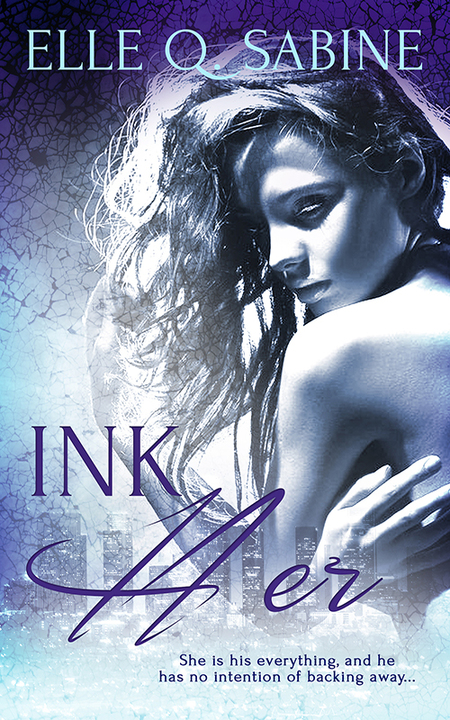 After centuries of hunting, Stephen has finally found his vamp. But Vienna, a small-town veterinarian, isn't waiting to leap into life at a vampire's side.
Stephen finds his vamp at a county fair in Central Michigan. As had been predicted centuries earlier, he discovered her while in pursuit of his passion—tattoo art. Just because he has found her, though, doesn't mean all will be easy.
Vienna has her own career and plans for what her future will be. She accepts Stephen as a lover, but is suspicious of a relationship with a man who seems to thrive with nothing more than a mobile studio and an SUV.
But Stephen is relentless. He has no intention of backing away and every intention of solving her problems. Vienna is his everything.
Reader Advisory: This book contains a scene involving blood sharing.
Publisher's Note: This book is a standalone story that relates to the world of the Vamp Hunters series.
Erotica Paranormal [Totally Bound Publishing, On Sale: November 22, 2016, e-Book, / eISBN: 9781786510952]
Exclusive Excerpt: Ink Her
Vienna maintained her silence in the SUV, even at the campground, humming in acknowledgment when he spoke. The Airstream served as more than his mobile shop, it appeared. When he ushered her inside, the tattoo chair—that entire end of the trailer to her left—was shrouded in darkness. In the opposite direction, though, lights flickered on. Behind her, Stephen must have flipped a switch near the door. She stepped into the small space, open in the center, and smiled at the charming decor. It was not large—it couldn't be, given the size of the trailer—but the interior was lovely. Instinctively, she crouched to remove her shoes, but Stephen objected, tugging her upright.

"No, leave them on," he insisted. Neither had worn a jacket, but he took the sweater laid over her arm and her handbag, to hang them beside the door on a peg near a black leather jacket. Vienna looked around her, liking the wooden floor and the dark paint. The modern, miniscule kitchen lined most of the back wall. Along the wall to the side of the door was a lounging sofa in black leather, with cabinetry above and below it. The rounded front end of the trailer was concealed from sight by a wooden panel, but Vienna suspected it was the bedroom.

In the center, Stephen had created just enough space for a small table and two black round-back dining chairs, upholstered in black leather to match the sofa. The table was covered with a white linen tablecloth and set with white china, edged in silver. Crystal wine glasses glittered in the low light, and he'd even added a centerpiece—a short vase with white hydrangeas.

Vienna stared.

Stephen chuckled. He held out a chair. "Sit, angel," he murmured. "Let me pour you some wine, and you can tell me about that tattoo you want me to ink on you."

Vienna sat. She cleared her throat. Stephen opened the wine that was waiting for him in a neat, narrow cabinet beside the refrigerator. He poured it with the expertise of a sommelier, and suddenly Vienna felt out of her depth. "I thought we'd barbeque and eat on a picnic table while I looked at a binder of tats," she blurted out.

Stephen shrugged. "I do that sometimes, too." He clicked on the oven, slid a covered dish into it, then settled into the chair across from her.

She hadn't seen him turn on any air-conditioning unit, but cool air drifted over her legs.

"I like barbeque. Hamburgers, dogs—kosher only, though. I've always been suspicious of American hot dogs—ribs, steak, chicken, kabobs…all of it." From his chair, he opened the door of the refrigerator again and pulled out a plate of antipasto that had been waiting.

"First course," he announced. "Appetizers."

Vienna ate happily. She loved Italian food, and he'd provided an excellent sampling. Still, she couldn't help but study her surroundings. After a few moments, Stephen smiled at her, stood then flipped another light switch, illuminating the other end of the trailer. Vienna stared.

"That," she finally ventured, "is Pinterest-worthy."

"Thank you," he acknowledged sincerely, bowing his head. With a devilish grin, he pulled two large binders from a shelf beneath the granite countertop then hefted them across the room. He handed the tomes to her and took away her salad plate. Vienna opened the first, amused to see that all the art inside was of men. She went through the sheets carefully, looking at each one, blushing slightly at some of the suggestive locations where the men in his portfolio had been inked.

"What about you? Where's your art?" she asked.

Stephen blinked. "Only around my navel," he admitted. She thought he said the words a bit grudgingly, but then he added, "While you can see that I've done many sleeves and extensive back tattoos, for myself I've only ever wanted ink as an accoutrement—something to enhance the skin."

"Your skin is beautiful," Vienna announced, then closed her eyes and hid her head as best she could, mortified.

To her surprise, Stephen did not try to take advantage of her humiliation. When she eventually lifted her head, he was waiting. Meeting her gaze directly, he said softly, "Thank you, angel."

Vienna nodded. He moved in the tiny kitchen and turned to the table with two full crystal goblets of water and a small plate of summer fruit. "And where would you propose inking me?" she asked.

Stephen blinked. She thought she saw his jaw twitch. After a long, heated moment when their gazes did not break, he made a low, inarticulate noise in his throat, then rasped, "I'd have to examine my palette very closely—extensively—before I could answer that question."

Shuddering, Vienna saw her fingers jerk involuntarily, nearly ripping out the photo of an exquisite dragon that graced a man's hip. It was red and purple, its tail curling along the seam between the man's thigh and his pelvis, pointing directly to where the man's penis— thankfully, out of sight—would be. Gently, oh, so gently, Stephen's hands brushed hers before he eased the books from her grasp and set them on the sofa behind her.

"Eat first." The words were guttural, spoken almost to himself, but Stephen's movements were still graceful and smooth, firmly in control. He delivered a plate of ravioli, dripping in mozzarella cheese. She inhaled deeply and managed to hold her fork, taking a bite even as he sat with his own plate.

Her senses, already abuzz from the aroma, happily erupted. She knew Stephen was watching her, but all she could do was blink and swallow.

"I should have asked," he teased, "if you like spinach and artichokes."

"I like," she agreed, taking another bite…and another. Stephen did, too, but he studied her more than he ate, until she'd finished her plate of ravioli and melon while at least half remained on his. Uncertainly, Vienna chewed her lower lip, debating what he would think if she asked for more. Across from her, Stephen scooped a bite of the concoction onto his fork, lifted it and, to her surprise, held it over the table to her lips. She opened them, without thinking, and he slid it inside her mouth. A hardness came over Stephen's face as she tightened her lips around the fork and took the ravioli. Without comment, he ate a bite, then offered her another.

Vienna kept her gaze locked on his, almost willing him to stay interested. They'd ratcheted up the heat in the room to scorching. She wanted him to touch her, was already imagining how she could convince him to do so. By the time she'd taken a fourth bite of his ravioli, she was no longer hungry. They hadn't once broken eye contact, and her skin was alive with an electricity she didn't understand at all. Her nipples had tightened and were hard, pressing against the lined bodice of her dress. Between her legs, she was so wet that her panties were uncomfortable.

Stephen set down the fork and sniffed. He clenched his fists and stood abruptly, his natural gracefulness in abeyance. "I hope you aren't ready for dessert." The words were harsh. He pushed his chair out of the way, harder than necessary. He ignored the clatter of it landing against the kitchen counter as he reached for her hand.

She didn't hesitate to put it in his and let him draw her to her feet. Vienna had no idea how long Stephen would be staying in town, so she would take every opportunity to enjoy his company while it lasted. Oddly enough, she trusted him, despite their short acquaintance. Just why she was certain he would not harm her, Vienna didn't know, but perhaps her safety filter was skewed. The situation, when she looked at it abstractly, was risky. No one knew where she was. He'd been in her home, though he hadn't taken advantage. He knew where she worked, but she didn't know the first thing about him, other than he looked, smelled and sounded better than a night with a bottle of fine wine and her secret collection of erotica.

Vienna hoped to hell that he was as dominant in the bedroom as he'd been in engineering this evening together. Stephen stopped abruptly and turned his head to look at her, narrowing his eyes. "Aren't you taking me to the tattoo chair?" she asked directly. She raised an eyebrow and pushed him further. "I thought we were going to look at the binders."

She didn't know if Stephen understood her underlying question. If he reversed course and led her to the chair, then it would be a fun evening not repeated. She'd had compliant lovers when she'd been away at school, and the experience had been, at best, bland and awkward. Vienna loved her father and was devoted to the animals in her life, but she had a need for a strong-willed man who was much more commanding than any sweet romance from the shelf of books at the local drugstore. Vienna yearned for a demanding lover, like the one she imagined when she was alone in bed with her Hitachi 'massager'.

Stephen, thankfully, rose to her challenge. The rumble that emanated from his chest came out as a sound of disbelief. He dropped her hand, stepped to the side then motioned for her to precede him toward the panel in the wall at the back of the trailer. Catching her eye, he uttered, "You are going to be the most luscious dessert I have ever had, angel. Now walk past me and put away whatever reservations are in that head of yours. Tonight the only thing you need to consider is whether I'll allow anyone in the next county to hear your moans or not."

Vienna caught her breath, suddenly eager to step forward. As he'd asked, she walked past him, directly to the sliding panel. When she reached it, he shot his arm around her and grasped the handle. Looking down, Vienna saw the hard muscle of his forearm brush against her rib cage—not roughly, but certainly present.

Behind her, Stephen crowded her forward, using his other hand to palm her stomach, just below the waistband of her dress. The heat of his hand sank through the material and into her skin. Vienna swayed on her heels, but the door before her slid open.

As she'd suspected, the hidden room was nothing more than a bed. In fact, it fit tightly into the available space to the side of the panel, with a low ceiling above it. A wall to the right concealed another small area, making what must be nothing more sophisticated than a bathroom the size of an airplane lavatory. Stephen didn't give her time for an inspection.

Without pause, still palming her stomach to hold her up, he bent her forward until her face and hands were on the black cotton blanket that covered the bed.

Vienna gasped. Stephen, apparently, did not consider that noise any sort of discouragement. With his free hand, he tugged the back of her skirt up enough to flip it forward, revealing her panties.

As she'd hoped.

He grunted again. Vienna loved those inarticulate noises—the grunts, groans and growls that seemed to come straight out of that hard chest instead of his voice box.

"Mary Mother of God," he muttered. Stephen traced the line of her panties with his fingertips, slowly moving along the white lace on each hip that accentuated the red silk stretched over her bottom. He shifted, and his hard erection brushed against her thigh for just a moment before he dropped to his knees behind her.

She gasped. The heat from his hand rushed up her spine, making her head spin. He inhaled deeply, then groaned again and kissed the lower edge of the panties, where the fabric met her right thigh. The sensation of his lips on that sensitive skin was beyond evocative.

Vienna vibrated in reaction, her entire nervous system and skin responding to the touch with rippling currents of lust and heat. He trailed kisses along the curve, down to the red silk at the cusp of her thighs, and she cried out in her own madness when he pressed his mouth to the wetness seeping through the fabric.

Vienna jerked, tottering on her heels. She'd forgotten she was still wearing them. Stephen steadied her. He moved his hand upward from her stomach until he cupped the underside of one breast. He fingered the back and inside of her knee for a moment, then lifted his head.

"Did you wear these for me, Vienna? Were you hoping I'd see them, that I'd appreciate them?"

"Yes," she gasped.

"Use my name," he demanded. "Show me that you know who makes you feel this way."

Vienna had to inhale at least twice before she could summon any control over her voice.

"Stephen," she replied.

"Good girl," he crooned, rewarding her. He caressed the luscious skin on the back of her upper thighs with his lips.

She shuddered for him again, wishing she could watch the scene behind her. She tried picturing it in her head, surprised when the image formed easily. It wasn't the detached view she'd expected. Instead, it was almost as if she was tuned into Stephen's view—of her bottom, round and responsive, of the wetness soaking her panties and easily visible, of the long curve of her legs down to where her ankles were anchored by the vintage-style red and white heels.

"I'm going to take these down now," he told her. The deep tones of his voice caused a quiver in the pit of her stomach, amplified when he added, "just to your knees. And you, angel, are going to spread your legs apart enough to keep them there, where I put them. Understand?"

Vienna's heart raced. The orgasm was unexpected. It hit her deep in her core, erupting outward. Stephen supported her legs again, but he was insistent on lowering her panties. Even while she continued to rock backward and forward in response to the release, he tugged on the stretchy material, pushing down the lingerie until it caught at her knees. He helped her resettle her legs farther apart, stretching the panties to hold them in place, as he'd said. When had she ever been so obedient? But there was no denying the lust that roared in her, even post-orgasm.

"They are beautiful panties," he whispered behind her, sliding his hands up the outside of her thighs and rearranging her skirt to hang as he wished. "But they are nothing compared to this loveliness, angel. You are exquisite."

A rush of relief hit her, as though she'd been waiting to see if she pleased him. Vienna suddenly squealed, a loud noise in the enclosed space, but it was in response to his mouth, rather than his words. He pressed his lips to her bottom and spread kisses across it and down until he was caressing her labia rather than her ass. He lapped at her, drinking up the excess arousal she leaked. When had she ever been so unbelievably wet? Certainly the vibrator, even on its highest setting, never had the effect his lips and tongue had.

His beard scraped against the sensitive skin of her inner thighs. He tipped her slightly, and he set both palms to her bottom to spread apart her cheeks. Vienna sucked in a sharp breath, trying to speak, but nothing came out of her. "I'm going to feast from this perfect pussy now, angel," he informed her, so close to her that the warm air that came from him as he spoke tickled the bare skin coated with her juices.

"Heaven help me, please," she finally begged.

Heaven didn't help, but Stephen did. He licked at her, then speared her solidly with his tongue.

Vienna screamed.
About Elle Q. Sabine
Elle is an author of erotic romance, or romance that contains erotic content. The romance – the falling in love – is the beautiful part of the story. The erotic content is the interesting part. In Elle's mind, the best books are erotic and romantic at the same time, and these are the sorts of stories she wants to tell. Elle lives in the great state of California with a devoted Mr. Sabine, a golden-haired pup, and a golden-haired daughter. If she had spare time, she'd like to sleep at night, visit museums, and spend more time with the Pacific Ocean.