Interview with Jana Lane and Brian Otley from RAG DOLL, the fifth Jana Lane mystery
Interviewer: Welcome Jana Lane Otley and Brian Otley from Joe Cosentino's RAG DOLL, the fifth Jana Lane mystery.
Jana: Thank you. Five novels. I must be getting old.
Brian: Think how I feel sitting in hotel rooms away on business worrying about you solving crimes.
Interviewer: Since the readers can't see you, tell us what you both look like.
Brian: My wife is gorgeous, petite, with blonde hair, blue eyes, a button nose, and a loving heart for everyone.
Jana: I'm blushing. Brian is tall, handsome, muscular, with chestnut-colored hair and very sexy hazel eyes. He comes off a bit gruff, but he's sweet as pie.
Brian: Speaking of pies, are you ever going to bake one for me?
Jana: Let's move on to the interview.
Interviewer: How did you two meet?
Brian: We were at a local town hall meeting. I took one look at Jana and fell head over heels in love.
Jana: Brian was the glue that put me back together when I came back from Hollywood.
Interviewer: Yes, you were America's most famous child star.
Jana: Until I was attacked on the studio lot at eighteen and came back to Hyde Park, New York with my family. A few years later I met Brian, the love of my life and the father of my three children.
Interviewer: Tell us more about that.
Jana: In PAPER DOLL at thirty-eight I live with my family in a mansion in picturesque Hudson Valley, New York. My flashbacks from the past become murder attempts in my future. I venture back to Hollywood, which helps me uncover a web of secrets about everyone I love. I also embark on a flirtation with the devilishly handsome son of my old producer.
Brian: That was ulcer number one for me.
Interview: And in the next Jana Lane mystery?
Jana: In PORCELAIN DOLL I make a comeback film, co-starring America's heartthrob, and I uncover who is being murdered on the set and why.
Brian: Ulcer number two. I'll take the next one. In SATIN DOLL Jana, the kids and I head to Washington, DC, where Jana plays a US senator in a new film, and becomes embroiled in a murder and corruption at the senate chamber. She also embarks on a flirtation the local detective. Ulcer number three.
Jana: I also rub elbows with senators on both sides of the aisle, a lobbyist, and a Washington reporter. And in CHINA DOLL I head to New York City to star in a Broadway play, enchanted by my gorgeous co-star, and faced with murder on stage and off.
Brian: Book and ulcer number four.
Interviewer: In addition to making a terrific comeback and solving numerous murder mysteries, you seem to have a lot of flirtations with men, Jana.
Jana: Brian is the only man for me, but you can't blame a girl for looking.
Interviewer: In addition to your loyal husband, Brian, your agent Simon has been by your side in each book.
Jana: Simon is amazingly resilient, old world Hollywood, incredibly funny, and totally loyal.
Interviewer: How old is Simon Huckby?
Brian: Somewhere between senior citizen and rigor mortis.
Interviewer: How have the reviews been for the series so far?
Jana: Amazing.
Brian: How else could they be with my wife as the focus?
Interviewer: Tell us about RAG DOLL, your latest mystery, Jana.
Jana: With the success of Miami Vice and Murder She Wrote, I was excited when my agent, Simon, told me I would be starring in a new television murder mystery series, The Detective's Wife. It was quite a surprise when I found out Detective Bove from SATIN DOLL had become an actor and was playing my husband on the series.
Brian: Ulcer number five.
Interviewer: And rags to riches ingénue Christa Bianca is the guest star for the pilot episode. Jana, you and Christa became fast friends, and wouldn't you know, there was an attempt on Christa's life. Before we knew it, murder ensued.
Jana: Christa's past as a poor, small town girl who the other kids called, "Ragdoll," touched my heart. I was incredibly concerned about Christa and those dear to her when it became clear there was a murderer on our set.
Brian: I can't believe anyone works with this woman? She attracts murder like bees to honey.
Interviewer: And the suspects include dominatrix Karen, Bove's ex-wife who covets Christa's role, and Herm the director who is enticed by Karen.
Jana: There are also Christa's agent, and her uncle who was also guest-starring on the episode.
Brian: And trying to hold on to Christa's coattails when his career was in decline. See? I listen when you tell me the suspects and clues during out late night phone calls.
Jana: I'm impressed, Brian. Here I thought you were designing your next mall in those hotel rooms during out talks.
Interviewer: Who else is suspect?
Jana: Andrew, Christa's controlling manager/husband.
Brain: Lucky for you that you don't have one of those.
Jana: And two couples playing bit roles who have a personal conflict with Christa and Andrew.
Brian: Don't forget our son's nanny and her boyfriend, your mysterious prop master with a secret.
Interviewer: Everyone seems to have a secret in RAG DOLL.
Brian: But Jana Lane exposes them all. Once again The Littlest Detective and School Spy uses her knowledge from her movie roles as a kid and figured it all out in a nail-biting climax, especially for me.
Jana: This one was quite difficult. The clues somehow didn't add up, until the final reel.
Interviewer: Is Christa Bianca, the ingénue, based on any young successful actress past or present? How about Christa's Uncle Nick, the aging character actor?
Jana: Christa is a beautiful, talented young woman who escapes her impoverished small town life and embarks on a successful film and television career. I'm sure there are many young actresses like her, past and present. In our youth-oriented society, there are also many aging character actors put out to pasture before their time. The interesting thing about Nicholas Hartford is how his niece looked up to him when she was a child, and now he looks up to her—hoping to ride on her coattails back to the top. I think we've seen that happen in a number of show business families.
Brian: Like your father with you.
Jana: No arguments there.
Interviewer: Jana, you are interviewed by a very funny, aging, gossipy female television interviewer in RAG DOLL. Is Harriet Hologram representative of Barbara Walters?
Jana: I believe there are many television reporters and interviewers who wield their power over celebrities. I see it as a love/hate relationship, where both interviewer and star need each other to promote their work and their careers. It's a shame the process needs to be so hurtful. I believe that is stoked by many viewers' interest in celebrities' health crises, divorces, bad reviews, and other misfortunes.
Interviewer: And Jana opens the Jana Lane AIDS Foundation in this novel. Was that patterned after Elizabeth Taylor's AIDS Foundation?
Brian: Though Jana is quite different from Elizabeth Taylor, like the great actress and humanitarian of yore, Jana is one of the very few celebrities to pick up the banner and raise money for treatment and a cure while our government representatives ignore the crisis that affected millions of Americans. I'm proud of my wife for that.
Interviewer: And you both go through personal crises in the novel and support one another.
Brian: Always.
Interviewer: Jana, in this novel you are again confronted by a character who uses his religious beliefs to attack the rights of others. Do you think Christians will be offended by your reaction to Andrew Bianca's verbal attacks on your gay co-stars, Jana?
Brian: Jana is a true Christian to me since she tries to love her neighbor as herself, not judge others, and help the downtrodden and outcasts. As Jana says, freedom of religion means the freedom to worship as you choose, not try to take away the civil rights or self-worth of others.
Jana: See why I love this man?
Interviewer: I find it fascinating how Jana uses the skills she learned as a child star to solve the crime. How do you remember all of your old movies, Jana?
Jana: Simon never lets me forget.
Interviewer: Is it fun living in 1985 in RAG DOLL?
Jana: I love the hairstyles, clothing, makeup, music, movies, television shows, and dances. You should see Bove in his parachute pants, colored T-shirt, and white jacket.
Brian: No thanks.
Interviewer: Everyone in RAG DOLL seems to have a secret.
Brian: And Jana Lane exposes each one by the book's end.
Jana: Yes, each Jana Lane mystery is its own story. Readers get a complete mystery with each novel, as you said, full of revealed secrets.
Interviewer: You play fair in your mysteries, meaning the clues are there, and so are the plot twists and turns, and white knuckle shocking ending.
Brian: That's for sure.
Jana: I don't like mysteries where characters are introduced and the writer arbitrarily picks the murderer at the end. The readers feel cheated. At the end of a mystery, the readers should say, "Of course! How did I not see that?" I agree about the surprise ending. It still makes my heart race when I read it.
Brian: Mine too.
Interviewer: And everything you do and say comes out of the head of ex-actor/current college professor Joe Cosentino.
Brian: Like me, Joe Cosentino is definitely the man behind the woman.
Interviewer: Does Joe Cosentino have another mystery series besides the Jana Lane mysteries?
Jana: Yes, the Nicky and Noah comedy mysteries published by Lethe Press. Each novel is loaded with wacky humor and romance in a fast-paced whodunit. Since Joe is a college theatre professor/department head, and theatre departments are havens of mystery, secrets, romance, and high humor; the series takes place at an Edwardian style New England college. In DRAMA QUEEN (Divine Magazine's Readers' Choice Award for Best Mystery, Best Crime, Best Humorous, Best Contemporary novel of 2015) theatre college professors are dropping like stage curtains. With the inept local detectives, it is up to Directing professor, Nicky Abbondanza to use his theatre skills (including playing other people) to solve the murders, while he directs a murder mystery onstage. Complicating matters is Nicky's intense crush on Assistant Professor of Acting, handsome Noah Oliver, the prime suspect in the murder. In DRAMA MUSCLE Nicky and Noah have to use their theatre skills to find out why musclemen are dropping like weights in the Physical Education department while Nicky directs the Student Bodybuilding Competition. In DRAMA CRUISE Nicky and Noah go on a cruise to Alaska, and discover why college theatre professors are going overboard like lifeboats while Nicky directs a murder mystery dinner theatre show onboard ship.
He also has his MM romance novellas published by Dreamspinner Press. They are Rainbow Award Honorable Mention IN MY HEART (An infatuation & A Shooting Star), A HOME FOR THE HOLIDAYS, and THE NAKED PRINCE AND OTHER TALES FROM FAIRYLAND. Finally, there is the MM series Rainbow Award Honorable Mention COZZI COVE: BOUNCING BACK, COZZI COVE: MOVING FORWARD, and COZZI COVE: STEPPING OUT taking place on the Jersey Shore and published by NineStar Press.
Interviewer: As a college professor/department head, how does Joe have the time to write?
Jana & Brian: We help him.
Interviewer: Who is the ideal reader of the Jana Lane mysteries?
Jana: A lover of mystery, romance, and Hollywood. Someone who craves being swept away by a story and becoming part of the novel. My reader loves clues, suspects, and plotlines that zigzag with numerous surprises leading to a shocking yet totally justified conclusion. Finally, my reader relishes in beautiful, lush locations and captivating characters as she/he enters the portal of my book.
Interviewer: How can your readers contact you?
Jana: Via Joe Cosentino. He tells us everything.
Brian: Joe loves hearing from readers. Contact him via his web site
Interviewer: Thank you both for stopping by.
Jana: It was a delight.
Brian: Back to the books for us.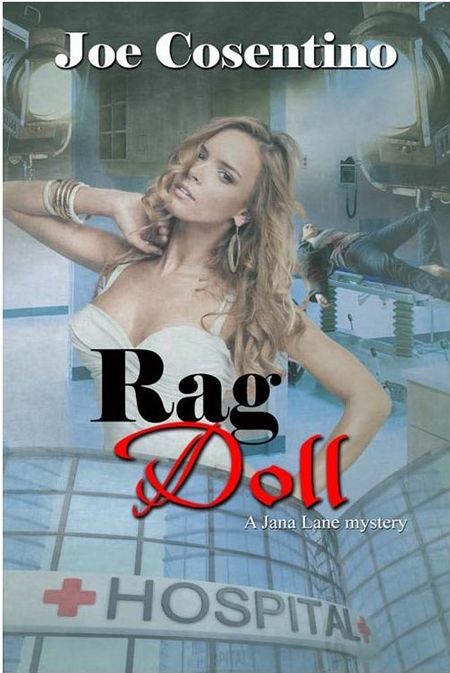 Murder, romance, and scandal on and off the set of Jana Lane's new murder mystery television show. America's most famous ex-child star Jana Lane is starring in The Detective's Wife, a murder mystery television show in 1985. Guest starring on the show is Christa Bianca, a rags-to-riches ingénue who has flooded the entertainment press. Life imitates television as cast members are murdered, and once again it's up to Jana, along with sexy ex-detective Chris Bove, to save the day before the lights fade to black.
Mystery Historical [The Wild Rose Press, On Sale: November 16, 2016, e-Book, ISBN: 9781509210015 / eISBN: 9781509210015]
Bestselling author Joe Cosentino was voted Favorite Mystery, Humorous, and Contemporary Author of 2015 by the readers of Divine Magazine for Drama Queen. He also wrote the other novels in the Nicky and Noah mystery series: Drama Muscle and Drama Cruise (Lethe Press); An Infatuation, A Shooting Star, A Home for the Holidays, The Naked Prince and Other Tales from Fairyland (Dreamspinner Press); Cozzi Cove: Bouncing Back,Cozzi Cove: Moving Forward, Cozzi Cove: Stepping Out Cozzi Cove series (NineStar Press); Paper Doll, Porcelain Doll, Satin Doll, China Doll, Rag Doll (The Wild Rose Press) Jana Lane mysteries; and The Nutcracker and the Mouse King (Eldridge Plays and Musicals). He has appeared in principal acting roles in film, television, and theatre, opposite stars such as Bruce Willis, Rosie O'Donnell, Nathan Lane, Holland Taylor, and Jason Robards. His one-act plays, Infatuation and Neighbor, were performed in New York City. He wrote The Perils of Pauline educational film (Prentice Hall Publishers). Joe is currently Head of the Department/Professor at a college in upstate New York, and is happily married. Joe was voted 2nd Place for Best MM Author of the Year in Divine Magazine's Readers' Choice Awards for 2015!