Welcome back to Fresh Fiction, Emily! Please tell us a little bit about yourself and your new book, Eternity Springs: Tucker.
I'm a native Texan and spend most of my time at our home in the Texas Hill Country. When I decided to do a trilogy set within the Eternity Springs world but in a locale outside of Colorado, Texas was a perfect fit.
Gillian Thacker owns a bridal salon but hasn't had the best luck when it comes to her own dating life. I love that contradiction – someone who works in the wedding business but isn't really ready to settle down herself. What do you think readers will find relatable in Gillian?
Gillian is a strong, capable person, but when she is thrown a big life curve, it takes her a little while to recover. I believe life is like that. It can knock you down, and we don't all climb back on our feet at the same pace. I try to write my characters realistic. They're not perfect, but they're real.
After a career in the Army, Tucker McBride is trying to navigate civilian life, and the last thing he wants is a boring desk job. So he puts his skills to use and starts a wilderness training school where he meets Gillian. What did you love about throwing these two characters together?
Gillian is a girly-girl. I wanted her to be a fish-out-of-water in Tucker's world, but the life-skills she learns from him empowers her.
One of the best parts of a romance set in a small town are all of the wonderful side characters who populate it. Who are some of the characters in Redemption, TX, that you couldn't get enough of?
I'm loving me some Angelica. She's been too much fun for me because she's given me the opportunity to explore another side of Celeste, a character who readers have embraced through the course of this series.
What do you think is the enduring appeal of a cowboy hero?
I don't know. There is just something about a cowboy. Earlier this week, I made my annual visit to the Fort Worth Stock Show and watched the real ones at work. Sigh. . .
Tucker's wilderness training school is such a fun aspect to this story! Did you take any courses similar to the ones Tucker teaches to research for this novel?
I did! I attended a weekend course just like the one Gillian takes, so that scene was written from first-hand experience. I was so proud when I managed to start my very first friction fire!
I love to ask authors about what they are reading! What's a recent book you read and adored?
I just finished BIG LIES IN A SMALL TOWN by Diane Chamberlain. That was a fabulous book.
What can readers expect from you next?
I'm writing Boone's story now and it will be out early next year.
Rapid Fire Random Questions
Favorite Romance Trope: Hmm. . . friends-to-lovers, I think.
Go to mani/pedi nail polish colors: Depends on the season. I prefer rusty tones as a rule.
Do you dog-ear or use a bookmark in your books?: Dog-ear all the way.
Pancakes or waffles?: Pancakes
Favorite book from childhood: FIFTEEN. Loved romance from an early age.
Morning person or night owl: Morning.
First thing you'd splurge on if you won the lottery: A new boat.
A song that will always cheer you up: Southern Cross
Favorite season: Fall
You have a totally free afternoon – no deadlines, no obligations, no Twitter notifications! What do you do?: Work in the garden.
Eternity Springs: The McBrides of Texas #17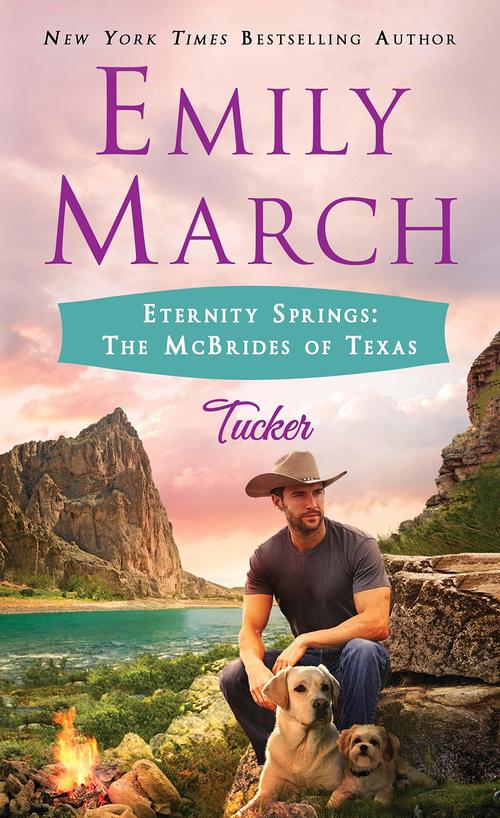 In Eternity Springs: The McBrides of Texas, New York Times bestselling author Emily March presents a brand new arc set in the Lone Star State that features a family-linked trilogy within the author's romantic series.
Hope springs eternal in this enchanting Texas town.
Meet Gillian Thacker. Her business: Bliss Bridal Salon. Her passion: Weddings. Her own wedding: It's complicated. Life isn't turning out like she'd planned. The last thing she wants is for a real-life hero to ride to her rescue when an unexpected event puts her entire future in Redemption, Texas, at risk. So what's a broken-hearted bridal expert to do? Maybe a new set of survival skills is exactly what she needs…
Tucker McBride has been proud to call himself a U.S. Army Ranger. But now that his days of service are over, he's decided to put his expertise to use by founding a wilderness skills training school. He sets up shop in Redemption, next to Bliss Bridal, and so begins life: Part Two. Marriage has been pretty low on his agenda, but as soon as he meets Gillian, Tucker can't help but contemplate the ultimate challenge: Convincing the reluctant bride to take his hand and leap into the adventure of a lifetime. . .until death do they part.
Small Town | Romance Contemporary [St. Martin's Paperbacks, On Sale: February 25, 2020, Mass Market Paperback / e-Book, ISBN: 9781250314932 / eISBN: 9781250314949]
Emily March is the New York Times, Publishers Weekly, and USA Today bestselling author of over thirty novels, including the critically acclaimed Eternity Springs series. Publishers Weekly calls March a "master of delightful banter," and her heartwarming, emotionally charged stories have been named to Best of the Year lists by Publishers Weekly, Library Journal, and Romance Writers of America.