1–What's the name of your latest release? 
TANGLED UP IN TEXAS. It's the first book of the Lone Star Ridge series for HQN.
2–What is it about?
It's about a Texas rancher, Shaw Jameson, who's reunited with his childhood crush, Sunny Dalton. Sunny was once the star of a reality TV show that featured her and her triplet sisters, and she's returned home after some personal and medical setbacks.
3–What word best describes your heroine? 
Resilient. Sunny's been through a lot, but she's managed to hang onto her "sunny" outlook on life.
4–What makes your hero irresistible? 
Along with being hot, Shaw is a rock. As the oldest of his many siblings, he handles a lot of the family problems along with running a ranch. He's the go-to guy who's only missing one thing from his life–the woman he let get away. But now he has a chance to fix that.
5–Who are the people your main characters turn to when they need help? 
Both the hero and heroine have siblings–lots of them–so they have plenty of help when they need it. My heroine, Sunny, is a triplet, and she's very close to her sisters and her brother, Hayes. I have triplet sisters myself so I know some of the sibling dynamics that goes on with multiples.
6–What do you love about the setting of your book? 
I love the small town in Texas. It's a ranching town with beautiful scenery and colorful people.
7–Are you a plotter (follow an outline) or a pantster (write by the seat of your pants)?
I'm a plotter all the way. I start by writing a detailed synopsis of the story, and I go from there.
8–What is an ideal writing day for you? 
I start writing at about 8:30 AM and I go until about 4 PM. I used to start my writing day much earlier, but I've been helping my daughter take care of my newborn twin grandbabies. I've adjusted my schedule to be with them.
9–Do you listen to music while you write, need total silence, or do you have the TV on?
It depends. Sometimes, I write in total silence, but I'll also "white noise" a short playlist. I'll play it over and over until it's just background. I do that to filter outside noise.
10– How do you approach research? 
I don't research during the writing part of my day. It's too easy to get bogged down with it. So, I make notes whenever a research question comes up (for example–what kind of gun does an ATF agent carry?), and I'll look up the answer after I've gotten my daily pages done.
11–What is your publishing journey story?
I've written stories for as long as I can remember. I did my first "book" in 5th grade, and it was a dystopian story with Amazon warriors. I didn't get serious about my writing though until much later when I sold my first book to Harlequin in 2000.
12–Do you have critique partners/writing groups you want to give a shout-out to? 
I don't have a critique partner, but I owe a lot to the San Antonio Romance Authors for helping me get my start. I met so many amazing authors there who answered my questions and cheered me on.
13–What're the most frustrating things about being an author? 
When my writing time is interrupted. It's so hard to get back the focus when the flow is broken.
14–What's your favorite scent?
Fresh popcorn
15–What movie will you watch no matter what if it's on TV? 
Love Actually
16–Do you like breakfast, lunch, or dinner best? 
Definitely lunch. I'm a sandwich person.
17–What's one thing you wish you knew more about? 
Right now, I wish I knew more about babies. I'm the mother of four so I've had a lot of experience with children, but I feel I need a refresher course now that I have twin grandbabies.
18–What's the silliest thing you've recently done?
I switched two stories in my art fact sheets that I do for Harlequin. I didn't catch my mistake until I was done with both of them, and then I had to go back in redo both.
19–What can readers expect from you next? 
There'll be three more books and four novellas in the Lone Star Ridge series. I'll also have two more Harlequin Intrigues this year.
20–How can readers reach you? 
They can contact me through my website: deloresfossen.com 
Lone Star Ridge #1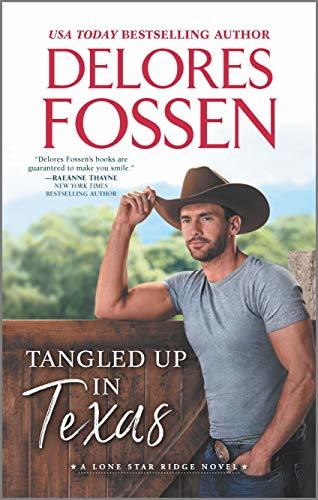 Their past never faded–and neither did their passion.
Between running his family ranch and dealing with far too many needy relatives, Shaw Jameson doesn't have time for more trouble. But when his first love, former-child-star-turned-businesswoman Sunny Dalton, returns to Lone Star Ridge, Shaw senses things are about to get a whole lot more interesting.
Shaw isn't prepared for the memories that come flooding back now…or the reignited spark between them that turns into a raging inferno. Still, this gorgeous cowboy will do everything he can not to get burned a second time. Because Sunny never promised this visit was permanent and Shaw has no intention of giving up the land he loves. Letting Sunny go again is certain to leave a Texas-sized mark on his soul–and a permanent wall around his heart. Unless he can prove their small town holds the promise of the future they both always imagined.
Romance Contemporary | Romance Western [HQN, On Sale: February 25, 2020, Mass Market Paperback / e-Book, ISBN: 9781335014085 / eISBN: 9781488055850]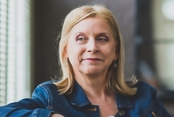 USA Today bestselling author Delores Fossen is a former Air Force officer who's sold over 100 novels. She's received the Booksellers' Best Award for romantic suspense, the Romantic Times Reviewers' Choice Award and was a finalist for the Rita ®.