Half an hour later, Letty opened the front double doors, dropping her keys and kicking off her heels at the front entrance of her temporary apartment. Emphasis on temporary. Her passive-aggressive, spineless cretin of a landlord had decided to jack up prices in an effort to evict tenants like Letty and those on lower incomes. Mitchell's paid well, but her family made it impossible for Letty to save because every other month they seemed to need something. She truly believed there was a special place in hell reserved for people like her ex-landlord, preferably where they waxed his balls again and again with no pause in between. Waxing was a bitch and a half, no contest.
Letty had bemoaned her homeless fate to Reagan, who had immediately called her older brother Callum. And voila, he'd let her stay in this upscale apartment free of rent, in a gorgeous part of Scarlet, while Callum lived on the sunny East Coast, in a city called Galena, on the other side of the country for the baseball season. Did she mention free rent? And six bedrooms? And bathrooms for days?
Letty had grown up a child of divorce and hadn't had her own room in either house. Of course, it was because she had never been in either place for long—a few days here and a few days there and then off to her grandmother's on the weekends. Her old apartment had been nothing but a glorified closet. But it had been hers. Until it wasn't.
Letty walked down the long front entrance, bare feet padding on the wooden floor as she made her way to the kitchen. Talking Damon off a ledge had left her with a ravenous appetite.
Her body jerked in surprise, and she came to a halt in the doorway of the kitchen. What the fuck? For a moment, she wanted to check if she was in the right Thomas brother's house. Letty blinked slowly as if the sight before her would suddenly disappear. Update: it did not. The one man she had never expected to be inside of her—okay, Callum's—kitchen was suddenly right there. Aidan Thomas, one of her best friend's older brothers. And he's half-naked. Making a sandwich. So, so gloriously naked. Did I mention he's half-naked? It bears repeating.
Aidan was faced away from her, a dark wall of muscles that shifted and rippled as he opened a jar of peanut butter, a flash of white in his ears. AirPods, which explained why he hadn't yet heard her entrance. Letty swallowed and immediately stood taller. She cursed the fact she was no longer wearing her heels. She wasn't short, but Aidan was an impressive man at six foot four, almost a head taller than her. A glass of wine would come in handy right about now. But it wasn't as if she could sneak by him to go and pour herself some. Besides, she wasn't a coward.
Letty cleared her throat.
"Well, well, whichever god I have to thank for this housewarming gift, I'll be sure to get down on my knees and thank them graciously."
Aidan spun around, yanking out his earphones and prematurely cutting "I Can't Quit You Baby" short. Willie Dixon's soulful bluesy version, not that he was opposed to a little Zeppelin now and again. Aidan's stomach clenched when he clapped eyes on the person who'd disturbed him.
"Letty."
His little sister's best friend stood in the arched doorway of the kitchen. What the hell? He racked his mind, trying to remember if he'd forgotten Letty was meant to be coming over for some reason. Except Callum, whose apartment this was, wasn't in the city and Aidan couldn't come up with any good idea why she'd be here.
"Aidan," she said in that husky voice of hers. "I would say fancy seeing you here, but I'm actually genuinely shocked. You want to put down the knife there?" Letty held up her hands in mock surrender. "I come in peace."
Aidan dropped the butter knife onto the counter behind him with a clatter, letting out a deep sigh. This is the last thing I need. All he wanted to do was eat and fall into a dreamless sleep before practice tomorrow morning. He felt all twenty-eight years of his age. His shoulder ached like a son of a bitch from accidentally getting checked by one of his teammates and he still had the We Play Together initiative notes to go over. So, he hoped whatever Letty had to say she would say it and, with all due respect, get the hell out. Aidan opened his mouth to say just that when she moved, and his thoughts scattered like a puck during face-off.
Letty's cream wrap-around dress had a slit at the side, exposing a long and golden leg. Look away, look away. But fuck if he could. Letty was gorgeous, from her beautiful brown eyes down to her perfectly painted pink toenails. Every high heel she wore was different, like today's cream Jimmy Choos, same color as the pair she had worn last game night, but there were subtle differences he recognized. Aidan really wished he didn't have this dumb ability to identify designer shoes, but that's what happened when your ex-girlfriend had an obsession with the finer things in life and would drag you from store to store looking for the right pair, only to end up buying six on the same day. Fuck if I understand why women need more than one for each occasion or one so thin it could snap their ankle. What was the point of that?
Every single time Aidan saw Letty it was like a punch to his chest, visceral and consuming, but he didn't let it get to him. Aidan ran the backs of his fingers over his mouth while he stayed transfixed by her glorious skin. I wonder if it's as silky as it looks. And that was the exact kind of thoughts he should not be having.
(c) Emma Salah, Carina Press, 2021. Used with permission from the publisher.
Becoming a Thomas #2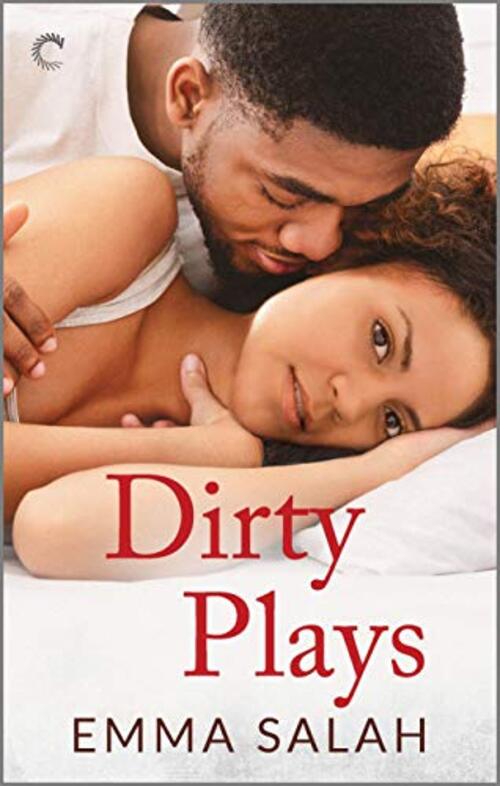 He's playing a dangerous game. And winner takes all.
Aidan Thomas is staying at his brother's apartment while his own home is being remodeled, but the apartment isn't as vacant as he was led to believe. Pushed out of her own place by a rent increase, Letty Garcia, his sister's gorgeous best friend, is staying there too. The involuntary cohabitation is a temporary solution, one they can both endure unscathed.
Maybe.
But the intense attraction that's long lingered between them sure is making things hard.
Cards. Truth or Sexy Truth. For these red-hot roomies, no game is off the table. But all bets are off when heartbreak-veteran Letty wants to keep things light and fun—and Aidan starts playing for keeps. With both of their hearts on the line, the stakes have never been higher.
Game on.
Becoming a Thomas
Book 1: Dirty Tactics
Book 2: Dirty Plays
Romance Contemporary [Carina Press, On Sale: June 8, 2021, e-Book, ISBN: 9780369705426 / eISBN: 9780369705426]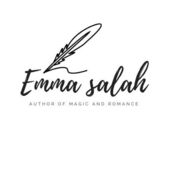 Emma Salah spent her childhood climbing mountains, killing (or petting) dragons, and sneaking romance novels into her bedroom as a teenager. She received degrees in literature and creative writing and went on to backpack through Southeast Asia and teach for over a year in Japan. As a young black woman, she is interested in telling stories that don't always get heard. She currently resides in London.