Hi all! Erica Kudisch here, promoting my debut novel THE BACKUP, queer urban fantasy with a side of myth and music. Thanks so much for keeping up with the blog tour! Be sure to swing by the other stops for awesome multimedia content and a $50 prize package giveaway!
Why The Bacchae
I have a copy of D'Aulaire's Book of Greek Myths in the underwear drawer of my childhood bedroom. It's in pieces. It's been in pieces since I was nine years old. Even back then I knew I wasn't getting the whole story, so I got my hands on other versions as soon as I could. My grandmother and I read the Iliad together when I was twelve, and watched the entirety of the BBC's I CLAVDIVS, and I probably experienced the demythifications of Mary Renault a little too early in my emotional development, but there you go.
Around the same time, I was taking drama classes at school, and we learned about Greek theatre and the roots of Western drama. I loved the scope of the stories, loved seeing all those myths I'd read as a child brought to life and somehow humanized. We read through the Oedipus trilogy, Elektra, and Antigone, and studied the megaphone masks and the elaborate dances, and tried to incorporate them into modern theater. It didn't always work, but I saw the immediate connections between Greek theatre and musical theatre, especially opera. The stories are larger than life, and so is the language they use, and just because the acting isn't naturalistic or cinematic doesn't mean it's false. The world of Greek drama, just like Greek mythology, is a heightened reality, a distorted mirror of our world.
I first came across Euripides's THE BACCHAE in my local public library when I was about thirteen. I'm pretty sure it was because I was terrified by the ending of THE KING MUST DIE and wanted more dirt on Maenadic ritual. I don't even remember whose translation of the play I found, but I tracked down another and read them side by side. The shape of the story was the same–Dionysus comes to town and ruins his cousin's life–but there was something in the differences between them that struck me. One was sympathetic to King Pentheus for trying to keep order in his city: another made it clear that his hubris made him deserve everything the God gave him.
So imagine gawky, adolescent me, with my characteristically teenaged black-and-white view of the world, trying to make sense of the disparity. How could a play have two diametrically opposed morals? How could Dionysus and Pentheus both be right? Honestly, I'm still not sure. But I know they both think they're right, and that it's the context that determines the moral.
In the intervening years, I've read and watched a dozen other translations. One in particular, Hans Werner Henze's opera, The Bassarids, was a huge inspiration for THE BACKUP. In The Bassarids, Pentheus's music is strict but dissonant, completely beholden to the academic conventions of the 1960s; Dionysus's free atonality is expressive but unpredictable, and just as aurally unnerving. And the rules of the opera, the choices Henze makes, are broken one by one, leaving the audience just as lost and manipulated as Pentheus.
That's what this myth is capable of: showing us both the prides and pitfalls that can come when we break the rules of the Gods.
The Giveaway
To celebrate the release of THE BACKUP, Erica is giving away iTunes and Riptide credit totaling $50! Your first comment at each stop on this tour enters you in the drawing. Entries close at midnight, Eastern time, on January 30, 2016. Contest is NOT restricted to U.S. Entries. Follow the tour for more opportunities to enter the giveaway!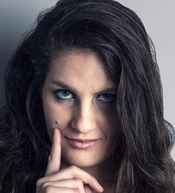 Erica Kudisch lives, writes, sings, and often trips over things in New York City. When not in pursuit of about five different creative vocations, none of which pay her nearly enough, you can usually find her pontificating about dead gay video games, shopping for thigh-high socks, and making her beleaguered characters wait forty thousand words before they get in the sack.
In addition to publishing novellas and short stories as fantastika-focused alter-ego Kaye Chazan (What Aelister Found Here and The Ashkenazi Candidate, both available at Candlemark & Gleam) Erica is responsible for the BDSM musical Dogboy & Justine, and serves as creative director and co-founder of Treble Entendre Productions.
She also has issues with authority. And curses too f#cking much.
I'm supposed to be better than this. I'm supposed to have a tenure-track job teaching music history to undergrads, writing papers about Bach, and proving to kids like me that you can work your way out of Harlem. I'm not supposed to be following a rock star around the country, fetching his mail, making sure his groupies are of age.
I'm definitely not supposed to be sleeping with said rock star, who claims to be the Greek God Dionysus. At first I thought it was a load of crap. Nik's fans might think his music captures their hearts—and souls—but I knew better. Until one of Nik's orgiastic concerts gets out of hand and I don't know which is worse: that he might be a god after all, or that he has a body count.
Nik doesn't care what I want or what I should be. He wants to tear down the world I've built, warping all I am, until his music is all that's left of me. I can't let him do that. I shouldn't believe in him. I've seen what happens to the people who believe in him.
But I can't get his song out of my head.