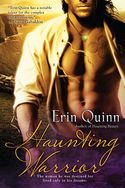 Have you seen the gorgeous man on the cover of Haunting Warrior? I mean, seriously, do they get any sexier? If I saw him walking down the street would I throw caution, decorum and sanity to the wind and accost him…probably yes. (Okay, okay, absolutely yes…)
Well, meet Rory MacGrath.
I fell in love with Rory during the first draft of Haunting Warrior. It was about that time when the reserved and sometimes angry man began to show me his softer side. Disconnected from his past, his family, and even his heritage, Rory had a vulnerability that was a direct contradiction to his manly exterior. But even Rory knew that the front he presented was just that-a façade that might fool strangers, but couldn't fool those who knew him.
Or people like me who were about to fall in love with him.
Tough on the outside and lost on the inside, I knew that all Rory needed was a woman who could help him see his own strengths-a woman who would challenge him to rise above the past that had crippled him emotionally. This woman would bring him back into the circle of the living. She couldn't be just any woman and she certainly wasn't easy to find. In fact, Rory had to travel through time to reach her.
One of my favorite scenes in Haunting Warrior comes when Saraid (Haunting Warrior's heroine) faces the fact that man she's wed is not the loathed Ruairi the Bloodletter, but another man who watches from the same blue, blue eyes..
Saraid stared at her splayed fingers, feeling that the freezing hand must surely belong to someone else. Not her. Not Saraid. Yet she could feel the coldness of it pressed against the burning heat of the Bloodletter's chest. Feel the fierce pounding of his heart beneath her palm. She was numb and raw at the same time. Her mind felt dull and yet every pore of her skin was sensitive to the slightest shift in the air. The draft coming from beyond the curtain chilled like a blustering wind. The voices in that other room boomed loud and jarring. How could they still be laughing? Playing music and dancing? How could they not know what Saraid had witnessed? The impossibility of it felt as enormous as the sky, the sea, the very earth beneath her.
"It is you she foretold. It was always you." Saraid spoke the words before she'd even realized their truth.
But somehow her eyes and her mouth had accepted what her mind still rejected. This man staring at her from behind the Bloodletter's blue gaze had changed-pulled himself in two and . . . and . . .
She moved her icy fingers, trailing them over the heated muscle to the rippled pucker of a scar just over his heart. Slowly she traced the outline while he remained perfectly still, barely breathing. Watching her with the same shock she felt inside.
The scar was as big as her hand, spread wide over it. It was shaped in three continuous spirals that had no beginning, no ending. She knew them, recognized the symbol from the ancient stones at Tara, from the countless mounds and dolmens scattered throughout Éire. It was the triple spiral that represented life, death, and rebirth. The same symbol that she'd just seen locking what could only be the Book of Fennore. The spirals had been burned into this man's flesh so long ago that the skin was now white and silky. But the scar hadn't been there before, when he'd stripped his clothes. When he'd taken her on the bed…
I hope you'll take the journey through time with Rory and Saraid and I hope you'll find the same fascination with Rory MacGrath that both Saraid and I shared. Be warned though…he might steal your heart.
If you could travel through time, where would you go? And who would you hope to meet?