Planes from Logan airport were flying, but a lot of white-knuckle types had canceled. Once we were above the clouds, the flight was smooth, and by seven o'clock my taxi was heading into the city.
Caroline's Fifth Avenue apartment occupied the entire floor of an exclusive old building. A bastion of wealth and prestige. The view of Central Park was extensive and sweeping. Caroline once told me that she had bought the apartment from the estate of her third husband's mother, a notable grande dame.
"Everyone thought I was crazy, the jumped-up heiress from Chicago just getting her kicks, but the high ceilings give me room for my grandfather's old masters. Turns out most of them are fakes painted by an apprentice. That's the grandfather who invented hairpins. Knew nothing about art."
I seldom visited, but the uniformed doorman greeted me with a smile. "Good to see you again, Mrs. Streat. I'll have your bags sent right up."
Caroline's elderly Irish maids had been with her for years. As I came out of the elevator, white-haired Minnie, wearing her black dress and starched white apron, met me at the door.
"Ah, Mrs. Streat, 'tis a pleasure to see you. I hope you've been keeping well."
"Thanks, Minnie. I have."
"At last. You're late." Caroline came sweeping down the hall. She was wearing a silk caftan and her signature armful of charm bracelets. The bleached blonde hair was too long for her aging face. Heavy makeup acted as camouflage for irreversibly sun-damaged skin. She gave me a double air kiss. "Do you want a drink or will wine with dinner do you? Don't bother to change, we'll go right in. Minnie, don't just stand there. Take Mrs. Streat's bag to the peach room. That's where she always stays."
I winced. Caroline could be cutting with friends, she was a master at puncturing pretensions, but she was never sharp with people who worked for her.
"Thanks, but don't unpack for me, Minnie," I said, not wanting her to see that the duffel was filled with cotton shirts, sandals, and a bikini.
Like most of the rooms, the dining room could have graced a stately English home. Minnie's cousin Kathleen served us with plates of steaming tomato bisque. Another relative, known as Cookie, had come from the bogs of Ire-land and been taught to make pleasurable–if not memorable–meals.
Caroline picked up her spoon, tasted, and put the spoon down. "So, tell me your news. How are the boys?"
I hesitated. Childless Caroline could never understand why I had spent so many years as a hands-on mother, driving in carpools and watching soccer games.
"They're fine," I said. "In case you've forgotten, Steve is in his first year at Harvard. Jake is a sophomore at Brown."
"Drugs? Women?"
"They'd never tell. I try to keep in touch, but not too much."
"High time. When are you going to get out of that apartment and find a new house?"
"Didn't I tell you? My brother Ned is going to sell me land in Manchester, that's less than an hour from Boston. My architect wants traditional shingled seaside, but I'm after an Asian look, serene, with lots of glass."
"What's he like, this architect?"
"Intelligent. Creative."
"Good in bed?"
"He may be interested, but I'm not." According to Caroline, sex was rejuvenating, like going to a spa. Lewis had been dead for less than two years, but already she was fixated on finding me a man.
"Why wait? It's against your nature to be celibate." She gave me an assessing look. "Not bad. Tomorrow I'll treat you to a facial and massage. What about a Botox?"
"No Botox. I don't mind a few lines." I pushed back my hair, a thick auburn mane, cut a little above my shoulders. My eyes were still a bright blue, blue as a Kerry lake, my Irish nurse used to say. Not a classic beauty, but I had what my old press clippings called brio that could mesmerize up to the third balcony. My opera career had ended when I lost my voice, but men still paid attention when I came into a room.
"Are you sure?"
"I'm sure," I said and concentrated on finishing my soup.
Kathleen removed the plates and brought chicken croquettes, followed by a strawberry mousse. Caroline picked at her food and nattered in a tense way about problems with her Spanish palazzo in the Florida Keys. True, we couldn't discuss blackmail in front of Kathleen, but as soon as we left the table, I would have to speak out and not waste time.
As we left the dining room, Caroline turned. "Darling girl, you must be exhausted after all that rushing to get here. I think an early night is in order–"
"No way." I took her arm. "This morning you called and ordered me to drop whatever I was doing and get down here today. It wasn't in the least convenient, but I came. Now you're avoiding the subject. Why? Have you changed your mind about needing my help?"
"Tomorrow–"
"No, now. I want to see that note and I want to see it now."
Excerpted from Firewall: An Emma Streat Mystery by Eugenia Lovett West. Copyright © 2019 Eugenia Lovett West. All rights reserved. Published by SparkPress.
Emma Streat #3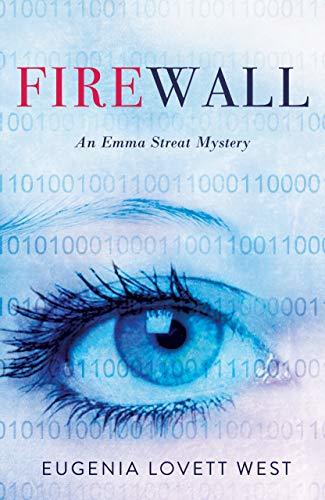 Former opera singer Emma Streat has survived the murder of her husband and the destruction of her beautiful old house. Now a full-time single mother, she struggles to move forward and make a home for her two sons. Because of her detection skills, she has become a go-to person for help–so, when her rich, feisty, socialite godmother is blackmailed, she turns immediately to Emma.
Soon, Emma founds herself thrust into the dark world of cybercrime. Mounting challenges take her to exclusive European settings where she mixes with top people in the financial and art collecting worlds and has intriguing and emotion-packed experiences with men–including her dynamic ex-lover, Lord Andrew Rodale. When she is targeted by a cybercrime network using cutting-edge technology, it takes all of Emma's resilience and wits to survive and bring the wily, ruthless criminal she's hunting to justice.
Mystery Woman Sleuth | Suspense Techno | Mystery Amateur Sleuth [SparkPress, On Sale: November 5, 2019, Trade Size / e-Book, ISBN: 9781684630103 / eISBN: 9781684630110]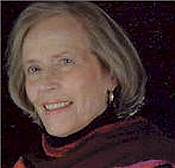 Eugenia Lovett West was born in Boston, MA, attended Sarah Lawrence College, then worked for Harper's Bazaar and the American Red Cross. In 1944 came marriage to a dashing Army Air Force fighter pilot. They had four children, traveled extensively, and were together for sixty years. After doing volunteer work, West started writing as a freelance journalist for local weeklies in New Jersey, then made the leap to novels. The first, The Ancestors Cry Out , was published by Doubleday and Ballantine. Without Warning and Overkill came from St. Martin's Press; a third in the Emma Streat series is in the pipeline. West spends summers at Squam Lake in Holderness, New Hampshire, and winters in Essex, Connecticut. Her greatest joys are her children, grandchildren, and large, close, extended family. She values kindness and is doing her best to age with grace–and to keep writing.