Welcome back to Fresh Fiction, Talia! Can you tell us a little bit about your new novel, GET A LIFE, CHLOE BROWN?
Thanks for having me! And you may regret asking me that question because I could talk about it for days. But I'll try to restrain myself.
GET A LIFE, CHLOE BROWN is a sexy, sarcastic romantic comedy with a fierce, frosty, chronically ill heroine named Chloe and an artistic, kind-hearted, working-class hero named Red. When the story begins, superintendent Red is convinced his posh, uptight tenant Chloe hates him–but she's actually just mega-awkward, attracted to him, and always in pain. After certain cat-related shenanigans, they make a deal that involves the two of them working through Chloe's 'Get a Life' list together. And then. . . things happen. LOL!
One thing I loved about Chloe Brown is that even though her chronic pain and illness from fibromyalgia has hindered her in some ways, she's still confident, good at her job, has a witty sense of humor, and knows she wants to change her life. What do you think readers will find the most relatable about Chloe?
As a chronic illness sufferer myself, it was really important to me that Chloe didn't come off as 2D inspiration-porn. She's a real person (you know, for a fictional character) with strengths and flaws that don't revolve around her health. I think a lot of chronically ill and/or disabled readers will relate to her in that way.
I also think people will relate to her awkwardness and antisocial tendencies. She'd rather stay at home with snacks and videogames than go out and make friends. She finds people like Red, people who are always charming and at ease, both annoying and intimidating. I have a feeling a lot of us bookworms have been there.
Redford Morgan is a big, tattooed, motorcycle-riding ginger who looks tough, but has a serious soft spot for Chloe and her very proper cardigans and haughty demeanor. As much as he enjoys teasing her, once he knows what she's been through, Red realizes she could be someone he opens up to about his own fears and doubts. What are some of your favorite character traits that developed in Red over the course of the novel?
I love Red so much. Oh my God. He gives me, uh. . . violent feelings of gentleness, which doesn't make sense but is entirely accurate.
I think my favourite thing about Red is his willingness to take people as they are, and to offer parts of himself so easily in return. As superintendent of the building Chloe lives in, Red is constantly helping people–and, even though art is his passion, making his tenants' lives easier really lights him up inside. He brings that simple, honest kindness to his relationship with Chloe, and it was fun watching her figure him out. Red is one of those really good people you rarely come across, and Chloe is very cynical, so she was constantly nudging him like "What is this creature?"
I also love how Red is very matter-of-fact about the difficult things in life. Whether it's what he's been through, or keeping an eye on his mother's health, or getting to know Chloe and making sure things are accessible for her–he just gets on with it. He's got this never-ending well of determination and he's happy to share his supply. He has the kind of quiet strength that doesn't get much attention but accomplishes a lot.
Chloe has a list of things she wants to do so she can "get a life," as she and her sisters put it – things she has put off since her health issues began. What wild and crazy thing would you put on a list like this?
I'm the least interesting person on the planet, so this is a difficult question. Like Chloe at the start of the book, I have no life, but unlike Chloe, I'm very happy with that!
Honestly, I think my wildest desire would be to get a dog. And yes, I know that sounds very boring. But it seems like a major commitment and would require my life to change quite drastically. I'm low-key scared of the responsibility and the challenge.
I enjoyed the various juxtapositions of this story. Readers get to see the story from both Chloe and Red's point of view, Chloe is black and Red is white, there's laugh-out-loud humor and heart-wrenching pain, as well as very sweet moments and super sexy chemistry. . . How do you find a balance between these different aspects? What's your writing process like?
I feel like juxtapositions are part of real life, and I try to write as realistically as possible. (I mean, I do have a book about a Scandinavian prince faking an engagement with a British HR worker, and also a book about a huntress trying to murder but eventually mating with a werewolf, but still. The point stands.) Life is up and then it's down. We laugh and then we sob until we're sick. We're sweet and then we're sexy. In GET A LIFE, CHLOE BROWN, those juxtapositions are emphasized all the more because the book deals with chronic illness and chronic pain. As a sufferer myself, I think the ups-and-downs can be extra intense; after all, I have been in pain during all the happiest moments of my life. Chloe experiences something similar, and that's the root of the theme in this book.
In terms of race and juxtaposition, I focused more on their class differences because that aspect is where Chloe holds more power. (Theoretically, anyway.) But race is always on my mind when I write. I don't think of black and white as 'opposite' races, so it wasn't part of the theme per se, but it was still present and important. We live in this world with power imbalances, and on an interpersonal level, we have to find some way to negotiate that. So when I write black heroines with white heroes, I have to think about it a lot.
In fact, I'd say my writing process involves a lot of thought in general. Like, staring-into-space thought or taking-a-walk thought or washing-the-dishes thought. I like my ideas to carve a familiar nook into my brain before I start writing them down. That's when I really get to grips with things like themes and relationship dynamics. Then, when I write, things flow more comfortably.
There's one character who is an absolute scene-stealer: Smudge, the cat Chloe decides to save from a tree, and Red has to help them both down. Was Smudge inspired by any real-life animals you know? Would you like a cat like Smudge (LOL)?
Smudge was absolutely inspired by a real animal! Specifically, my grandma's cat Smokey. Smokey is gone now, and so's grandma, but I adored them both.
My grandma had a ton of cats and also fed and housed the local strays (and the occasional fox). I loved Smokey so much because he was unashamedly antisocial, which I always found hilarious. Similarly, in the book, Smudge avoids people–but that's because he's scared of everything.
I'd love a cat like Smudge, but cat fur messes with my asthma. So I suppose I'll stick to writing them!
It's almost time for the busy Christmas/Holiday season! What are some of your traditions each year?
I come from a multifaith background, but I'm an atheist. We celebrate Christmas for the children, but we don't have a lot in the way of traditions. I usually spend Boxing Day playing vingt-et-un with my grandma (not the one who passed away. That would be spooky, and also, she didn't like card games).
I'd say my family's main holiday is New Years Eve. We get new pyjamas and underthings, and we always have long baths and wash our hair. So when we wake up the next morning, we're brand-new! And we discuss our affirmations, as well. They're not resolutions, exactly; just nice things about ourselves, things we've been thankful for, intentions as we move forward. It's all very relaxing.
I know from following you on social media that you're very much into beauty and skincare! Any recent products you've loved and would recommend?
Oh dear, this is another thing I could talk about all day. But, again, I will restrain myself! In terms of skincare, I'm really loving Super Facialist right now–especially their Hyaluronic Acid Day Cream, which is keeping my skin hydrated in the cold weather.
As for makeup, my favourite discovery this year has been Fenty Beauty's Pro Filt'r setting powder. It's so fine, so silky, and I love all the different shades they have. I use Honey under my eyes and Hazelnut on the rest of my face.
I also got some compliments on social media about a lipstick I wore recently. It's my perfect matte red, a Meet Matt(e) Hughes liquid lipstick by The Balm, in the shade Devoted. Long-wearing, but not too drying!
What can readers expect from you next?
Right now, I'm hard at work on Chloe's sisters' books. TAKE A HINT, DANI BROWN is available to pre-order now, and I'm absolutely in love, if I do say so myself. It has a career-focused, commitment-phobic heroine, a romance-reading, gentle giant hero, a viral video that launches their fake relationship, and a friends-with-benefits plot that's hot as hell.
I'm also drafting the youngest Brown sister's book. So far, this one involves a chaotic heroine, an uptight hero, and some whacky small-town shenanigans. All of which I'm massively enjoying!
Rapid Fire Random Questions
Favorite candy: Kinder Bueno! Do you guys have that in the US? I really hope for your sakes that you do.
Favorite way to be kind to yourself: Spending time outside. Because I spend all day at my desk, going outside resets me and feels so free.
Best compliment you recently gave to someone: I told someone the other day, "Your dog is majestic." It was true, and they seemed very pleased.
Favorite flower: This is one of those impossible-to-answer questions. I love flowers! But if I have to choose, maybe tulips? Or daisies.
Random interesting fact you like to tell people: I'm not very interesting. The only random fact I can think of is. . . I can't drive, swim, or ride a bike.
Best vacation you've ever taken: When I was a kid we didn't have much money, but my mum somehow surprised me with a trip to Disney World. (Seriously, I suspect she sold a kidney.) I got Popeye's autograph, and put my foot in an anthill, and accidentally called the police, and the policeman was very, very tall. It all made a huge impression on me.
Earliest celebrity crush: Do cartoons count? Because if so, Princess Jasmine.
Cake or pie: Pie is savoury over here, so. . . cake!
Last book you read that you really LOVED: I've read countless incredible books lately (literally: bangers back to back) so this is difficult. But the literal last book I read? Gilded Cage by KJ Charles! She's one of my auto-buy authors, and the book is a historical romance with a badass, private investigator heroine, so it's no surprise that I'm in love.
You have a totally free afternoon – no deadlines, no obligations, no Twitter notifications! What do you do?: Eat snacks and watch the Great British Bake-Off, of course.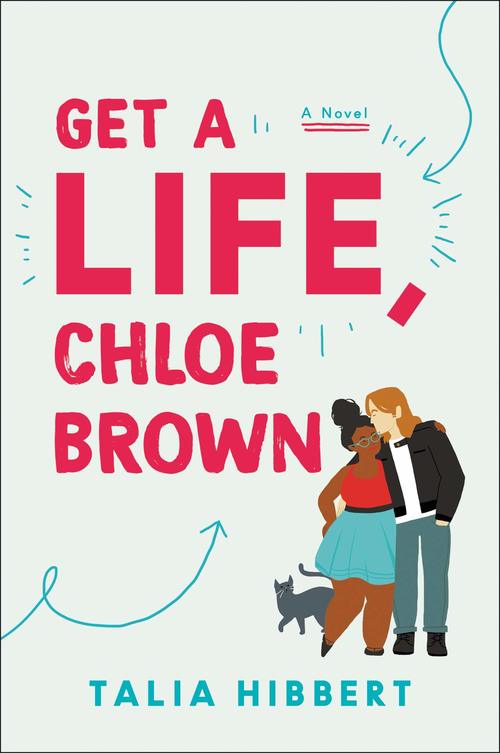 Talia Hibbert, one of contemporary romance's brightest new stars, delivers a witty, hilarious romantic comedy about a woman who's tired of being "boring" and recruits her mysterious, sexy neighbor to help her experience new things–perfect for fans of Sally Thorne, Jasmine Guillory, and Helen Hoang.
Chloe Brown is a chronically ill computer geek with a goal, a plan, and a list. After almost–but not quite–dying, she's come up with seven directives to help her "Get a Life", and she's already completed the first: finally moving out of her glamourous family's mansion. The next items?
Enjoy a drunken night out.
Ride a motorcycle.
Go camping.
Have meaningless but thoroughly enjoyable sex.
Travel the world with nothing but hand luggage.
And. . . do something bad.
But it's not easy being bad, even when you've written step-by-step guidelines on how to do it correctly. What Chloe needs is a teacher, and she knows just the man for the job.
Redford 'Red' Morgan is a handyman with tattoos, a motorcycle, and more sex appeal than ten-thousand Hollywood heartthrobs. He's also an artist who paints at night and hides his work in the light of day, which Chloe knows because she spies on him occasionally. Just the teeniest, tiniest bit.
But when she enlists Red in her mission to rebel, she learns things about him that no spy session could teach her. Like why he clearly resents Chloe's wealthy background. And why he never shows his art to anyone. And what really lies beneath his rough exterior. . .
Romance Contemporary [Avon, On Sale: November 5, 2019, Paperback / e-Book, ISBN: 9780062941206 / eISBN: 9780062941220]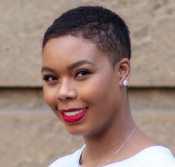 Talia Hibbert is an award-winning, Black British author who lives in a bedroom full of books. Supposedly, there is a world beyond that room, but she has yet to drum up enough interest to investigate.
She writes sexy, diverse romance because she believes that people of marginalised identities need honest and positive representation. Her interests include beauty, junk food, and unnecessary sarcasm. She also rambles intermittently about the romance genre online.
***
Fresh Fiction Editorial Manager Danielle Dresser is an avid reader, lackluster-yet-mighty crafter, and accomplished TV binge-watcher. Once upon a time, she was a publisher publicist and continues to cultivate her love of books and reading by chatting with the best authors in the business. She lives in Chicagoland with her very own romance hero husband, darling daughter, and two tempestuous cats. Follow her on Twitter and Instagram, @dj_dresser.