Welcome back to Fresh Fiction, Eva! Can you tell us more about your new series, Union of the Rakes, and book 1 in particular, MY FAKE RAKE? 
Thank you so much for having me back! I'm very excited to introduce my Union of the Rakes series to your readers, since it combines two very important things in my life: my love of the Regency, and my love of the '80s.
The whole premise of the Union of the Rakes might sound familiar to '80s film fans: five very different boys meet at Eton when they're assigned to an all-day punishment in the library. Yes–it's the Breakfast Club!
Twenty years later, the boys are now grown men in a close friendship, and each one finds their own HEA in the pages of the Union of the Rakes books. My Fake Rake is a mash up between Weird Science, Can't Buy Me Love, and Some Kind of Wonderful. That means we get fake dating, makeover (it's his makeover), and friends to lovers, all in one book! 
One of my favorite things about this new series of yours is that it's inspired by 80s movies! Where did this fabulous idea come from? What's your favorite 80s movie? 
Both my parents worked, so I watched a lot of cable television, which meant tons of movies. Their narratives really inspired me as a writer. But also I was a huge MTV watcher, and some of my earliest writing was what we'd now call fan fiction about bands like Duran Duran and Wham!.
As far as my favorite '80s movie…oh, god, that's a tough one. The thing about a lot of '80s movies–especially John Hughes's films–is that they are full of problematic stuff like misogyny, homophobia, and racism. So we definitely must address and understand that when taking another look at these movies. I tried to use the films as inspiration, but also make changes where I felt it was necessary to undo some of the damage they did.
That being said, I loved the original Indiana Jones movies, The Princess Bride, and Say Anything. Oh, and I watched Willow a million times (and listened to the soundtrack constantly whilst writing romance instead of doing my homework).   
It's a tale as old as time: girl likes boy, boy doesn't pay attention to girl, so girl finds another boy to fake date to make the first boy jealous. (LOL) Why do you think our heroine, Lady Grace Wyatt, thinks this is the way to attract the attention of someone else? And why does Sebastian Holloway, our hero, go along with her idea?
Grace and Sebastian work together to come up with this strategy based on Seb's own research as an anthropologist. They both learn lessons about the perils of using this strategy, including what to do when it works! Seb agrees to the plan to help his friend, Grace, and also to collect information for a book he intends to write on the mating habits of British society. It takes Seb a little while to realize that, whoops!, he's actually halfway in love with Grace and wants to make her happy. Which he believes is helping her catch the eye of a naturalist who only sees her as a colleague.
It's complicated!
Sebastian goes through a pretty extensive makeover in this book – his clothes are horribly out of fashion, he's socially awkward, and is totally clueless when it comes to what to do about his feelings for Grace. What will readers love about Sebastian and his transformation into a rake? 
Seb has what we modern readers would call social anxiety. He gets very nervous around people he doesn't know, and often can't speak in the presence of strangers. Grace helps him to learn how to manage his anxiety so that he can be a bit more comfortable–and I think through her patience and kindness, and her ability to see what the experience of anxiety is like for him, she shows him genuine love and compassion. It was important to me to show that Seb isn't "cured" of his social anxiety, but he learns how to live with it in a way that causes him less distress and pain. I think that's something that a lot of readers can relate to. I know I can.
Grace is determined to catch the attention of a renowned naturalist, who she has admired from afar. A scientist herself, Grace is more comfortable researching reptiles than she is interacting in the ballroom. What does Grace's unusual profession add to her character? What did you learn about women scientists of this time period?
I like exploring the idea that there are as many ways to be a woman as there are people who identify as being women. Grace's love of herpetology doesn't take away from her value as a woman. I also wanted to have her particular area of study be something that was not as commonly identified as feminine, which led me to herpetology (the study of reptiles and amphibians). There are a lot of misconceptions about herps–that they're emotionless, they aren't cute and therefore less important or worthy of study–that I feel Grace can relate to. The ton doesn't know what to do with a woman who studies reptiles and amphibians, which made Grace retreat away from ballrooms and polite society. Who amongst us doesn't sometimes feel like an oddball?       
Women had to fight, and continue to fight, for their place in the scientific community. Fortunately for Grace, her family supports her, and she has found a community at the library (a scientific library I created for the book) who champion her.
One side character who I absolutely loved was Rotherby, Sebastian's best friend–he stole the show whenever he was on page! At a surface level, Rotherby and Sebastian do not seem like they would be friends, and yet they are fiercely loyal to each other. What brings them together? And when will we get to read Rotherby's love story?
If Seb is the brain from the Breakfast Club, Rotherby is the popular one. He's a duke, devastatingly handsome, and incredibly charming. But Seb taught and keeps teaching him what it means to be thoughtful and kind, and Rotherby uses his influence to protect and help his friend.
When Grace and Seb prove utterly lost during Seb's rake training, consummate rake Rotherby steps in and puts his friend through a rake bootcamp, so to speak, teaching him what it takes to play the role of the rake.  
Rotherby's story is next! Would I Lie To the Duke is out Summer 2020. For his book, I'm taking inspiration from the movies Working Girl, and The Secret of My Success. I just want to let readers know that Rotherby discovers that he enjoys dirty-talking whilst also being sexually submissive. My beta readers told me they were fanning themselves.    
The 80s Easter Eggs abound throughout MY FAKE RAKE! Between the song lyrics sprinkled throughout dialogue, homages to famous movies, and pop culture references, the 1980s fit right in during Regency England. Were these fun homages to the 80s easy to fit in to your story? And for fun – what's your go-to karaoke 80s song?
It's extremely easy for me to slide back into the '80s…maybe too easy…*g* But I started reading romance in the '80s, and that's also when I started writing my first romance novel attempts. (Thankfully, those early books are lost!) So when I listen to '80s music (Duran Duran is my all-time favorite band), it brings me back to that time, when I was really immersing myself in romance.
I know all the lyrics to "Wake Me Up Before You Go-Go" by Wham! because in the 6th grade, my friends and I performed it in the school talent show. I still know the choreography, too. I've given many, many karaoke performances of this song.        
This week is Thanksgiving in the US–what are you thankful for this year?
I'm thankful my publisher and editor took a chance on me combining the '80s and the Regency! And I'm always thankful for my readers. I literally couldn't do this without them.     
What can readers expect from you next?
I'm currently revising Rotherby's book, Would I Lie to the Duke, and after that is the book of their friend, a Scotsman named Duncan McCameron. Duncan is the jock in the Breakfast Club analogy. He's a soldier and a little uptight, and his heroine will be the Dowager Countess of Farris. You read that right. It's a gender-bent Ferris Bueller's Day Off, and will be a younger man-older woman romance that promises to be very, very sexy. (Just Google "Robert Pattinson, Dior, Elevator" for the vibe of this book). His book, Hit Me With Your Best Scot, will be out in 2021.         
Rapid Fire Random Questions
Cats or dogs: Both! I adore dog energy, but I'm not quite equipped to care for them the way they need. I love cats, and currently have one old gray cat who loves to yell at us all day.
Book you recommend the most: I just tell people to read romance. There are too many to pick only one.
Favorite smell: I'm a writer, so I love the smell of coffee.
Ketchup or mustard: Ketchup.
You've been invited to a costume party – what do you dress up as?: I think I'd dress up like Jack Burton (Kurt Russell) from Big Trouble In Little China, one of my favorite movies.
What fictional city/location would you visit?: I'd like to have elevenses with Mr. Gruber and Paddington in Mr. Gruber's shop.
Favorite childhood movie: I watched Clue a million times.
How do you practice self-care?: I try to get in 10 minutes of meditation when I can. But I also really like to bake, so that can be a form of self-care.
Breakfast or dinner?: BREAKFAST FOREVER. I mean, I like breakfast. 😉
You have a totally free afternoon – no deadlines, no obligations, no Twitter notifications!  What do you do?: Go for a hike with my husband (fellow romance author [and a past RITA nominee in Romantic Suspense] Nico Rosso), and then spend time cooking and baking together. Reading is also at the top of the list.
Thanks for having me!
Union of the Rakes #1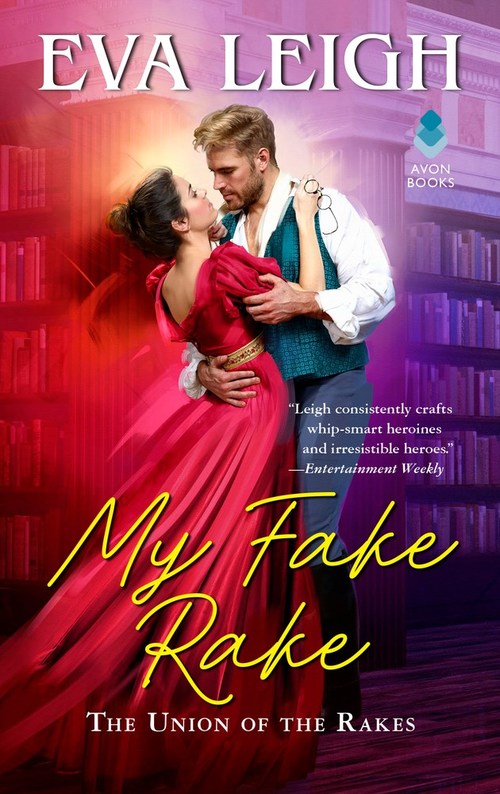 In the first book in Eva Leigh's new Union of the Rakes series, a bluestocking enlists a faux suitor to help her land an ideal husband only to be blindsided by real desire…
Lady Grace Wyatt is content as a wallflower, focusing on scientific pursuits rather than the complications of society matches. But when a handsome, celebrated naturalist returns from abroad, Grace wishes, for once, to be noticed. Her solution: to "build" the perfect man, who will court her publicly and help her catch his eye. Grace's colleague, anthropologist Sebastian Holloway, is just the blank slate she requires.
To further his own research on English society, Sebastian agrees to let Grace transform him from a bespectacled, bookish academic into a dashing—albeit fake—rake. Between secret lessons on how to be a rogue and exaggerated public flirtations, Grace's feelings for Sebastian grow from friendship into undeniable, inconvenient, real attraction. If only she hadn't asked him to help her marry someone else…
Sebastian is in love with brilliant, beautiful Grace, but their bargain is complete, and she desires another. Yet when he's faced with losing her forever, Sebastian will do whatever it takes to tell her the truth, even if it means risking his own future—and his heart.
Romance Historical [Avon, On Sale: November 26, 2019, Mass Market Paperback / e-Book, ISBN: 9780062932402 / eISBN: 9780062932419]

A fantastic friends to lovers tale!! I will be reading this again!!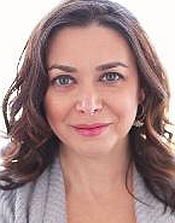 Eva Leigh is a romance author who has always loved the Regency era. She writes novels chock-full of determined women and sexy men. She enjoys baking, spending too much time on the Internet, and listening to music from the '80s. Eva and her husband live in Central California.
Eva also writes in multiple romance genres as RITA-award nominated Zoe Archer.