1–What is the title of your latest release?
UP IN SMOKE, Hotshots #4
2–What is it about?
UP IN SMOKE is a stand-alone romance between a freewheeling smoke jumper and an aspiring country singer who are forced to work together for the best interest of a tiny baby. It's a MM romance—think Three Men and a Baby meets Backdraft with lots of fun, feels, sexy times, and heart, and a big fluffy happy ending.
3–What do you love about the setting of your book? 
I love central Oregon. I love all of my state, but central Oregon is very special to me. I love the mountains, the lakes, the iconic scenery, the quirky small towns, the neat little businesses and places to eat, and more. I loved setting the book in an area that I love so much.
4–How did Brandt surprise you? 
I expected Brandt to really resist parenthood, but he surprised me by being way more ready to accept responsibility than I would have thought. And he fell in love with the baby—and Shane—far faster than I expected too!
5–Why will readers love Shane? 
Who doesn't love a good-looking man in jeans who can sing like a dream? If you like musician heroes, you'll love Shane, but even if country music is not your jam, you'll love Shane's deep commitment to family and doing the right thing, the way he loves with his whole heart, and how fast and hard he falls for Brandt. Also, he's really good at being exactly what Brandt and the baby need!
6–What was one of your biggest challenges while writing this book (spoiler-free, of course!)? 
I wrote the end of this book in September in Oregon as the sky glowed orange and over a million acres of land burned. We were on evacuation alert for part of it, and while it was unlikely to reach our neighborhood, it was still very scary as the sky rained ash and the sun was eclipsed by smoke. Trying to write about fictional smoke jumpers while very real ones were battling for our state was a challenge!
7–Do you look forward to or do you dread the revision process? 
My Carina Press editor, Deb Nemeth, is one of the absolute best in the business. I love doing revisions with her.
8–What's your favorite snack to have on hand while writing? 
I used to always answer peanut M&Ms but I haven't had those in a very long time. Probably popcorn. And of course, coffee!
9–Where would you go for an ideal writer's retreat? 
There are few places more ideally suited for a writing retreat than the Oregon Coast. I've been lucky enough to go to a few here, and I'd like to do more!
10–What's the best piece of writing advice you've received? 
You can't edit a blank piece of paper!
11–Who is the fictional character you want to hang out with the most? (anyone in literature!)
So many fictional characters! In my own books, I'd like to hang out with all my characters, especially Brandt and Shane from UP IN SMOKE and see how the baby is doing. In other people's books, I'd like to hang out with all of AM Arthur's cowboys.
12–What's one of your earliest book memories? 
I brought Little House in the Big Woods with me to first grade. It was the first chapter book I read all on my own. I've always loved reading, and I credit my mom's hours and hours of reading to us.
13–If you had to write in a different genre, what would it be and why? 
Historical is my other big love, but I probably would get lost in my love of research!
14–What song will automatically put you in a good mood? 
This answer changes often, but right now, it's Love You Like the Movies from Anthem Lights.
15–What is your favorite way to practice self-care?
Long hot showers!
16–What can you eat and never get sick of? 
Coffee, ice cream, and fruit!
17–Will you share a favorite, recent-ish book you recommend? 
I really loved Riley Hart's newest, End Game. Football player hero and senator! So good!
18–Do you have any hobbies? 
I knit, go for walks, and love to cook.
19–Are you an early bird or a night owl?
Both. I'm not super early bird but I also turn into a pumpkin by midnight. I'm a brunch owl 😛
20–What can readers expect from you next? 
UP IN SMOKE is out now, and it joins the other three books in my Hotshots series about smoke jumpers. Each book stands alone well. Other new books are coming, including SAILOR PROOF, a new military romance from me, coming in September!!!
Hotshots #4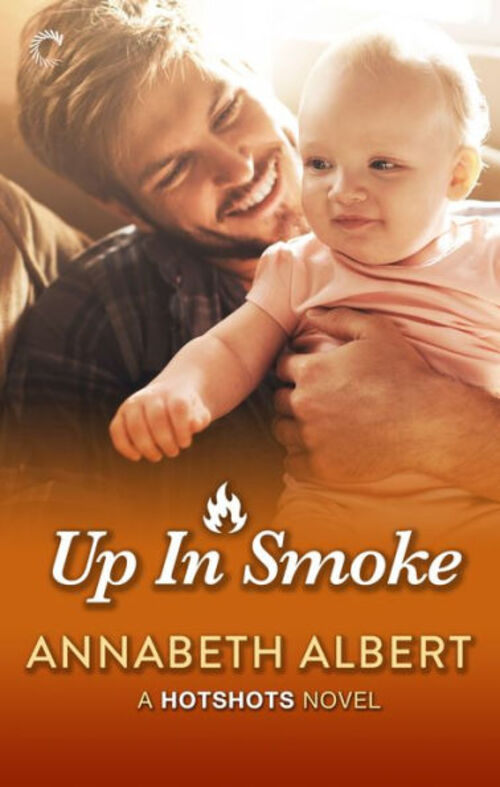 "A poignant, sexy and satisfying romance featuring likeable, complex characters whose intense emotional connection leaps off the page." —All About Romance on Feel the Fire
Three Men and a Baby meets Backdraft with explosive chemistry and heartfelt feels.
Freewheeling smoke jumper Brandt Wilder thrives on adrenaline. He's never met a parachute he can't repair or a dangerous situation he couldn't wrangle his way out of. He's popular and fun-loving and not at all looking to settle down or form lasting relationships. It's a lifestyle that's served him well…right up until the day he finds a baby on his doorstep.
Shane Travis is used to putting his country music career—and his own happiness—on hold after his sister rolls through his life. Like last spring when she convinced him to try skydiving for his birthday—and she walked away with the hot parachute instructor.
Now he gets to deliver the piece of news that will upend Brandt's carefree life: he very well might be a dad.
Shane's niece is safe in Brandt's strong, capable hands, but too many questions remain unanswered. Co-parenting while they sort it out leads to late-night talks, and soul-bearing confessions lead to a most inconvenient attraction. Still, Shane can't leave this makeshift family behind—even if it means playing house with the one man he can't resist.
Hotshots
Book 1: Burn Zone
Book 2: High Heat
Book 3: Feel the Fire
Book 4: Up in Smoke
Also by Annabeth Albert:
Out of Uniform
Book 1: Off Base
Book 2: At Attention
Book 3: On Point
Book 4: Wheels Up
Book 5: Squared Away
Book 6: Tight Quarters
Book 7: Rough Terrain
Romance Contemporary | LGBTQ Romance [Carina Press, On Sale: April 27, 2021, Paperback / e-Book, / eISBN: 9780369703828]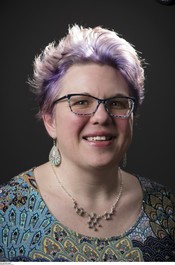 Annabeth Albert grew up sneaking romance novels under the bed covers. Now, she devours all subgenres of romance out in the open—no flashlights required! When she's not adding to her keeper shelf, she's a multi-published Pacific Northwest romance writer.  She has penned many critically acclaimed and fan-favorite LGBTQ  romance series.
Emotionally complex, sexy, and funny stories are her favorites both to read and to write. Annabeth loves finding happy endings for a variety of pairings and particularly loves uncovering unique main characters. In her personal life, she works a rewarding day job and wrangles two active children. She's a compulsive knitter, late night reader, obsessive gamer, and happy bi-pride flag waver.