My husband and I are currently planning the biggest trip of our lives – China! And I have to admit, I'm a basket case. What if I forget something vital? What if I get lost in the Hong Kong airport? What if I accidentally order fish-head soup and we run out of Immodium?
The heroine of my latest book, THE CHOCOLATE COMEBACK, the spoiled fashion model DeeDee Cash, gets her comfort zone expanded dramatically when she takes a job caring for Mark, a young man with Down syndrome. DeeDee rises to the challenge famously – but not without butting heads with Mark's handsome and overprotective brother, Isaac, of course.
THE CHOCOLATE COMEBACK, released April 6, is part of the Love at the Chocolate Shop multi-author series by Tule Publishing and readers are eating it up! 😊
Here's a teaser for you:
DeeDee wasn't what Isaac was looking for. Well, Isaac Litton wasn't what she was looking for, either. She wanted something that would pay off her credit card bills and keep her occupied when she wasn't working her other job. She did not want to deal with a sternly rumpled big brother in faded jeans that rode his hips like a lover and made her want to yank the hem of his shirt from his waistband to see how warm his skin was.
,

,
"You're so pretty." Mark propped his face in his hands and gazed at her.
,

,
"You have peanut butter in your hair." She really did not want a sticky teddy-bear of a groupie who needed clean clothes, lessons in food safety and possibly deworming.
,

,
"What's going on up here?" Isaac entered the kitchen. He'd left the tortoiseshell glasses in his office. Why were some men so sexy in glasses, while others just looked like dorks?
,

,
"Decontamination," she answered. "Might want to have the knife talk with your brother."
,

,
She waved the sharp implement and tilted her head at Mark.
,

,
Isaac's face blanched. "Mark. You know you're only allowed to use the knives in the drawer."
,

,
Mark's face crumpled into a pout. "They're all dirty."
,

,
"I'm sensing a theme," said DeeDee. "I have two words for you, Isaac: hazard pay."
DeeDee and Isaac both change and grow through the course of their story. And I will change and grow during our upcoming adventure. After all, if we forget anything, it's China. They make everything, right?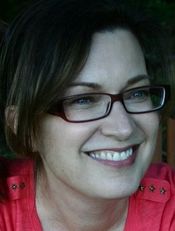 USA TODAY bestselling author Roxanne Snopek writes contemporary romance both sexy and sweet, in small towns, big cities and secluded islands, with families and communities that will warm your heart. Her fictional heroes (like her own real-life hero) are swoon-worthy, uber-responsible, secretly vulnerable and occasionally dough-headed, but animals love them, which makes everything okay. Roxanne writes from British Columbia, Canada, where she is surrounded by flowers, wildlife and two adoring dogs. She does yoga to stay sane. It works, mostly.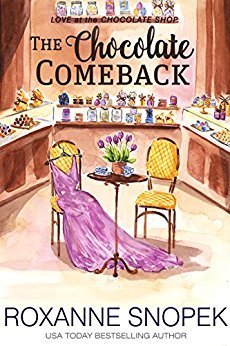 Fame, fortune and fashion: that's aspiring model Deirdre Cash's ideal life. But when her splashy New York career dries up, she swallows her pride and returns to Marietta, Montana, desperate for any work she can find.
Isaac Litton doesn't want the intrusion of a home care aide for his brother, Mark. But when the young man takes a shine to DeeDee, Isaac decides to give her a chance. He can't help but be impressed when DeeDee changes his brother's life around, by rewarding healthy habits and exercising with treats from the Copper Mountain Chocolate Shop. Gorgeous and opinionated, DeeDee stirs everything up in the Litton household, including an attraction that Isaac can't deny.
As DeeDee and Isaac start to fall for each other, an unexpected opportunity arises that could launch DeeDee back into the modeling scene. It's her chance to achieve everything she's ever wanted. But taking it would mean letting down her friends at the chocolate shop, her family who believes in her, a boy who adores her, and a man who thinks she's already perfect, just the way she is.
Romance Contemporary [Tule Publishing, On Sale: April 6, 2017, e-Book, ISBN: 9781945879968 / eISBN: 9781945879968]