"Write what you know." The sentiment is probably as old as writing itself. Yet how does it translate into a futuristic romance filled with aliens?
Sometimes I find myself writing about things I know little about. Take the fifth book in my Clans of Kalquor series, ALIEN SLAVE. The initial inspiration for that book had absolutely nothing to do with any personal knowledge of mine. Alien sex slave auctions have no bearing whatsoever with my real life. No, really. Never been near one. At any rate, the auction scene did not make it into ALIEN SLAVE. But it did lead to the setting of a brothel, along with a sex worker named Dani Watson. Again, a situation I have no direct experience with. I promise. My closest encounter with a brothel was watching the old movie, The Best Little Whorehouse in Texas.
Yet I always base a part of my heroines on some piece of myself. Sometimes it's a not-so-good part of me, a little nugget o' Tracy I'm not terribly proud of. Dani's impulsiveness was based on my own, an impulsiveness that led her to the terrible decision to sign on as a brothel worker on an alien planet.
This led to Inspiration #2: the poor little rich girl whose reckless behavior constantly lands her in trouble. Okay, so I know as much about being rich as I know about being a paid sex worker. But I do know how to be a difficult, irritating mess. Just ask my husband.
Like me, Dani is complicated. Sometimes she's difficult to have sympathy for. While I wrote this book, I often found myself wanting to shake her, just as so many have wanted to shake me. She can be downright unlikeable at times. But she also possesses a wounded quality and gritty determination that made me want to give her a hug and tell her things aren't as bad as they appear…that she can find people out there to love and trust with all her heart, without fear they'll abandon her.
The final inspiration for this particular book is one that I've lived vicariously, sometimes in binges. My husband is addicted to survival shows, so I'm often bombarded with images of people eating bugs, drinking their own urine, and starting fires by rubbing two sticks together. Having been exposed to so much of this enthralling entertainment, I decided I had to get something good out of it. So I put Dani and her Kalquorian beaus Gelan, Krijero and Wynhod into a primitive survival situation. Having them eat gross things and fight a treacherous environment while chased by mortal enemies was the final 'what I sort of know about' ingredient to be added to ALIEN SLAVE.
All these elements blended together in a way that I'm delighted with. Stubborn, selfish Dani meets her match in three men who refuse to coddle her demons; men who won't give her all she wants but will give her what she needs. They'll do it while fighting desperately to stay alive on a primal planet in the future. It will feel familiar to the reader despite the futuristic landscape, because even in an alien universe filled with danger, there's always room for real-life inspiration.
General Release Date: 18th April 2017
Available on early download from Totally Bound Publishing now!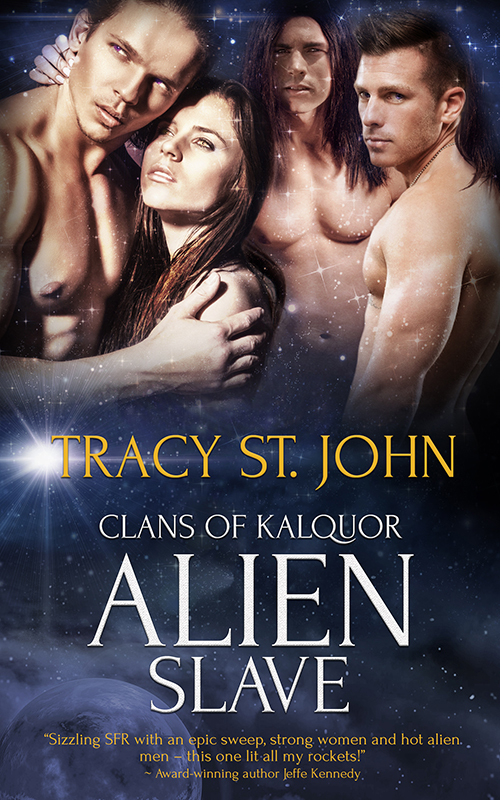 Dani Watson is a brothel worker on the planet Dantovon. Having escaped post-Armageddon Earth, she's resigned to spending several years in service to pay off her contract. Her one consolation is that she avoided being captured by the Kalquorians.
When a Kalquorian clan buys her contract, Dani attempts escape. Crashing on a remote moon puts her life in jeopardy, leaving her and the clan of Gelan, Wynhod, and Krijero fighting for survival in a hostile environment. Worse still, they're being hunted by a group of brutal Tragooms who are determined to capture Dani and subject her to a fate worse than death.
Erotica | Science Fiction Romance [Totally Bound Publishing, On Sale: April 15, 2017, e-Book, / ]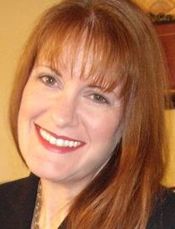 Tracy St. John lives in coastal Georgia with her husband and son. You'll often find her haunting train museums with her locomotive-loving son. Besides writing, she has also worked in video production both in front of and behind the camera. She's usually cast as the gun-toting bad gal, getting handcuffed in the end. She has no complaints.