The pretend relationship or fake marriage is one of my favourite romance tropes. If done well, it can be dramatically tense, underlain with emotion, and deeply satisfying when the end reveals sincerity to the pretense.
The pretend relationship is usually for show. Like the marriage of convenience, it's meant to serve an aim—securing an inheritance, satisfying family expectations, or spurring (or repulsing) a romantic rival. Sometimes both the heroine and hero gain from the charade, sometimes only one of them is actually motivated towards the ostensible goal and the other is reluctantly brought along. Usually one of them is emotionally attached from the start and the other realizes it as the sham relationship plays out. The characters often bond over the joint venture, on the principle that they are two against the world and usually the only two who are aware of the deception.
Of course, there are lots of variations on this theme. I have to admit that I have mixed feelings about those fake relationships where the sham is itself a sham and one of the characters made it up to embark on that joint venture with the other, with the sole aim of showing them that they were meant to be together. For me, that takes away from the whole 'in it together' spirit because the charade is no longer a deception the couple inflicts on others, but a deception within a deception that one of them is playing on the other from the start.
In my latest erotic romance with Totally Bound, THE GIRLFRIEND EXPERIENCE, Leda and Zachary embark on the titular experiment with their eyes wide open.
When Leda finds out that her stepcousin Zach has had a crush on her since they met ten years before, her tender-hearted response is to sympathize and try to help. So when Zach wants to exorcise his unwanted obsession, she proposes giving him the 'girlfriend experience', sex and companionship. The sex part is easy when the man is as hot and as utterly self-confident as Zach but the companionship soon becomes the trap for a wary Leda. After losing both her parents when she was younger, she's vowed never to get her heart torn apart again. And that includes not getting close to Zach, even when he's sharing her bed.
In THE GIRLFRIEND EXPERIENCE, neither main character wants to fall in love. They're very different people with very distinct personalities. They're also at different stages of life, with Zach being younger and successful, while Leda has suffered recent setbacks and finds herself embarking on new job opportunities. As both of them note early on, they're clearly a mismatch. Yet they both want a pretend relationship as a temporary solution to suit their own purposes. The pretence isn't for anyone else, just themselves. But real emotions find a way to creep into even the most well-intentioned charade.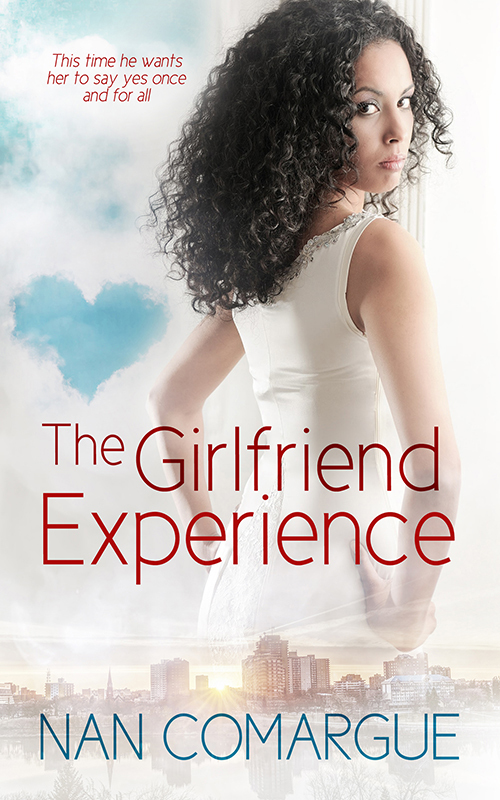 FROM POPULAR ROMANCE AUTHOR NAN COMARGUE
According to Zachary, Leda always says yes—and this time he wants her to say it to him, once and for all.
Leda's life is at a low point—jobless and living with her aunt and her aunt's husband in Heart Lake, Saskatchewan, far away from the hustle of the city. Her only link to that more exciting world is her aunt's husband's son, Zachary Benson. But Zach is a hard person to get to know and an even more difficult person to like, so Leda is shocked to learn Zach's had a crush on her for years.
Since her aunt married his father a decade ago, Zach has never been particularly nice to her, mocking her for being a people pleaser who only says yes. But it turns out he wants her to say yes to sex with him over and over again, for as long as it takes for him to get her out of his system.
Leda is willing to go along with the unusual plan on the condition that it won't involve any threat to her heart. Since her parents' deaths, she has armored herself against losing anyone else she loves, and that makes her determined to never love again. But the more nights she spends with Zach, the harder it is going to be for Leda to keep that promise.
Romance Erotica Sensual [Totally Bound Publishing, On Sale: May 9, 2017, e-Book, ISBN: 9781786511485 / eISBN: 9781786511485]
Nan Comargue writes romance and erotic romance. She has numerous short works of erotic fiction published by Totally Bound and a contemporary romance with Crimson Romance. She writes all the time, probably when she should be doing something else, and blogs occasionally.