Billionaires in history? Definitely. Saffina's story is set 200 years ago in Regency England. Aristocrats then were landowners, some making millions from rents, many the equivalent of today's billionaires. Like now, they showed off their wealth with grand houses and flashy transport. A private carriage – complete with stabling, a team of horses and hay to feed them, plus gold-braided uniforms for coachmen and footmen – which cost a fortune to run, the private jet of its day.
Some things cost a lot, but labor cost little. Even in a modest household, the candles cost more than the servant who lit them!
In TAMING SAFFINA, my heroine, though rich, scorns the math – she's set on fun. But sparks fly when her hunger for love clashes with her stern guardian's desire that she marry well. Their sparks flare into shared passion as his discipline takes hold.
Blithely, she ignores the dangers. Socially, bad behavior lost you points. Lose too many and you joined the Bums. Bums – in the sense of dependents – were everywhere. The palaces and great houses were the business corporations of their day, manned by fleets of servants, plus lawyers, secretaries, estate managers, gardeners, cooks and drivers. People of all classes worked for them, often for more than one generation.
At night the lords who employed them might amuse themselves in discreet establishments in fashionable St James's, or pick up one of the thousands of working girls lining the London streets, then attend concerts, parties, opera or the theatre. They ran up huge bills with tradesmen, often forgetting to pay. Many tradesmen died poor.
But even for the rich, society was strict. One false slip – for a woman, an unplanned pregnancy, or a hint of an affair – for a man, an unlucky bet on cards or horses – and an individual of any rank faced ruin, along with all those who worked for him. For the poor, with no welfare system to fall back on, life was harsh, pleasure risky. Cheap gin – 'drunk for a penny, dead drunk for two' – was their last resort.
Any heiress was a prize catch, but Lord Endale well knows the risks Saffina faces if her wild ways stay untamed. Cynically, he relishes her sexuality, surprised and delighted to find her so willing a pupil. But the deeper his feelings, the greater his doubts. His wealth can't buy respectability – maybe even spoil her chances. Meanwhile her neighbor, the handsome Sir Nigel, looks on with horror, a constant reminder to the disgraced Earl of his own defects.
Which man will she choose? And what kind of person does she want to be? Good? Or bad?
About Flora Dain:
Flora is a multi-published author who is married with two children and lives in the UK. She loves reading, writing, good reviews, cold, crunchy ice cream and hot, smooth movies. And especially connecting with readers—a real thrill!
You can follow Flora on Facebook, Twitter and Goodreads.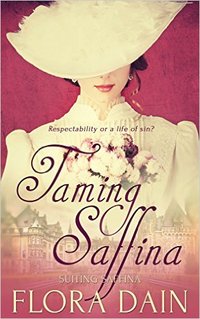 Lady Saffina is due to inherit a fortune but she's taken in hand when her guardian, the disgraced Earl of Endale, returns from abroad to tame her wild streak and find her a husband. With a reputation as dark as his allure she finds him – and his discipline – exotic and disturbing, while her sexuality both delights and alarms him.
Despite being fiercely attracted, her heart's set on her friendly neighbor. Handsome Sir Nigel is surely about to propose. But to her dismay, he fears her wild ways are due to the Earl's evil influence and insists on a cure.
With her future place in society, her fortune and her heart all at stake, she must choose – respectability, or a life of delicious sin?
Buy on: http://www.totallybound.com | Kindle| BN.com| Kobo |iTunes/iBooks  | Google Play